Hal Blaine (born Harold Simon Belsky; February 5, 1929) passed away on March 11, 2019, leaving behind one of the greatest legacies in recorded music. A drummer and session musician most remembered for his work with the Wrecking Crew, a group of Los Angeles-based musicians who recorded in the 1960s and 1970s, Hal is believed to be the most recorded musician in history, with his drumming featured on thousands of recordings by hundreds of popular artists.
I first met Hal in 1984, when I interviewed him for my monthly Mix magazine column, Lunching with Bonzai. The depth and the scope of his life extended far greater than could be told in a few pages. Mix editor David Schwartz and I decided to do a monthly story about Hal and the major artists he had worked with. After a year or so, we decided to turn it into a book, my second book and also the second book published by Mix.
For the first edition in 1990, we hosted a big party in Los Angeles at Don Randi's Baked Potato nightclub; it was attended by many of the artists and musicians featured in the book, including Phil Spector, Brian Wilson, Jan & Dean, and many others. It's fitting that Hal played his last gig at his 90 birthday party, at that very same Baked Potato, on February 5, 2019.
Think about his legacy. Step into the studio with Hal and do some "California Dreamin'," 1966. Get close to Dean Martin with "Everybody Loves Somebody," 1964. Take off with The Byrds' "Mr. Tambourine Man," 1965. Pick your favorite hit from the Sixties into the Eighties and there's a good chance that Blaine was at the drums.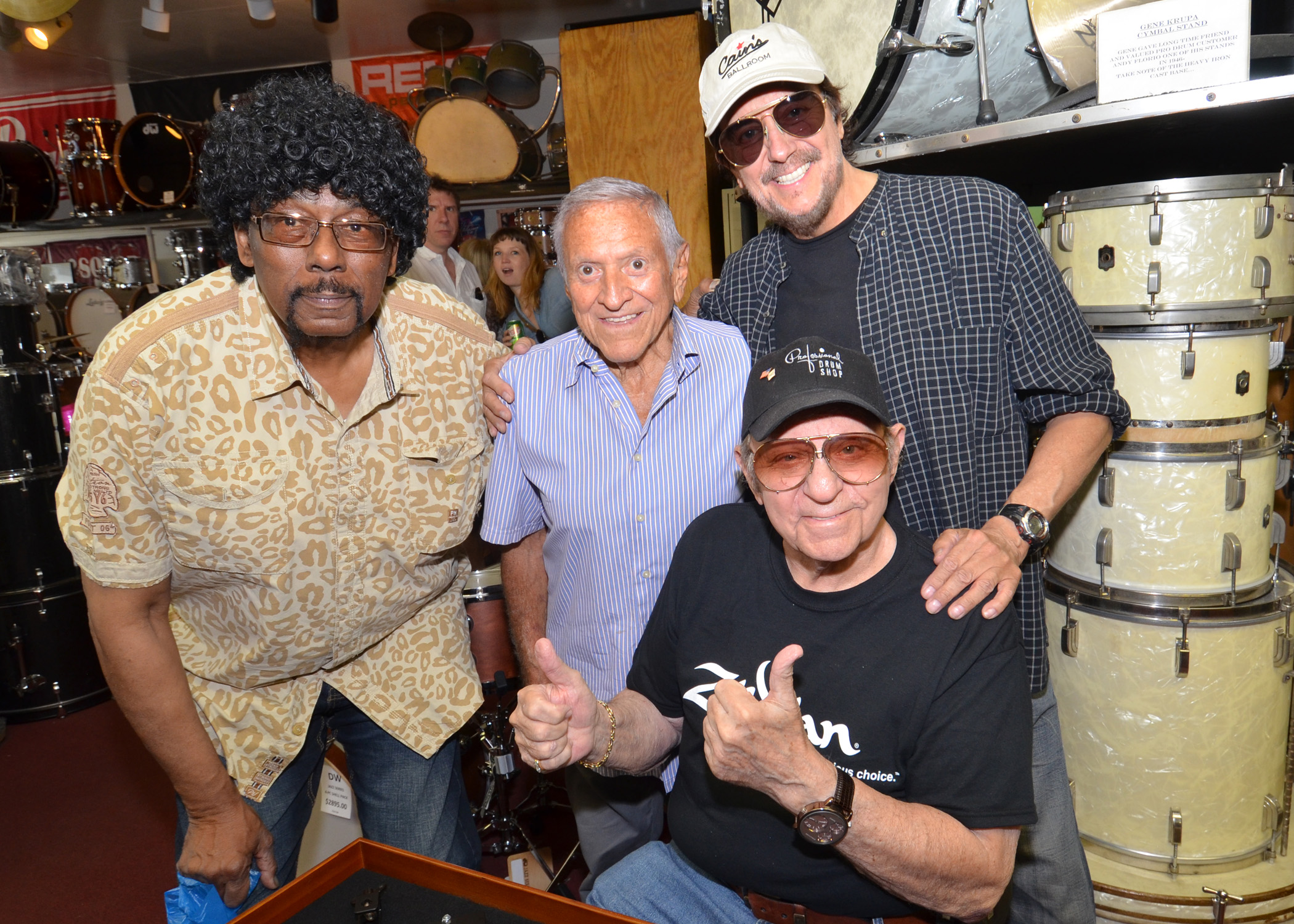 "He's A Rebel," 1962. "A Taste of Honey," 1965. "Strangers In The Night," 1966. "Mrs. Robinson," 1968. "Song Sung Blue," 1972. "Love Will Keep Us Together," 1975. "Surfin USA," 1963. "These Boots Are Made For Walkin'," 1966. "Aquarius/Let The Sun Shine," 1969. "The Way We Were," 1974. "Jose Cuervo," 1981. The list of hits goes on and on, defining the sounds of a generation, and still conveying that era in films and television shows.
Hal became the first sideman to be inducted into the Rock and Roll Hall of Fame, a category finally realized in 2000 after much lobbying by top artists who understood this often overlooked contribution to recorded music. He was honored, along with drummer pal Earl Palmer and Scotty Moore, Elvis' guitarist. Hal once said, with a chuckle, "I was the first Hall of Fame sideman because my name begins with B."
The beauty of Hal's talent is that you can pick any one of the records that he played on and be transported to the moment—when there was no room for nothin' but the best.
And now, a few remembrances of Hal, from Hal Blaine & The Wrecking Crew, by Hal Blaine with Mr. Bonzai, edited by David Schwartz:
"Hal's seven Records of the Year illustrate his consistency in the studio. He was always right there, the anchor of the session, as well as a great player. He had the ability to turn the emotional tide in a session, on these dates when the other musicians were ground down from fatigue, back to a productive recording date thanks to his quick wit and fast thinking."
–Jimmy Webb, songwriter/recording artist
Hal Blaine set the standard for drum sounds in the sixties. His unique style and feeling provided the "motor" for some of the most exciting recordings, including "Taste of Honey" by Herb Alpert and the Tijuana Brass.
–Herb Alpert, recording artist/record company owner
Hare Brain (as our Far East friends called Hal) is not only one of the most talented people I've ever worked with, he is by far the funniest.
–John Denver, recording artist
I remember Hal as being the catalyst for making something happen musically on all of the record dates we worked. Hal's humor made many recording sessions that were very dull and non-musical somehow come alive and start happening.
–Don Randi, studio and stage keyboardist
Hal Blaine marches to a different drummer – himself. And those of us who have had the pleasure to march along with him are richer for the good times he brings to music and life.
–Mason Williams, recording artist
Thanks, Hal, for the tom tom tom tom toms!
–Ringo Starr, drummer
Hal Blaine was the most creative and helpful musician I've known in all my years in the recording business. I don't care if the singer was Elvis Presley or Little Bernie from Idaho, Hal Blaine's creative juices poured out the same. There will never be another drummer like Hal Blaine. The mold has been put to rest.
–Tom Tedesco, studio guitarist
Hal Blaine is an original. Not only is he a great drummer, but a great person as well. Besides his talent on popular recordings, his attitude and sense of humor have livened and touched them all. I'm proud to say that Hal's playing has made the difference on many of my own records.
– Neil Diamond, recording artist
If music in the second half of the 20th century were the Empire State Building, Hal Blaine would be the ground floor.
–Art Garfunkel, recording artist
Our group had never sung with anything but one acoustic guitar until that fateful day in 1965 when we came together in Studio 3 at Western Recorders. There, The Mamas and the Papas 'sound' was created with the distinctive beat that Hal Blaine had already made himself famous for.
–Michelle Phillips, The Mamas & the Papas