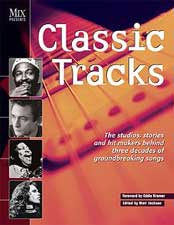 In the fall of 1970, Black Sabbath mounted an aural assault on the
music world with the release of their second album, Paranoid, storming
the charts in their native England and in America. The album showcased
the band's innovative, uncompromising hard rock sound with songs like
"War Pigs," "Iron Man," "Electric Funeral" and the title track, a
relentlessly driving ode to alienation. Black Sabbath formed in
Birmingham from the remains of the British blues revolution and the
late-'60s psychedelic meltdown. Guitarist Tony Iommi, bassist Terence
"Geezer" Butler, drummer Bill Ward and the inimitable vocalist/madman
John "Ozzy" Osbourne began as a jazz/blues combo called Earth and went
on to virtually define the style now known as heavy metal.
Read more "Classic Tracks"
Buy the book
Tony Hall, a British DJ and music business figure, barely knew what
he had when his company, Tony Hall Enterprises, signed the band to
their first contract: "I just thought they were a great little blues
band, four good players who deserved to make a record. I signed them as
a blues band and would have tried to get a deal for them as Earth. Then
they went away to Germany and came back as Black Sabbath. We got 'em a
record deal within weeks."
With their identity and material firmly in place, the band went into
Regent Sound to record their live set. This recording became their
eponymous first album, released Friday, February 13, 1970. It created
an underground sensation and even made a dent in the Billboard
charts-not bad for an unknown band with a recording budget of roughly
600 pounds. "Two days for tracking, 10 to 10, and two days for mixing,
10 to 6," remembers engineer Tom Allom. The musicians weren't around
for mixing or mastering. No one was more surprised than the band at its
success: "We didn't think it'd ever do anything," remembers Geezer
Butler. "Recording the album was just something we did on the way to
Denmark."
For the band's follow-up, Paranoid, Rodger Bain, who produced their
first three records, brought the foursome to the then-primitive
Rockfield Studios in South Wales for preproduction. "The band were
cranked up as if they were on stage," Bain recalls. "The building we
were in was a fairly old barn. The whole of the roof actually did move.
I can remember Ozzy saying, 'Why don't we record here?' 'cause the
atmosphere of the place and the people were so great." (The band has
maintained a relationship with the studio's proprietors, brothers
Kingsley and Charles Ward, that continues through to the present.
Rockfield and nearby Monnow Valley Studios, now world-class facilities,
are still run by the two brothers.)
"The biggest chunk of time was spent in the rehearsing and routining
stage," explains Bain, "the object being that when you go in to record
you're not sort of experimenting in the studio. What you're doing when
you go into the studio is transferring it into a recorded version."
"We did the backing tracks for Paranoid in the same place that we
did the first album-Regent, a little 4-track just off Tottenham Court
road in the West End," remembers Allom. "It was a good-sounding studio;
we always got good results in that room. It was an absolute shithole,
but it worked. [The console] was some custom-built thing; just a piece
of old dross. Terrible thing-it didn't even have any midrange. We had
to get it modified to get some midrange. We had two 1-inch 4-track
Studers. We did have a Pultec. We had some Neumann mics; I think we had
a couple of 67s. We finally acquired an old M49. We had a couple of old
AKGs, whatever the forerunner of the 414 was. We had some old 64s, the
pencil mics. I recorded Bill Ward's drums stereo using those pencil
mics. Very few people recorded drums stereo back then. I thought it
might be a good idea."
According to Bain, "The bass was recorded with a split lead-one was
direct, the other was off the cabinet. It was loud." The dearth of
outboard gear wasn't a major problem at the time: "Mic placement was
probably one of the key ingredients," he notes. "Having a successful
album under our belts would have given the luxury of spending more
time."
"We started Paranoid at Regent Sound" recalls Ozzy Osbourne, "and
then we moved to this magnificent 16-track, Island Studios. That's
where we wrote the song 'Paranoid.'" Overdubs and mixing were completed
in the same state-of-the-art facility on Basing Street. Island Studios
was built by Chris Blackwell, owner of the successful Island Records,
in a converted church. The mix room was upstairs, where the prayer and
supplication had taken place, and the main tracking room was in the
basement crypt. The consoles at Island were built and modified by the
legendary British audio designer Dick Swettenham, who had built desks
for Olympic Studios, as well. Swettenham's consoles featured in-line
compressors and equalization. Monitoring was generally through Tannoy
speakers in Lockwood cabinets.
Once at Island, the 4-track basics were bounced to 16, giving the
group more space to experiment with different sounds. For Iommi's
guitar leads, for example, "It was double-tracking if not
triple-tracking," Bain says. "It would be a close mic and an ambient
mic that would be way off. But it was the combination that gave it that
punch and gave it the size of the sound." Still, Bain says that the
guitar sound derived much of its power from its simplicity: "I think
the secret to that was really 'cause it was straightforward. You know,
if you put compressors on something, EQ it over the top, you lose that
power; it just weakens the whole sound. The original way we worked was
to keep it really raw."
Ironically, the biggest hit the group would ever know entailed the
least amount of work. "'Paranoid,' the actual track, I did when
everybody went for a lunch break," Iommi explains. "I just sat in the
studio and came up with this idea." Drummer Bill Ward has a very clear
memory of the afternoon: "He was just playing it on his own in the
studio. Geezer plugged in his bass, I sat behind my drum kit, we
automatically grooved with him and Ozzy started singing. We didn't say
a word to each other; we just came in the room and started playing. I
think it was about 1:30 in the afternoon; Tony had the riffs, and by
2:00 we had 'Paranoid' exactly as you hear it on the record."
Bain pressed them to record the song: "It had a very strong beat, a
powerful riff. I remember pressing the talkback and saying words to the
effect of, 'That's pretty good. What is that?' and sort of getting
disbelief. They said, 'You're joking.' I said, 'No, that's really good,
that's a really strong riff.' They said, 'We're just pissing around. We
just made it up.' I said, 'Well that's great, let's do it!'"
The song was originally titled "The Paranoid" by Geezer Butler. "I
wrote the lyrics and Ozzy just read them as he was singing it," he
says. The antisocial nature of the words didn't hinder the song's
popularity in the slightest. In fact, the honesty in downer lines like
"I tell you to enjoy life/I wish I could but it's too late" seemed to
appeal to disenchanted youth of the early '70s.
The unusual distorted guitar solo was recorded straight and then
processed during mixing "through a sound modulator of some sort,"
recalls Iommi, most likely one of the many assorted effects boxes Bain
collected at the time.
Ozzy remembers being a bit surprised that the song they'd knocked
off in such a short period became the title track for the album: "I
remember going home with the tapes and I said to my then-wife, 'I think
we've written a single.' She said, 'But you don't write singles.' I
said, 'I know, but this has been driving me nuts on the train all the
way back.'"
Bill Ward's reaction was similar: "I thought 'Paranoid,' in
comparison to some of the other songs, like 'Hand of Doom,' was a
little bit light, to be honest with you. I thought, 'This is a bit of a
pop song.' I didn't really pay a whole lot of attention to it." But
when the record company received the finished tapes, they smelled a hit
in "Paranoid." "I think it was the only one that could be picked as a
single, because all the others were too long!" laughs Iommi in
retrospect.
"In actual fact the Paranoid album was going to be called War Pigs,"
recalls Ozzy, "and then we wrote 'Paranoid' at the very last minute. I
mean, if you look at the album sleeve, it's got a guy in a pink leotard
and a shield and a sword. That was supposed to represent the War Pig. A
pink pig. They printed the album sleeve and changed it to Paranoid at
the very last minute."
"We were looking for a single," says Joe Smith, who signed the group
to Warner Bros., "and they were hard to get. There was still resistance
in Top 40 radio to playing any single by one of these bands. If
somebody's going to take a shot, 'Paranoid' was the record to take a
shot with. Also, it was a great title for a single at the time."
The single climbed up to Number Four on the British charts when it
was released in the late summer of 1970. The album, Paranoid, was
released September 18, 1970, the day Jimi Hendrix died. It rose to
Number One in the UK and Number 12 in America and helped propel Black
Sabbath to the status of a major headliner, earning them notoriety
worldwide.
Although the single only made it to Number 61 in the States, Black
Sabbath had a special distinction at Warner Bros., as Joe Smith
relates: "What astounded us was the sales. Black Sabbath was our most
efficient seller. There's a certain curve where the sales end. With
Black Sabbath it never ended. It never totally stopped. The fever would
be gone, but you'd still be selling 5,000 a week or 10,000 a week, so
we never had returns with Black Sabbath. They had six Platinum albums
in a row; multi-Platinum albums. There is a feeling among kids now that
they missed something and here's a chance to get it back, and Black
Sabbath is one of the very few groups in that genre that's out there
playing."
Nearly three decades later, "Paranoid" has appeared in the set list
for nearly every show of every major incarnation of Black Sabbath or
Ozzy Osbourne's solo career. It has been re-recorded and re-released a
number of times on various live albums, as well as appearing in
multiple motion picture soundtracks and even a beer commercial. As rock
musicians of all ages continue to turn to the band for inspiration,
"Paranoid" retains the most mainstream popularity of all their
compositions, still garnering regular airplay on classic rock radio.
The band itself is an institution, one of the founders of its genre,
and with the recent reunion of the original lineup and singer Ozzy
Osbourne spearheading the massively popular Ozzfest, it seems certain
that their influence will continue for a long time to come.
It has been 20 years since the original Black Sabbath disbanded amid
a haze of drugs, alcohol and acrimony. During the intervening years the
band members have forged successful solo careers, as the group spawned
an endless procession of lesser imitators. With the passage of years,
however, the ill will dissipated and the substance intake shrank to
manageable levels, paving the way for the original lineup of Ozzy
Osbourne, Tony Iommi, Geezer Butler and Bill Ward to convene once
again. On December 4 and 5, 1997, two performances were recorded in
Birmingham at the NEC Auditorium for a live album, appropriately titled
Reunion. Ozzy has stated categorically that "one of the best shows I
ever did" occurred the second night, from which most of the record is
culled. The finished work, featuring nearly two hours of classic Black
Sabbath material, proves that the band has certainly remained as potent
as ever.
The concert was recorded 24-track analog by engineer Thom Panunzio
with remote recording provided by Manor Mobiles. Preliminary mixes were
done at Rockfield Studios in Wales. It was completed on the 72-input
SSL 6072 in the Mix Room at A&M Studios in L.A. by Bob Marlette,
who also produced two new studio cuts recorded in the aftermath of the
concerts. "Tony and Ozzy called me and I came in just to do the studio
tracks," Marlette explains, "Then, once we were in there working on the
studio tracks, they asked me to do the remix on [the live tracks]."
For the live material, Marlette called on the formidable resources
of the A&M outboard closet. "I used every tube compressor that
A&M had," he says. "I was even going into other rooms and pulling
stuff out; massive amounts of anything that was tube-a lot of LA-2As
and Pultecs, a lot of Neve modules; there were all these 1073s floating
around. Basically every piece of outboard gear I could get in. It was
mostly a combination of adding and subtracting frequencies. I would
start on the SSL EQ, narrowing the bandwidth, really selecting and
removing some of the tones that I didn't like, pinpointing and carving
them out, then putting them back in a warmer way through either the
Pultecs or the 1073s, in addition to tube compressors, fattening them
back up minus the frequencies that were ugly. I always start out by
removing what I don't like first and then I build up the quality of the
big picture."
Unlike most "live" albums, this one actually is a valid document of
the performance. "I think there's two snare drum hits I missed," admits
Bill Ward. "Nobody's going in there and overdubbing or anything else.
This is a raw live album." Guitarist Tony Iommi, the mastermind behind
the majority of the monstrous riffs, adds, "We've left some of the
clunks on it. We tried to keep it how it was, so if the tuning was a
little bit off, it was off. We didn't want to go in and polish it all
up. You can hear that."
"I wanted to keep it as pure as possible," Marlette adds. "I wanted
the audience to feel like they were seeing a show, not a sort of
edited, shined up, overdubbed thing. Anyone in the audience who would
buy that record would know better. I wanted them to feel like 'I was in
the 27th row and I was watching a great Sabbath show.' Actually, I did
use some stereo-enhancing boxes. There's certain places where you feel
that some of the audience is coming from behind you as well."
For the new studio songs, "Psycho-Man" and "Selling My Soul," Black
Sabbath stepped into the world of Pro Tools production, courtesy of
Marlette: "I think Pro Tools is just a wonderful tool that helps you
create whatever you want to create. Everything was manipulated into Pro
Tools, and once it reached its final form, it would be bounced to
analog. I wanted the benefit of analog, but the versatility of Pro
Tools."
Ozzy liked working with the system as well: "It's a lot easier, to
be honest with you, but I couldn't f–ing turn the thing on! You can
chop things around, no missing, and it's so easy. We wrote the two
songs in no time at all."
The recording process differed from the usual Sabbath approach as
well: "It was Ozzy and myself there," relates Iommi. "It enabled us to
put down the ideas quick, and if that didn't work, then to scrap 'em
and put something else down." With just Iommi and Ozzy present, the
guitar and vocals were recorded using programmed rhythms. "It was just
to get the basic idea," Iommi continues, "then Bill would come in and
play the drums. You've got to be careful with using click tracks
because of the feel."
"Tony is such a classic guitar player," Marlette offers. "I wanted
to make sure we captured Tony. I almost always put several mics on
there-57, 47 FET, 414 and like maybe an 87 back a little. Almost
always, I'd end up going back to the 57. It just works, it sounds
right. It was recorded in a fairly small room. I'd bus all the mics to
one track and we'd do multiple takes. Bass was a combination of DI and
mic. I think we used a B-15 on that. We recorded the drums in Studio A,
the Neve console."
The new songs were also finished in the Mix room, and mastered at
A&M by David Collins. As of this writing, the band was preparing
for a full-fledged U.S. tour slated to begin New Year's Eve. With the
possibility of a new studio album looming in the distance, it appears
that Black Sabbath are back-music world beware.