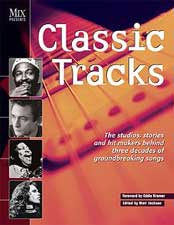 Formed in 1974 by four musicians from Rockford, Ill., Cheap Trick possessed all the ingredients necessary for success: experience, musical chops, quality material, a ferocious work ethic and an instantly recognizable image. The zany onstage persona of guitarist Rick Nielsen played well against the studly good looks of bassist Tom Petersson, while singer Robin Zander's choirboy-in-a-strip-club exuberance only emphasized the air of world-weary sophistication exuded by mustachioed drummer Bun E. Carlos. And they not only looked good, they could play. Taking on Midwest booking agent Ken Adamany as manager, the quartet worked a grueling apprenticeship, playing four or five nights a week on the club circuit, interspersed with supporting act slots for such arena-filling acts as AC/DC, Kiss, Rush, Queen, The Kinks and Ted Nugent.
Read more "Classic Tracks"
Buy the book
The hard work paid off. In 1976, A&R executive Tom Werman signed Cheap Trick to Epic, and the band recorded their eponymous first album with producer Jack Douglas. It sold a modest 150,000 copies in the U.S. but went Gold in Japan, a pattern that was to repeat throughout the band's career. The follow-up LP, 1977's In Color, which was produced by Werman, only just penetrated the U.S. album charts, though it did feature a song that would figure large in the band's future—"I Want You to Want Me." Finally, the first single from the third album, Heaven Tonight, became the group's first 45 to make the U.S. singles charts. Though it peaked at a lowly Number 62 in September 1978, "Surrender" undoubtedly paved the way for the group's breakthrough single—the live version of "I Want You to Want Me," which reached Number 7 in the U.S. Sales of the Live at Budokan album eventually reached Platinum status in the U.S. (triple-Platinum in Japan).
Recording for Heaven Tonight began in January 1978 at Sound City in Van Nuys, Calif. Producer Werman, who was based at Epic's headquarters in New York, recruited engineer Gary Ladinsky through a round of phone interviews. "I was given the name of four engineers who worked at the Record Plant a lot by Rose Mann, who was the manager," recalls Werman. "I remember calling each one of them and thinking that Gary sounded the best. He was the least boastful, the most honest and down-to-earth. I just liked the way he sounded, so I said, 'Okay, you'll do the record.'" Ladinsky had been on staff at the Record Plant and had become an independent in around 1975 or '76. "But I did most of my stuff out of Record Plant," Ladinsky says. "I just knew the place so well; I knew the facility, knew the staff. It was comfortable to do stuff there.
"I don't remember how we ended up at Sound City," Ladinsky continues. "I think we were just looking for a big room, and Sound City had a reputation as being a good rock 'n' roll room, and it had a Neve. I don't think I'd ever worked there before. We just went in there and scoped it out, probably set up the way they suggested, but we ended up moving things around a lot."
In fact, it took Ladinsky and Werman about three days to get the drums sorted out to their satisfaction. The drum-miking setup included both close and distant mics, and, more than two decades later, Ladinsky can only guess at the mic selection, but it probably included a Shure SM57 on the snare or an AKG 451. "There could have been two kick drum mics," notes Ladinsky, naming an AKG D-12 and a 421 as the most likely candidates. Tom mics were likely Sennheiser 421s and overheads were probably 451s or 414s. In addition to the close mics, Ladinsky remembers using two room mics. "And then I had a shotgun mic in the room," he adds. "But I didn't use much of it, at least not on 'Surrender,' I know. It's more of an in-your-face kind of a record."
Tom Petersson's 8- and 12-string basses also posed some recording challenges. "It was tough to get the sound decent, because Werman wanted to make a guitar record—that's what he makes, guitar records," recalls Ladinsky. "And it's hard to get a bass that needs to really have some definition—to sound like a bass—when there's all that information. I remember we tried every combination of amplifiers and we finally settled on one cabinet, which had a single 15 in it, turned down soft." That was recorded on track 8, with a DI signal on track 9.
Rick Nielsen's original guitar track was recorded on 10, and was supplemented on January 11 with overdubbed rhythm guitars on 11 and 12. "Looking at the track sheet, it says 'shower,' so we probably recorded it in the shower," notes Ladinsky of the stereo pair. "They had a bunch of little rooms on the side of the studio, and we put amps in the different rooms to vary the sound."
"We did all kinds of experimental setups," adds Werman. "We recorded in the bathroom, we recorded in the hall, we used the shotgun mic for the bass strung up on the ceiling pointing at the cabinet. But I think 'Surrender' was pretty straightforward." An additional rhythm guitar part was added on January 13, two days after the rhythm guitar overdubs.
By the time the vocal overdubs were recorded on February 21, the sessions had moved to Studio B at the Record Plant. Ladinsky remembers using a Neumann 47 FET to record Robin Zander's vocals, compressed through a UREI 1176. "I found that just worked really well with him," he notes. "We double-tracked everything, and in the mix I used a 65-milliseconds delay, just on the lead, probably an early Eventide device." Zander also sang a harmony part on the verses and choruses (track 18).
As the track sheet indicates, multiple vocal parts were stacked for the choruses. "I know Rick and Robin sang together, and then we doubled them," Ladinsky recalls. "And that was on the first couple of choruses. For the out chorus, they were singing everything—'Surrender,' 'mommy's alright, daddy's alright.' And then when it came to the out chorus, they did 'Surrenders' on two separate other tracks."
Though the 24-track was getting pretty full by this point, Ladinsky doubts he did any compositing of the vocal tracks. "I don't think there's more than just two voices per track, so there's probably only four voices, left and right," he says of the background vocal tracks (19 and 20). "But the hardest thing I remember doing was, they decided at the end, after all the backgrounds were completed, they wanted to go back and go, 'Oh, let's put our names in there. Let's go "Bun E.'s alright, Tommy's alright, Robin's alright, Rick's alright, we're all alright, we're all alright."' And that was scary, in that I had to punch in on the tracks that we already had recorded vocals and stacked the vocals on. I wasn't even sure they knew what they were doing. I remember working with The Eagles once, and they'd started doing these really close drop-ins—we used to just cut leader into the master tape so they wouldn't record back into something you want to save. And I might have done that on 'Surrender,' I don't remember. I don't think so. It probably was like a half a breath, get in, get out."
On February 25, Jai Winding added a stereo piano overdub on tracks 22 and 23. "The only place I can really hear it is on the bridge," says Ladinsky. "I know we just compressed the crap out of it and just put it in to reinforce the rhythm guitar. In the chorus, it was just an eighth-note part. Really just a simple, simple part."
According to Werman, the synthesizer part (marked as a "string ensemble" on track 7) was based on an idea from Who's Next. "I copped as much as I could from The Who," Werman laughingly admits. The backing track had been recorded without a click, so the loop-based synthesizer part tended to drift against the track tempo. "I know we had to stop a few times to punch in," says Ladinsky. Werman added tambourine on track 24, and the song was ready to mix.
Ladinsky remembers the Record Plant's API console, but he is less sure about the monitor setup. The main monitors were custom Record Plant models with JBL driver and wooden horns, but he thinks the record was probably mixed on Auratones. "The band wasn't even with us when we mixed. They were on tour—I think they might even have been in Japan. But they left as soon as they finished all the overdubs, and Tom and I and [manager] Ken Adamany were the only ones there for the mix, plus assistant engineer Mike Beiriger."
Ladinsky's notes from the mix session include his EQ settings on various tracks (including a Pultec on the snare), aux bus assignments and settings, and control parameters for limiting the lead vocal and its double through a pair of 1176s. "I also used the B&B equalizer on the rhythm guitar, the middle guitar. I think it just fattened it up for when it popped in the chorus," he recalls. The B&B EQ was a module that slotted into a cage like the dbx and Kepex units. "I seem to remember they were orange," says Ladinsky. "And they were pretty versatile. They had at least three bands. It wasn't parametric or anything like that, but pretty radical compared to the API 550A board EQ."
For reverbs, Ladinsky set up a live chamber on send 1, with an EMT 250 ("R2D2") on send 2. "I know I used the 250 when it first came out," he recalls. "But I didn't use it as echo, I used it in the Chorus mode. I don't remember what I put it on—I could have put it on everything. [Laughs.] I was kind of a fan of that piece of gear. I bought one later, and that's how I started my company [Design FX Audio]." On send 3, Ladinsky set up a phaser effect with an Eventide unit. "I don't know what I used it on," he says. "I probably put a little bit on background vocals and possibly rhythm guitar."
Ladinsky used the Allison automation system then current at the Record Plant, which meant that two tracks on the 24-track had to be erased for the automation data. "I know I had to erase the hi-hat [track 5] in order to have a data track, and I erased something else to get another open track to bounce back and forth," recalls Ladinsky. "There was enough hi-hat on the overheads and something had to be sacrificed. The automation helped mostly in muting stuff, where you pop things in and out. Especially in this song, because it starts off with just the drums, and then the guitars kick in and the vocals pop in and out." As most Allison users have noted, the system was somewhat primitive, and, after a few passes back and forth, the automation cue points would slip. The finished album, which was mixed to ¼-inch, 30 ips non-Dolby, was mastered by George Marino in New York with both Ladinsky and Werman in attendance. "I ended up going to New York quite a bit on almost every record Tom and I did," says Ladinsky.
As Werman recalls, "Surrender" was a modest hit. "I think it did well, but it didn't do that well at first on radio, and then it became an anthem later on. It did well on album radio." In July, Heaven Tonight reached Number 48 in the U.S. album charts and was the band's first record to reach Platinum sales in Japan, no doubt aided by their first—and wildly successful—tour of Japan in February.
As Ladinsky relates, "The record came out, and, all of sudden, I'm hearing from Tom, 'We're going to be doing another studio record, but they're doing this live record first.' I think it started out as a promotional record, and then they decided to make it a full record. As I remember, I was in New York doing some other work, and I went by the Record Plant where they were working with Jack Douglas and Jay Messina, doing overdubs and cleaning up the tapes. At some point, management called me and said, 'We want you to mix Live at Budokan.' So they came to L.A. Not the band, but just Ken Adamany came. I don't even think Tom [Werman] was there. Tom was probably doing something else. And we mixed about seven of the songs in three days."
The unexpected success of Live at Budokan led to Ladinsky being offered more work, but he also spent a lot of time in the studio with Werman. "We had a good relationship working with each other," says Ladinsky. "We were like brothers together. After Heaven Tonight, I think we went and did Molly Hatchet four or five months later. Tom and I did about 12 records together."
The hardest thing I remember doing was, they wanted to go back and go, "Bun E.'s alright, Tommy's alright, Robin's alright, Rick's alright, we're all alright, we're all alright." I wasn't even sure they knew what they were doing.
—Gary Ladinsky
Ladinsky dropped out of the music studio world in the mid- to late '80s. "I stopped doing records and switched over to doing films and TV stuff," he explains. "I did a lot of films, large orchestra and big band type recordings, which was great, totally different." In 1983, Ladinsky started the Design FX Audio equipment rental company, a business idea that had been germinated during the Heaven Tonight mix sessions, for which Ladinsky had rented the EMT 250. "I said, 'Tom, let's buy one of these things. We'll rent it to ourselves at half the price, and we'll have it to use,'" recalls Ladinsky. "So, I borrowed the money, and I just sent away and bought it. And what happened was, we used it on all our records, and then people kept calling me to use it. I was working at the Record Plant and just kept it there, and a lot of the people at the Record Plant wanted to use it, so I just started renting it. And, as they say, the rest is history. Now I'm a slave to the equipment." [Laughs.]
More than 20 years later, Ladinsky remembers the Cheap Trick sessions with particular fondness. "The guys were great, really good guys," he says. "They were fun, they knew what they wanted to put on the record. Tom [Werman] was in his element, and he knew exactly what he wanted to do. Everything went really smooth. I mean, I'd worked on Deep Purple and Black Sabbath—I had done some heavy rock 'n' roll stuff—but this was more pop-y and fun. The guys could sing and play and were quite entertaining." Werman agrees. "Heaven Tonight was my favorite record that I've ever done," he says.