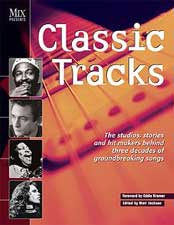 Read more "Classic Tracks"
Buy the book
Folk singers wouldn't throw in the towel. The Brits were here. Blues masters tossed jagged contrapuntal lines into a densely textured pop symphony. Back in 1966, young musicians like Tom Dawes and Don Dannemann had a lot of influences from which to draw. Along with drummer Marty Fried and keyboardist Earl Pickens, they were The Cyrkle, a group that recorded a pair of hits in 1966 — "Red Rubber Ball" and "Turn-Down Day" — and spent a season in the sun with The Beatles.
While students at Lafayette College in Easton, Pa., Dawes, who sang the upper part on "Red Rubber Ball," and Dannemann, who handled the equally weighted lower part, formed a band called The Rhondells with Fried and Pickens. The group quickly moved from being the most in-demand party band on campus to playing clubs along the East Coast. Eventually spotted by Nat Weiss, a New York attorney who had a partnership with Beatles manager Brian Epstein, the group was rechristened The Cyrkle by either Epstein or, as legend has it, John Lennon.
The Vietnam War was raging, and Dannemann decided to spend six months in the Coast Guard Reserves rather than risk getting drafted. Dawes, meanwhile, had been spotted playing bass in a New York club by Barry Kornfeld, who was putting together a touring band to support Simon & Garfunkel, whose Sounds of Silence was at the top of the charts. At some point during the tour, Paul Simon played Dawes a demo he'd made of "Red Rubber Ball," a song he'd written with Bruce Woodley of The Seekers.
Meanwhile, John Simon (no relation) was making his way up the ladder at Columbia Records. "I had been a 'trainee' at Columbia," says John Simon, "and had just been moved to the pop department as an associate producer and assigned a few acts that the experienced producers didn't see as profitable when Nat Weiss walked into my 10-by-10 windowless cubicle. He said he was 'an associate of Brian Epstein' and that every other producer in the place had turned him down. He played a demo of 'Red Rubber Ball,' which I thought was okay. I screwed up my courage and went to ask my scary, imposing boss — gruff Bill Gallagher — if I could have $5,000 to cut it. He said sure, as if it were pocket change!"
John Simon and The Cyrkle headed into Studio B at Columbia to work with Roy Halee. "Roy was the real deal," says Dawes. "He had that flowing combination of 'big ears' and technology savvy that's hard to find. You know how, given the same ingredients, one person will cook a mediocre meal and the other will get the balance just right and it will be twice as good? That's what Roy did, and he made it look easy. I remember [engineer] Freddie Catero was around, but Roy Halee did everything on 'Red Rubber Ball' and 'Turn-Down Day.'
"We sat down in the session and headed out the arrangement, building on the demo," Dawes continues. "John Simon thought it should have a Hammond organ calliope-stop lick, and that little 'so-mi-fa-mi-re-do' lick popped into my head. I hummed it to him, we adopted it and the first pass was Dannemann on electric guitar, me on acoustic, Marty Fried on drums and Simon on Hammond. Then I overdubbed bass. John and I overdubbed tambourines for the "think…it's gonna be all right" parts, then Don and I sang and doubled the parts. I'm not sure where all this went on the 4-track, but I don't think we had to bounce down to another machine. John Simon was the catalyst: He had interesting musical ideas, played keyboard really well and he drove the boat. He was the real deal, like Halee. It took me a few years to realize that The Cyrkle had started with the best. I was so young I thought all engineers and producers in New York were great like these guys. Er, not! [Laughs]
"Roy was the engineering king at the time. A lot of the equipment was primitive, but he could make anything sound good — he'd make those limiters sing. I have a tech-y bent and love to know how equipment works, and I remember asking Roy and others a lot of questions. At first, people were reluctant to waste time explaining things to me, but that changed. I studied the way Roy premixed a track and still was able to end up with just the right amount of bass." At the time, Columbia Studios was equipped with its own custom-built consoles, and the outboard gear of the time comprised mostly simple analog boxes that are cherished today — from Pultecs to 1176s and EMT reverbs.
Dannemann recalls playing his Fender Strat through the Fender Bandmaster amplifier that currently occupies a corner of his Pennsylvania studio. "It took awhile to get the basic track down. Finally, we're coming to the end of the take that we all know is going to be the keeper and I missed a note. We talked about it afterward and decided to leave it in."
"Red Rubber Ball" traveled up the charts in a hurry during the spring of '66 but stalled at Number Two, outflanked by the Tommy James & The Shondells' song "Hanky Panky." Buoyed by the success of their debut album, which also included the breezy but melancholic "Turn-Down Day" (featuring a prominent electric sitar line played by Dawes), The Cyrkle was given a golden opportunity: the chance to join The Beatles on their farewell tour in 1966.
"That tour was totally awesome," Dannemann recalls. "I'll never forget that first concert. We hadn't met The Beatles and we were in awe of them. The first night we wondered if the crowd would boo us off the stage and demand The Beatles, but they whooped and hollered, and we did well. That was a relief.
"We were playing an indoor arena that first night in Chicago, or maybe it was Detroit. After we played, I stood behind the stage waiting for The Beatles to come on. They looked really good in their dark-green velvety jackets. I was watching all these young girls sitting in the front rows, and it seemed like they were sitting on electric chargers. Every once in a while, one girl would fly out of her seat, almost higher than you'd think was possible. Then another one — there was this out-of-control popping of girls! I looked around and there was a grown woman, possibly a reporter, standing next to me, sobbing uncontrollably. You couldn't hear enough to know if The Beatles were performing their stuff well, though — you just couldn't tell!
"The first meeting we had with any of them was in the chartered airliner after that show. The Beatles had a walled-off area at the back of the plane. Tommy, Nat Weiss and I were sitting three-across near the front of the plane, waiting to see them. Finally, oh my God, there's Paul [McCartney]! He seemed like a normal, good guy as he worked his way up the aisle shaking hands and saying hello to people. Finally, he reached us. Nat knew Paul through Brian, and so he introduced us to him and we had a brief, mundane exchange. Tom and I spent the rest of the trip analyzing every word that was said, pondering what we could have done to engage and keep him around longer!"
But as the song says, the roller coaster ride they took was nearly at an end. One minute you're playing Candlestick Park in San Francisco, waiting for The Beatles to take the stage and give their last live concert performance. And the next? "I remember most vividly the contrast between Candlestick Park [now Monster Park] with, what — 50,000 people cheering and screaming," says Dawes, "and The Cyrkle's next gig two nights later is at some low-life dive in the Catskills [N.Y.], where there were 14 people in the audience, including one guy who's tapping on his water glass and yelling, 'Hey, keep it down, keep it down, I'm tryin' to eat here!'"
"Coming off the mountain was very difficult," Dannemann confides. "The last job we played was in the beginning of 1968, at a teenage nightclub somewhere in Pennsylvania. We actually had broken up, but the gig had been booked way in advance. We drove two rented station wagons ourselves and dragged in the equipment.
"Once out of that 15-minute bubble, nothing went right. We were heading into the studio one day to work on our second [and last] album when we ran into Paul Simon. He and Art [Garfunkel] were working in the same studio. Paul told us they'd just finished a song he thought would be perfect for us, and said that since they wouldn't be releasing their version of it for months, we could put it out first. But we passed on '59th Street Bridge Song (Feeling Groovy).'"
Pickens left the group to pursue a career in medicine, and Fried became a lawyer. Like Dawes, Dannemann built a successful jingle house in New York. By and by, though, The Cyrkle remained unbroken. "A few months ago, Tommy called me and said that Earl, who's living in Gainesville, Florida, and Marty, who lives in Michigan, were both going to be in the city," says Dannemann. "Tom and Ginny have an apartment in Manhattan, and they hang out at the Café Des Artistes all the time, so they were able to book a dining room for us with a private bar and bathroom. It was great. My wife and I drove in from Pennsylvania, and we spent the whole evening reminiscing."