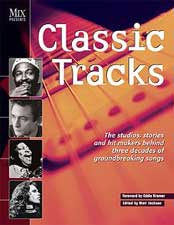 Read more "Classic Tracks"
Buy the book
Dire Straits were striking and original enough that they probably would have found an audience in any era, but the fact that they blossomed in the late '70s-when disco ruled and the popular alternative was punk/new wave-makes the British group's success seem quite remarkable in retrospect. With his low-key demeanor, his vaguely Dylanesque songs and vocal style, and his propensity to play long, graceful guitar solos, band leader Mark Knopfler was light years away from the rock/pop mainstream of the day. But his songs were neatly constructed, his guitar tone mellifluous, and he drew from a deep reservoir of influences-mostly old American folk, country and blues-that he fashioned into a sound that was familiar yet unmistakably new.
Dire Straits' first album, released in the fall of '78, took just 12 days to record and cost a mere $25,000. It went on to sell more than a million copies worldwide and yielded one of the surprise hits of the winter of '78-'79, a lively evocation of a working band sweating it out in the clubs called "Sultans of Swing." Though the group's next three albums failed to yield another hit single, the band's fortunes continued to rise with each effort, as Knopfler's songwriting became more ambitious and more assured, and Dire Straits became a highly successful touring act, thanks to Knopfler's fluid and imaginative guitar pyrotechnics. On both Making Movies (1980) and Love Over Gold (1982), Knopfler experimented successfully with longer story-song forms, somewhat akin to Bruce Springsteen's more cinematic '70s work. The latter album was another worldwide smash for the group, but it was their next effort, 1985's Brothers In Arms, that would cement the group's place in rock history, and produce the group's most popular single, "Money For Nothing."
Love Over Gold marked the first association between Knopfler and a young New York-based engineer named Neil Dorfsman. "Mark was sort of getting into jazz, and he'd liked a record
I'd done with a vibraphonist named Mike Manieri when I was a staff guy at Power Station in New York," Dorfsman recalls. "Love Over Gold was Mark's baby step into a new kind of music for him. It was very arranged. He was getting into orchestration and heavy use of keyboards, getting away from guitar as the central instrument. It was still the same band, still the original guys except for his brother, David. But I think it was a case of Mark kind of pulling the guys into new territory, whereas Brothers In Arms became more like Mark casting the musicians to play on the record because he had advanced his vision; he had moved to another place. By the time we made Brothers In Arms, Pick Withers [drummer] was no longer with the band and there was a new guitar player, and it was a different-feeling band in many ways. I think he had more confidence going into Brothers In Arms than Love Over Gold."
In between making Love Over Gold and beginning Brothers In Arms, Dorfsman worked with Knopfler on a few projects, including the guitarist's widely acclaimed soundtracks for Local Hero and Cal, and Bob Dylan's exceptional Infidels, which Knopfler produced. Work on Brothers In Arms started in October 1984 at AIR Studios in Montserrat. "I had been freelance for a couple of years and was actually in the middle of recording a Def Leppard record in Holland when we were to begin Brothers In Arms," Dorfsman recalls. "I was recording what became Hysteria [Def Leppard's breakthrough LP]. I was committed to that for three months and, thinking foolishly that we'd be done in three months, I'd booked Dire Straits. Little did I know that in three months we'd barely have drums and bass on seven songs, which would subsequently be completely redone when Mutt Lange came in to produce. So I flew off directly from Holland to Montserrat to start the Dire Straits record."
In the early '80s, producer George Martin's AIR Montserrat studio was widely considered one of the plum recording locales in the world, offering a state-of-the-art facility in a gorgeous setting-a lazy, genteel Caribbean isle. "The best thing about the studio itself was the Neve [console]-it was one of the great 8078s ever built," Dorfsman says. "There were two made for AIR London, and this is one that went to Montserrat. It was just an incredible-sounding board; it's now at A&M in L.A. The great Police records were made on that board, as well as Dire Straits-a lot of great things. The actual recording space was very small-maybe 20 by 30, with a low ceiling-so even though there was excellent equipment and it was a nice place to work, it was difficult to cut in there as a band. It was hard to get any isolation on anybody, and the room didn't have a 'sound' really, so we always close-miked everything. But anything that went through that board sounded really good."
Dorfsman notes that recording in paradise had its pitfalls, too: "I remember one day going out of the control room to page the band and they were all lying around the pool like beached whales. When I got them in the studio they were playing with towels around their waists, white cream on their noses, sunglasses and towels on their heads, and everything was like 60 beats per minute-it was so slow! I'm saying, 'Guys, we're making a record here!'" he laughs. "It was so much fun to be there that it was difficult unless you were incredibly disciplined. It was hard to focus exclusively on recording. But once you were in a creative mode it was great because it was quiet and relaxing. I did a record there subsequently with Sting [Nothing Like the Sun], and he was very, very focused. That project involved longer days and more concentrated work, and it ended up being a perfect place for him. For Dire Straits it was fantastic, but occasionally the band's energy got a little scattered, and it was hard to rein it in and keep things intense."
Knopfler never demo'd his songs before cutting them, but he'd have his arrangement ideas solidly in his head and the band was always well-rehearsed and ready to record, Dorfsman says. "Things would sometimes happen in rehearsal that would change the arrangements a bit, but there were never any radical shifts. Mark writes to his strengths as both a player and a singer. He has loads of feel in his playing. I was always trying to get him to do solos, because I think he's an incredible player, but he'd say, 'What do you mean? Like a rock solo?' He'd look at me with mock horror. He was always much more into ensemble playing and arrangements."
In keeping with that philosophy, Brothers In Arms found the entire group playing live on the basic tracks, with other parts added later as required. "It was kind of an odd situation at that time because the drummer was Terry Williams, a great rock drummer, and he was sort of new to the band. I think he felt a little uncomfortable with the direction the music was going, which was very 'heady' and arrange-y," Dorfsman says. "He's a wonderful feel player, and I think he found himself thinking about what he was playing rather than just doing it. So several weeks into the record we got Omar Hakim [of Weather Report fame] in, and he re-did about three-quarters of the drums on the record. He did it all in a day-and-a-half or two days-I'm sure he didn't do more than two takes on anything. Actually, on 'Money for Nothing' we kept Terry's toms and the tom fills throughout the song, but everything else is Omar."
Of all Dire Straits' albums, Brothers In Arms has perhaps the greatest textural depth, with layers of acoustic and electric guitars dancing effortlessly alongside bright keyboard parts and shuffling drums, all in an open and airy ambient space. The album is filled with wonderfully executed dynamic shifts, and each song seems to have its own mood-from the wistful, slide-guitar driven ballad "So Far Away" to the modern rockabilly feel of the spry "Walk of Life" to Knopfler's moody anti-war "Ride Across the River." And then there was "Money for Nothing," Knopfler's funny, cynical slap at stardom, told from the perspective of a working-class lug watching MTV and complaining about the easy lot of rock stars who get "money for nothing, chicks for free."
According to Knopfler, the inspiration for the song came to him while he was shopping one day. "I had to ask for pen and paper while I sat down in this mock kitchen display-which was in the front window of this kitchen electrical and appliance store in New York-and tried to write the tune," he said in Mix's December '97 issue. "In the back of the store, all the TVs were tuned into MTV."
The song's ethereal opening section, with Sting slowly singing "I want my MTV" over a slightly ominous-sounding wash of synthesizers, was conceived after the basic tracks for the song were cut. As Dorfsman explains, "That was a happy accident. Sting was down in Montserrat while we were doing that song. He had come by to visit and had dinner with us one night, and I think after that Mark and I kind of looked at each other and thought, 'Let's get him on this record.' I'm not sure to this day if Mark had the 'I want my MTV' line written already or wrote it for Sting to be in the melody of [Sting's Police song] 'Don't Stand So Close to Me.'"
Dorfsman says that Knopfler's distinctive, crunchy guitar tone on the main body of the song was another accident: "I would go out in the studio while Mark would play, and I'd have a couple of mics up on his amplifier; the guys in the control room would be listening, and I'd move the mics around until it sounded pretty good to them in there. I'd usually use two mics, and I was positioning one and moving the other. It was sort of in a weird spot where you'd never put a microphone and everybody on the talkback said, 'Stop! Come here and listen to this!' There was some weird phasing thing happening. I don't know what it was. But it sounded great and we did six or seven takes right away because I wasn't sure we'd ever get that exact tone again. I wrote it all down, but when we tried to better it in New York a month later, we never came close." Dorfsman says that on "Money for Nothing," Knopfler played a Les Paul Junior through a Kelly amp miked with two Shure SM57s, one close and the other "in that weird spot, like seven inches back and pointing to the side," he laughs.
He also notes, "We did a lot of keyboard overdubbing on that song in particular; we spent a lot of time on the sound and the part. I remember telling Guy Fletcher to treat that whole extended intro section as if was a science fiction scene and there was a monster coming alive. Eventually we got something that approximated the idea I had. Mark was always looking for sounds that weren't stock, and was into buying keyboards that other people weren't using."
As for Knopfler's craggy vocals, "A lot of cigarettes were involved," Dorfsman says with a chuckle. "I would try to get him to not smoke while doing a vocal but it never happened. I had vowed after Love Over Gold, 'I'm going to ask Mark to work harder on the vocals.' But it was always just a couple of takes, a couple of punch-ins-'See you later.' It is what it is, and you either like it or you don't."
Dorfsman and the band worked on the album in Montserrat from early November until Christmas of '84, then came back to the island for another month after the holidays before moving briefly to Power Station for some final overdubs, followed by mixing on an SSL G Series console at AIR in London. "I mixed that album in six days on Auratones," he says. "The thing that saved me was knowing the tracks so well. When I record I always work with an eye toward mixing; I'm always EQ'ing. [In this case he'd used the Neve EQs on the 8078.] I rarely cut things flat, so when it came time to mix, it was mainly a matter of balancing and it was relatively easy."
Dorfsman says the principal processors on the album are Sony DRE-2000, a number of EMT plates and the then-trendy (and expensive) AMS reverb. The project was among the first rock albums cut entirely on a 24-track Sony digital recorder, which Dorfsman says he "loved from the first minute I used it. Mark ended up buying one after working on that album."
Propelled by copious airplay and a clever, animated video, "Money for Nothing" became, in the summer of 1985, Dire Straits' only Number One single, and Brothers In Arms topped the album charts for nine weeks. "Walk of Life" was also a Top 10 single in both the United States and Britain. Dorfsman won a Grammy award for engineering Brothers In Arms (he had been nominated for Love Over Gold, too), and "Money for Nothing" was honored as the Best Rock Performance by a group. Brothers In Arms was widely hailed as one of the first great-sounding compact discs, and both musically and sonically it has withstood the test of time.