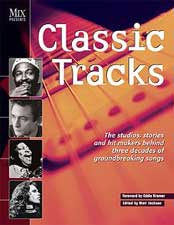 Joan Jett turns 40 this September, a milestone that seems almost unimaginable to anyone who still remembers her at 17 strutting the stage, all rock star poses and crunching power chords, as a member of L.A.'s beloved/derided jail-bait group, The Runaways. Actually, The Runaways were pretty good the night I saw them in a San Francisco club in 1977. They put on a high-energy show that had the place rockin', and the girls were easily more proficient on their instruments than most of the punk bands that were springing up like weeds in the Bay Area at that time. But everyone treated them like a joke, and as a concept-glam-tramp rock?-the group seemed doomed to failure from the moment in 1975 when. Sunset Strip rock Svengali Kim Fowley sprang them on an unsuspecting world.
Read more "Classic Tracks"
Buy the book
Still, The Runaways turned out to be just an early stepping stone for guitarist/singer/songwriter Joan Jett. A native of Philadelphia, she moved to Baltimore while still in grade school and then, at age 12, to Southern California. She was a bit of a wild child and had trouble fitting in at her new school, so it's not too surprising that she fell in with a fast crowd that frequented various Hollywood rock 'n' roll clubs. She loved the early '70s glam scene, with the theatrical make-up and platform shoes-her idols were T. Rex, David Bowie, Slade and hard-rocking Suzi Quatro, who is all but forgotten now but was influential on a generation of girls who wanted to plug in and play electric guitar.
When she was just 15, Jett met Kim Fowley at the Starwood club, and he enticed her to form The Runaways, which he both managed and produced. Fowley had imagined the group as a sort of female Ramones, and many of their early gigs were on the punk/new wave circuit-for instance, their New York debut in 1976 was at CBGB's on a bill with Television and Talking Heads. Though lingerie-clad singer Cherie Currie became the group's focal point, and lead guitarist Lita Ford was the only one with much previous band experience, Jett distinguished herself early on as someone who was serious about music and songwriting.
The Runaways made a couple of mediocre albums that few people bought, but at least they got the thrill of touring for a few years, enjoying the rock 'n' roll lifestyle and seeing the world. Critically lambasted from the get-go, they never really rose above being a novelty act, but they did get to do a cool tour opening for The Ramones in 1978! on New Year's Eve 1978-79, the group played what turned out to be its final performance, in San Francisco.
Jett traveled to England the following spring and cut some tracks with former Sex Pistols Steve Jones and Paul Cook, but only a single in Holland resulted from the sessions. By summer she was back in L.A., producing an album by the punk band The Germs and starring in a not particularly memorable film based on the brief career of The Runaways called We're All Crazy Now. That didn't establish her as an actress, but one positive aspect of the experience is she hooked up with producers Kenny Laguna (Jonathan Richman, Greg Kihn, Bow Wow Wow) and Ritchie Cordell (writer of many of Tommy James' hits, as well various bubblegum groups in the '60s), and they offered to produce her first solo album.
Joan Jett combined the tracks she'd cut in England with new ones featuring Blondie's Clem Burke and Frank Infante, among others. Initially, all the major U.S. labels passed on the record and it was released in Europe only. Eventually, after a spate of good reviews and some buzz in Europe, Boardwalk Records in the U.S. picked up the LP, renamed it Bad Reputation (an apt title) and released it in early 1981. It didn't sell very well, but it got some radio play, and Jett and her band, The Blackhearts-bassist Gary Ryan, guitarist Eric Ambel and drummer Danny o'Brian; all New Yorkers-managed to tour steadily behind it, building a following as a tight and explosive live act.
Around the middle of the year, the group (with new drummer Lee Crystal replacing o'Brian), Laguna and Cordell went into oDo Soundworks Studio in New York City to begin work on Jett's second LP. The engineer was Glen Kolotkin (see this issue's Producer's Desk), a veteran who had worked with Laguna on various Beserkley Records albums and was now the de facto house engineer for the production duo. "We recorded all these songs that were pretty good, but I didn't hear any hits," Kolotkin remembers. "I kept saying, 'What are we going to do for a hit?' So Kenny Laguna said, 'We have one song that could be a hit, but I don't know if we're going to record it, because [producer] Roy Thomas Baker wants to record it. I hadn't heard it at that point.
"I had produced Journey's second album, Look Into the Future, and I was supposed to do their next album, but Roy Thomas Baker ended up doing it after Journey got their new singer, Steve Perry. I knew that album would be a hit, but he ended up doing it. So when I heard Roy Thomas Baker's name mentioned again with Joan Jett and this song, I immediately went in and got the band to play the song one morning in the studio. And they really played it! That was 'I Love Rock 'n' Roll.'"
Written by Alan Merrill and Jake Hooker of an obscure mid-'70s band called The Arrows, the song had been a favorite of Jett's since she saw The Arrows perform it on British TV during a Runaways tour of England. In fact, she had unsuccessfully tried to convince The Runaways to cover the tune. For all intents and purposes, it was unknown in the U.S. at the time Joan Jett & the Blackhearts recorded it. And Merrill and Hooker couldn't have envisioned the big, booming production treatment the team of Kolotkin, Laguna and Cordell came up with for the song. With its stacks of vocals, thunderous hand claps and anthemic rock guitar, the song fairly resembled a production by Roy Thomas Baker, who was riding high with The Cars, Queen and others.
Kolotkin chuckles when I make the comparison. "Well, it was an obvious way to do it," he says. "I knew it was going to be a hit and I wasn't going to let it slip away. We wanted the vocal overdubs to be almost like an audience."
When Ricky Byrd joined the Blackhearts as lead guitarist that summer, replacing Eric Ambel (who's now a successful producer), Laguna and Cordell decided to re-record most of the album at Kingdom Sound, a 24-track, Harrison console-equipped facility in Syosset Long Island. Though he'd only been with the band a week when recording at Kingdom began, Byrd fit in immediately and the recording went quickly and smoothly.
"It took us almost no time to get a basic track on 'I Love Rock 'n' Roll,'" Kolotkin recalls. "I thought it was a smash hit from the beginning. Then Laguna came in and Cordell came in and they were as knocked out as I was, and we finished the record up in one day. It just came together." The basic track for the song was live, but then there were numerous overdubs, including doubling certain guitar lines and, of course, the layer upon layer of voices and hand claps, magnified by EMT plates "and maybe some Lexicon" reverb, Kolotkin says. "We just kept building it up and up and up. I knew it was right when the hair stood up on the back of my neck.
"I'll never forget, we were mixing it and we had used the automation on the Harrison console they had there, and we mixed it for a few hours and we had six mixes which I know Laguna and Cordell were happy with, but I wasn't that happy with. To me, something was still missing, or it didn't feel quite right. So I said, 'Let me just try this other approach.' And I pulled out the patches and in 15 minutes I came up with another mix which was completely different, without the automation. I got Laguna and Cordell to come in and they liked that one, too, but they decided to let the band pick out what they wanted to use. So we put that mix in the middle of the other mixes and brought the band in and when it came to the 15-minute mix they all jumped up and said, 'That's the one!' It wasn't perfect, but it was very exciting.
"On the other mixes, I felt like we'd lost a lot of the energy. Everything was in a perfect place, everything was shaped perfectly, but I heard it in my head as more raucous, with all that echo on there that should sound like a big coliseum. So that's what I emphasized. Joan's voice gets lost here and there, but so what-it doesn't matter. It needed a rougher sound."
The finished album, also called I Love Rock 'n' Roll, came out shortly before Christmas in 1981 and immediately caused a sensation-not because of the title song but because of a hard-rocking version of "Little Drummer Boy," of all things. (That tune was deleted from the LP after Christmas and was replaced by Jett's "Woe Is Me.") That opened the door for radio to play "I Love Rock 'n' Roll," and it soared all the way to Number one in early 1982, remaining in the top spot for seven weeks. The album also yielded another smash: a fine version of Cordell's Tommy James hit "Crimson and Clover." After those successes, people stopped talking about The Runaways and accepted Jett as the tough and talented bandleader she had become. And to date, I Love Rock'n'Roll album has sold more than 10 million copies worldwide.
Through the years, Jett has had several other hits and has proven to be quite a road warrior, and through it all Laguna has remained her manager and producer. Her most recent album, with the re-formed Blackhearts, was 1999's Fetish. But beyond Jett's commercial success has been her unquestioned influence on the current crop of Riot Grrrl bands, who view the trajectory of Jett's career as an inspiration.