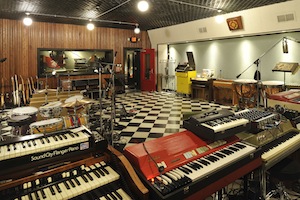 Easy Eye
Easy Eye Sound, the production base of Black Keys singer/guitarist Dan Auerbach, saw a lot of action last year, including Auerbach's Grammy-winning productions of Dr. John's Locked Down and the Keys' massive, soulful album El Camino. In the midst of all the music making, the studio also received an acoustical revamp from veteran designer Steve Durr.
Auerbach and his engineer, Collin DuPuis, wanted more natural-sounding acoustics that fit with their live performance-centered approach. Durr's firm built custom treatments to provide a combination of bass trapping and reflections that work in the space.
"What these guys wanted was a place where they felt very comfortable, and performances can be captured with little or no baffling," Durr says. "Leakage between instruments is wonderful if it sounds good, if the tonality of the leakage is warm and touchable and not boxy or bright or edgy. They had a nicely built room, but they wanted a different texture to the acoustics.
"What I care about is building studios where people are excited to invite their friends to come down and play music and hang out, and they never want to leave, and that's what we tried to do for Dan."