Los Angeles, California, November 14, 2022 – Polyverse, an innovative plug-in designer known for its voice-bending Manipulator plug-in, powerful Comet algorithmic reverb, and brand new Supermodal modal filter, has announced a major sale in honor of Black Friday. The sale, which begins on November 15th at 1 p.m. and runs until December 6th at 10 a.m. features up to 50% off of all Polyverse plug-ins and bundles and allows users to access the public beta of Supermodal at a deep discount with an included free upgrade to the final release upon launch. Sale price purchases are available directly from the Polyverse website or via any participating retailers.
"At Polyverse, everything we do is done with musicians, producers, DJ, and creators in mind, so it's our great pleasure to make our offerings more accessible than ever for a limited time this Black Friday in hopes that they'll inspire creativity and innovation for years to come," says Polyverse CEO Assaf Dar Sagol. "We hope that as many people as possible will take advantage of this limited-time offer to fill out their plug-in collections, test-drive our new Supermodal filter, and shake up the industry with some wild new sounds."
Supermodal
​Supermodal is a filter unlike anything else on the market, capable of fresh, ear-catching sounds that range from the musical to the mind-bending. At the heart of Supermodal is its powerful Modal filter, organizing hundreds of individual filter bands to invoke the resonation characteristics of both physical materials and mathematical extrapolations. Users can select from 27 carefully crafted 'variants,' each emphasizing a different set of harmonics–known as partials–across the frequency spectrum to achieve these sonic behaviors. These variants are grouped into 9 filter models, each with 3 transformations including a variety of vocal vowels, struck instruments, waveforms and much more.  An intuitive roller-ball GUI allows users to seamlessly morph between variants for evolving effects. Supermodal also features Polyverse's Classic Filter, a zero-feedback 24dB-per-octave state variable filter running in parallel with the Modal filter, which can be used to re-introduce key frequency content from the source audio via the Blend control. As cutting edge as it is easy to use, Supermodal is designed to inspire creative sound generation and revitalize the 'same old' into something new and compelling.
Manipulator
​Manipulator utilizes granular algorithms to dramatically alter the timbre and pitch of any monophonic source. From the cutting edge vocal sounds of contemporary pop, hip-hop, and electronica to the otherworldly sonic concoctions that film, TV, and game sound design applications demand, Manipulator is as powerful and intuitive as it is otherworldly and full of surprises.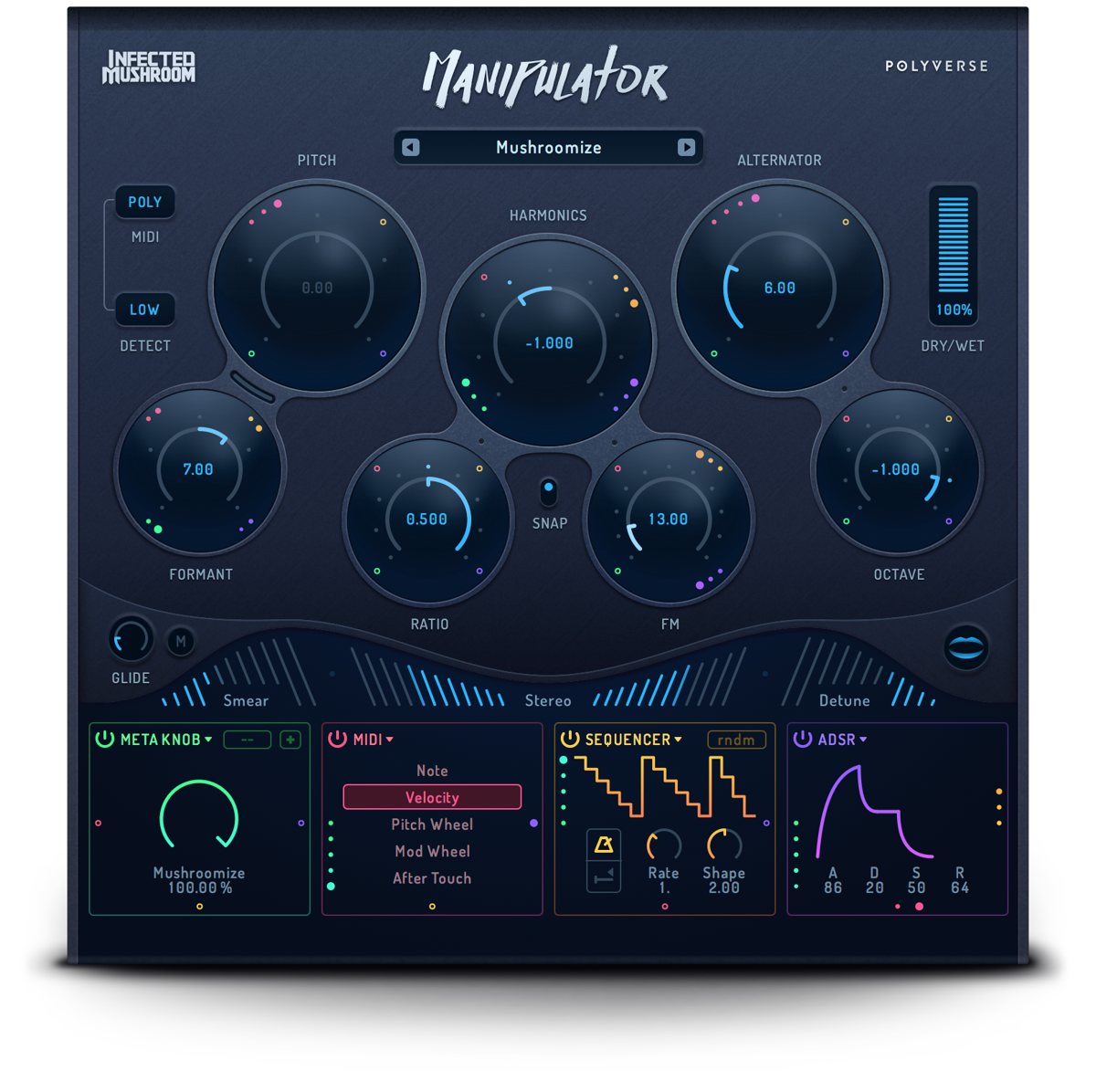 Gatekeeper
​Gatekeeper creates powerful volume modulation effects that allows users to turn any sound source into a rhythmic groove. With sample-fast transitions and a unique variable smoothing algorithm, Gatekeeper maintains musicality even when delivering hard-hitting chopping or pumping effects. For still further possibilities, Gatekeeper's patterns can also be used to control parameters of other Polyverse plug-ins.
Comet
​Comet achieves enveloping spatial reverb sounds ranging from the pristine to the extreme with ease. With a crystal-clear reverb algorithm, built-in saturation characteristics, and a wide breadth of parameter control, Comet is both simple to dial in and rewarding of experimentation. Its unique ability to gradually morph between five presets at a speed selected by the Glide parameter allows users to create dramatic transitions.

I Wish
​I Wish can modulate, freeze, pitch and glitch any audio into rhythmic, controlled stutters that are sure to perk up any listeners' ears. From robotic voices to dynamic soundscapes, I Wish blurs the line between synthesizer and granular effect to create never-before-heard sounds that inspire creativity.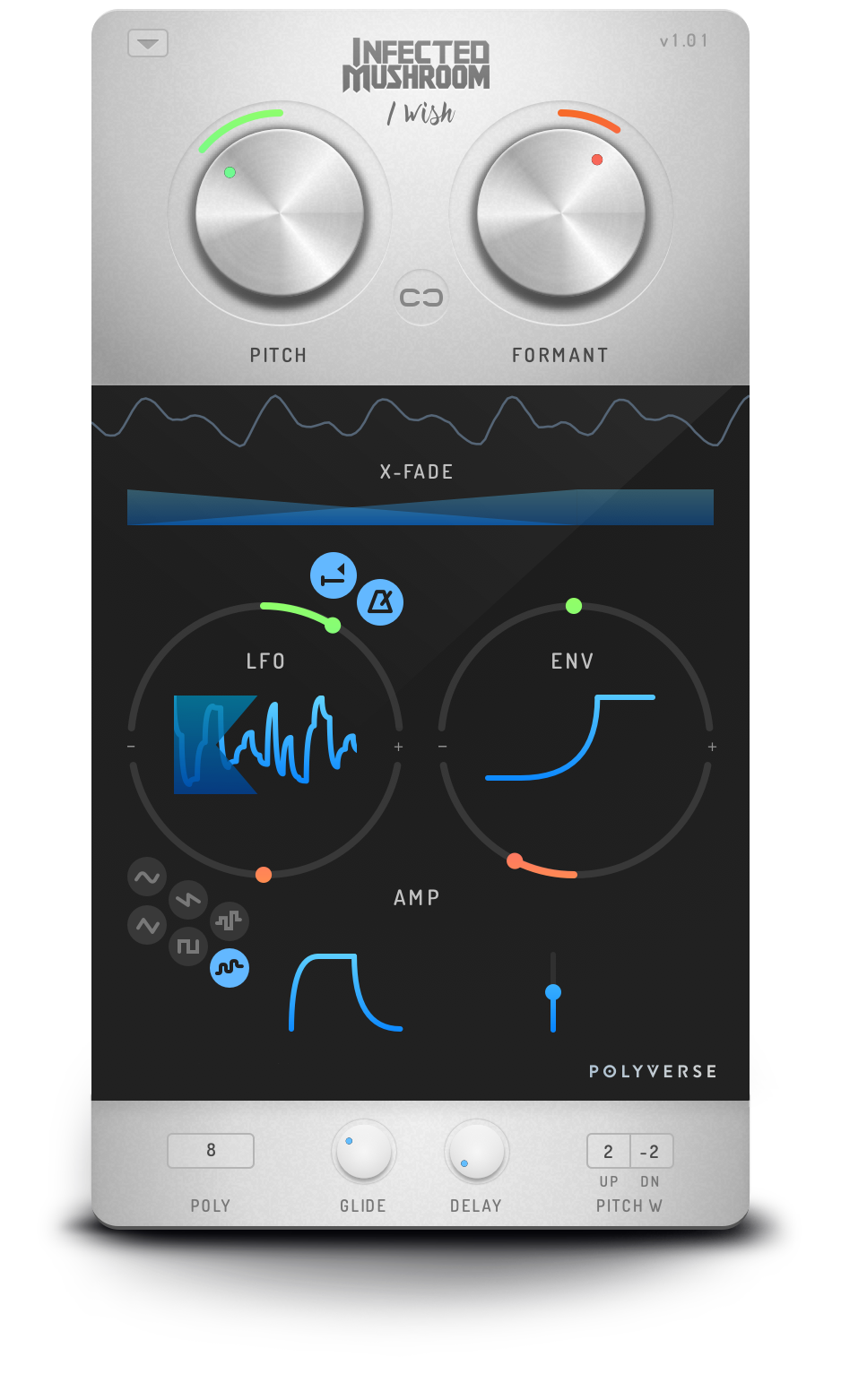 Everything Bundle
​Polyverse's bundles offer a deep set of tools for users who are eager to break out of the conventional. The Everything Bundle includes their classic lineup of cutting-edge plug-ins with Comet, Manipulator, Gatekeeper and I Wish.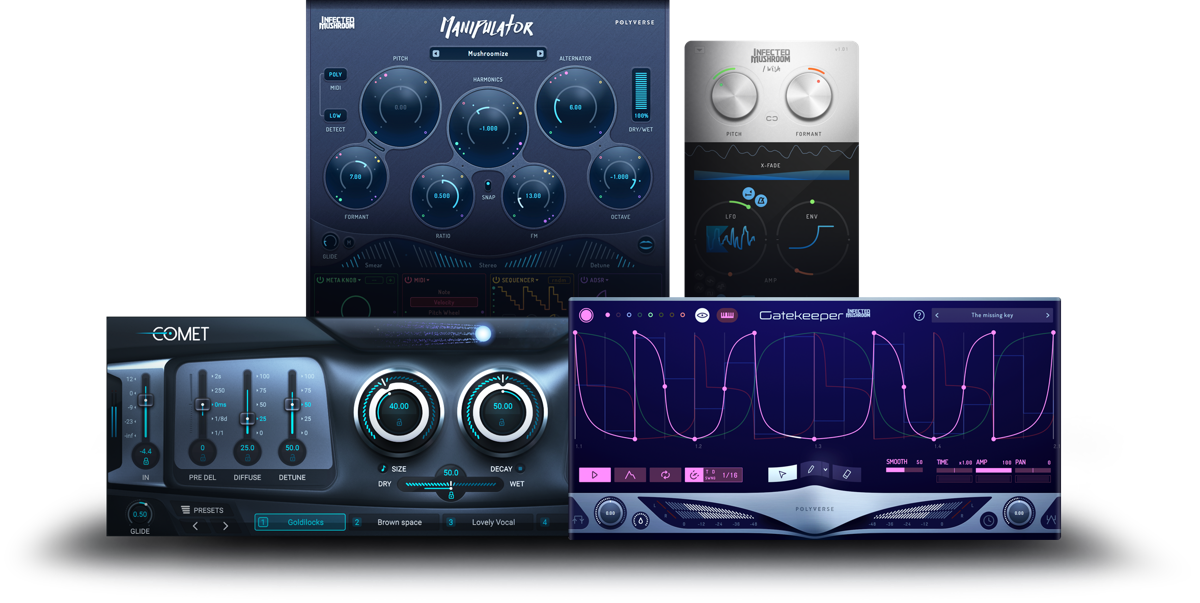 For more information, please visit polyversemusic.com