Los Angeles, California, October 21, 2021 — EDM and electropop wunderkind Porter Robinson embarked on a two-month U.S. tour in late September that takes him from coast to coast and back again, promoting his long-awaited sophomore album, Nurture. At front-of-house on the Nurture Live Tour 2021 is Simon Thomas, at the helm of a Solid State Logic Live L200 digital mixing console integrated into a fully Dante-networked setup that supports Robinson's live vocal, keyboards and sample pad with playback tracks.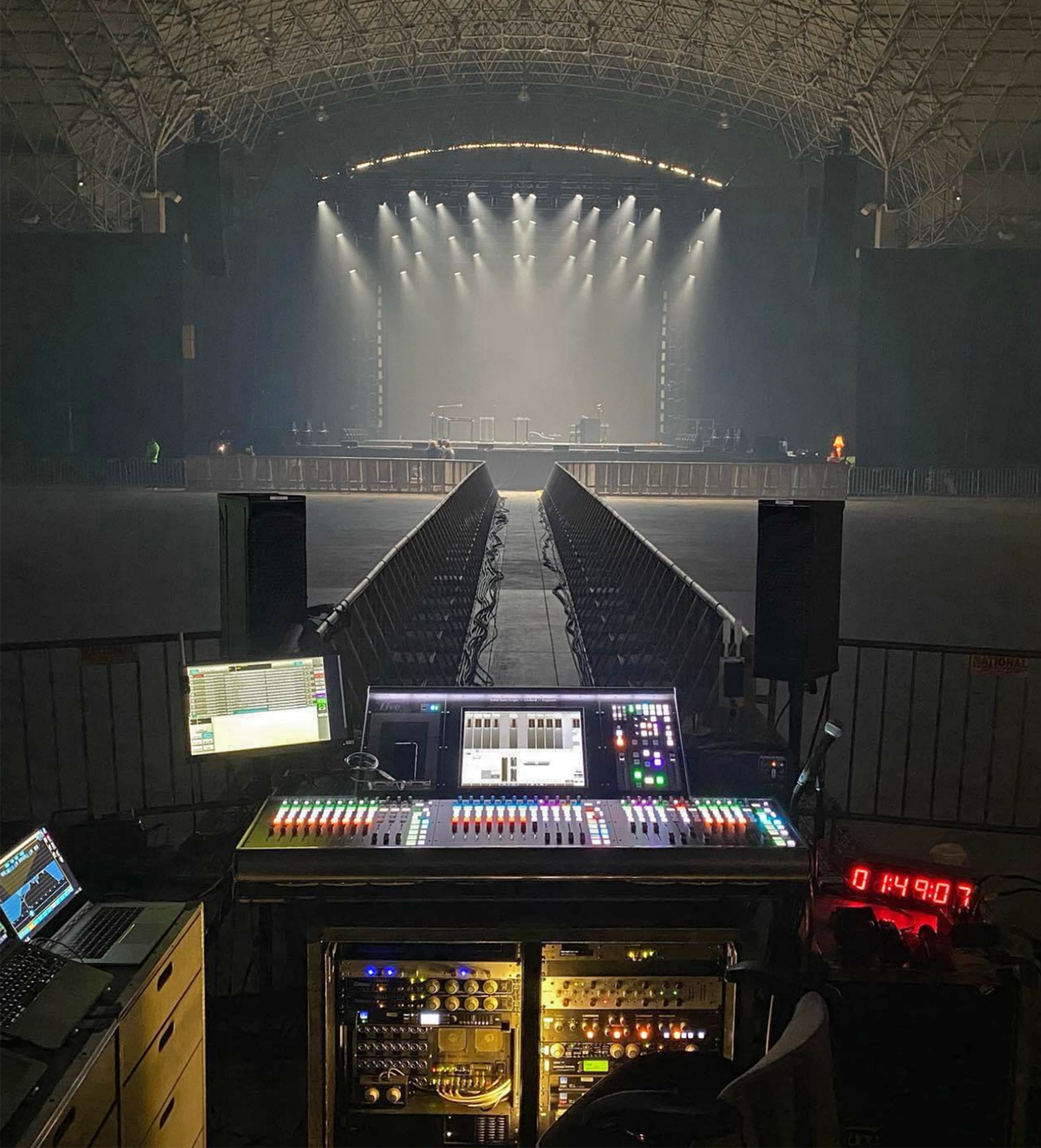 "I've used SSL Live since 2014, when they started to come online," says Thomas, a TPI Award-winning sound engineer whose touring clients over the past decade have included Halsey, Ariana Grande, Sara Bareilles, Sam Smith and Tori Kelly. "My view was that it sounded way better than anything else out there — and it still does."
It's not just Thomas who appreciates the sound quality of SSL Live consoles. "My systems engineer on this tour said, 'When you turn the PA on, it's amazing the width and the depth of everything with SSL Live.' It's way better than anything he's heard." In fact, Thomas says, "Every time I plug an SSL Live console in with a new systems engineer, they go, 'Wow, this is by far the best console for making the PA sound its best.' Once you make the change to SSL Live it's very hard to go back. It just sounds better."
SSL Live L200: An ideal configuration
On previous tours with the likes of Halsey, Thomas says, he has typically used an SSL Live L550, for its processing capacity. But the L200 is the ideal configuration for the Nurture tour, he says. "I went for the L200 because I like the layout — it's the best of the whole Live series — and there wasn't any need for more processing power. With all the support acts, which include Jai Wolf and James Ivy, I've managed to fill up 96 paths on the console," including a significant number of talkback channels.
On the Nurture tour, rather than transporting the stage inputs to FOH over MADI, which would be more typical, "The whole show is built around a Dante infrastructure, so we're using SSL's Network IO SB 32.24 Dante stageboxes, which is a little different," Thomas says. "We put SSL's Blacklight II Bridge in the front-of-house rack with me, so we've only got a short optical link to the console. It means we only have to run CAT 5 cables to front-of-house from the stage, which has worked well."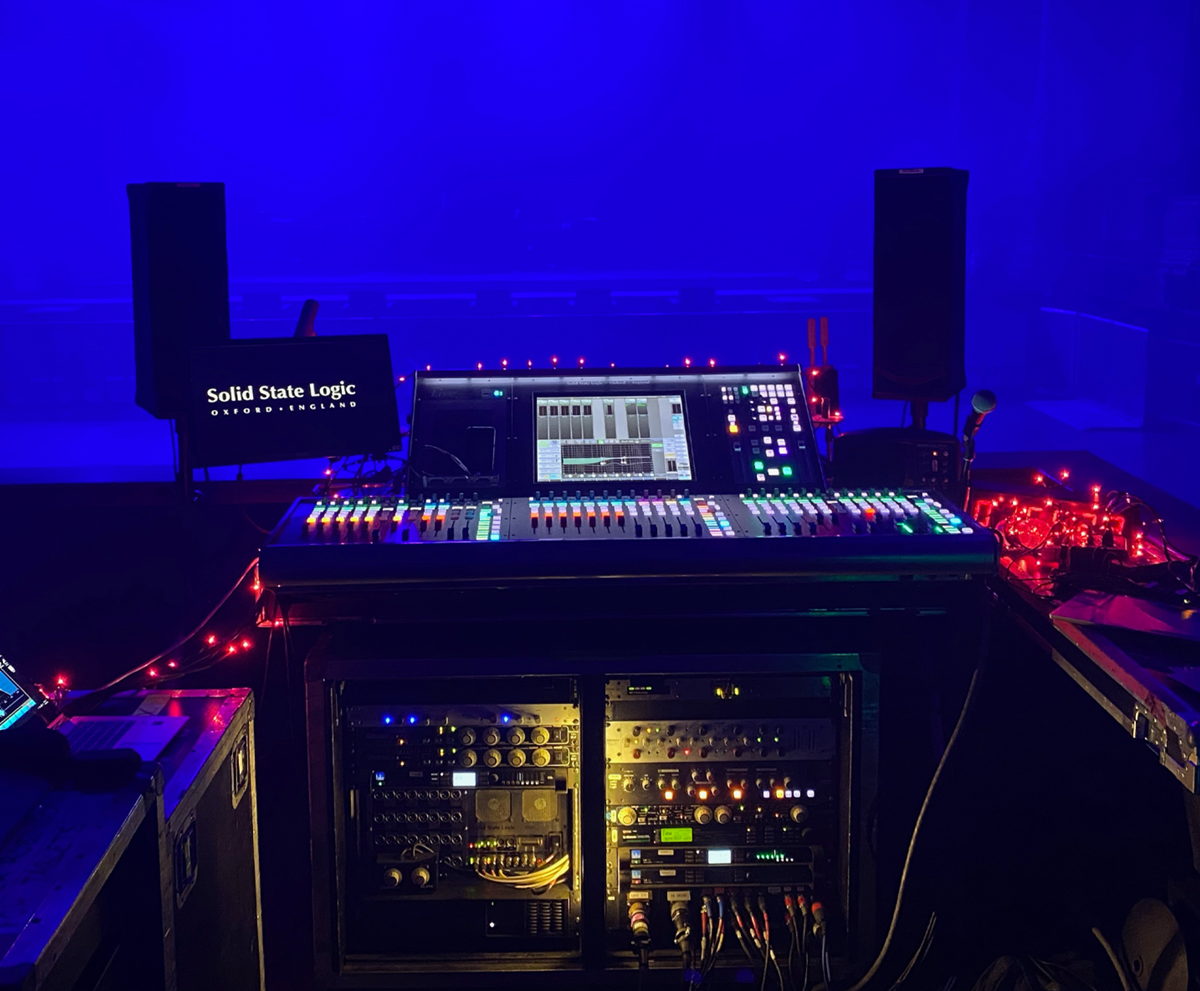 Seamless network control and visibility
Thomas comments, "There aren't many tours doing Dante like we are, where everybody can see everybody else's stage racks, and everybody can pick up what they want off the network. It's brilliant. What I really like is that it picks up the labeling of whatever is plugged into it. They just plug in, it pops up on my network, I drag and drop it in, and there it is, labeled. It's patch and play."
Although Thomas is using a number of outboard analog processors, he's also making extensive use of the Live console's DSP. "I've been using the Blitzer on the bass stem," he says, which has similar characteristics to one particular hardware compressor that he favors. "And the standard bus compressors are nice; they have a parallel function on them, so you can bring back in some of the original source. We're also using some of the onboard reverbs. So we're doing most of it onboard, which is cool."
SSL Fusion: Thomas' secret weapon on vocals
In addition to making full use of the L200's onboard DSP resources, Thomas has an ace up his sleeve: "I've got an SSL Fusion processor, which is one of my old tricks. Everybody says, 'Oh, you've got the Fusion across the master bus.' No, it's my vocal processor. I think the unit is amazing, one of the best vocal processing units I've ever come across. It does what you expect any SSL product to do — work and sound good."
Thomas, who previously used a Fusion on tour with Halsey, elaborates, "I like it on vocal because you've got that Vintage Drive, which sounds great. With the Drive and the Density controls you can add all those extra harmonics that are very pleasing. Simply turning it on and inserting it, you get 3 dB more gain out of your vocal, and that's really useful," he says. "Our monitor engineer is also using a Fusion across the mix to the artist's IEMs."
As for the Violet EQ section of Fusion, he says, "It's nice to have a bit of shelving EQ on your stems. It's quick to grab if you've got too much high-end on something in front of the PA, or if you want to add a little bit to drive it into the HF compressor. I find that really useful."
Thomas is essentially live-mastering a stem-based mix of the live channels and playback tracks coming out of Ableton and over Dante, he says. "I've got playback stems that have been separated out into six stems — drums, bass, melodic stuff and backing vocals, plus the vocal stem and the onboard reverb and effects stem. I'm making quite a lot of use of EQ from song to song, and every song has been built on a scene-by-scene basis. The songs go from one extreme to another, from typical EDM to what I call commercial EDM pop. So I'm doing a lot of mastering on this gig."
Part of the idea behind the multi-stem configuration was also that it provides feeds for any broadcast mix needs along the way. But so far on the tour, Thomas says, "They've been taking my left-right mix, because they like how it sounds. I input the shotgun mic and other condenser mics into the matrix and we can feed that to broadcast to vary the amount of crowd mics to add a bit of ambience into the mix."
About Solid State Logic
Solid State Logic is the world's leading manufacturer of analogue and digital audio consoles and provider of creative tools for music, broadcast, live and post production professionals. For more information about our award-winning products, please visit: www.solidstatelogic.com.