Los Angeles, California, September 23, 2021 — Outreach organization Missions.Me celebrated its 1DayLA weeklong service event in Los Angeles County at the end of July with The Freedom Experience, a concert of top worship artists headlined by Justin Bieber with Kari Jobe and her husband Cody Carnes at L.A.'s new SoFi Stadium. Veteran front-of-house and mixing engineer Jim Ebdon, whose extensive credits includes Sam Smith, Maroon 5 and Matchbox Twenty, was on hand to mix Bieber on a Solid State Logic Live L550 digital mixing console.
"I like the sound quality of the SSL Live," Ebdon says. "I always say it's like an analog console with a save button. There are some really cool features on that board, and I find that the SSL has a lot more depth to the stereo bus. The overall mix bus sounds just different to everything else."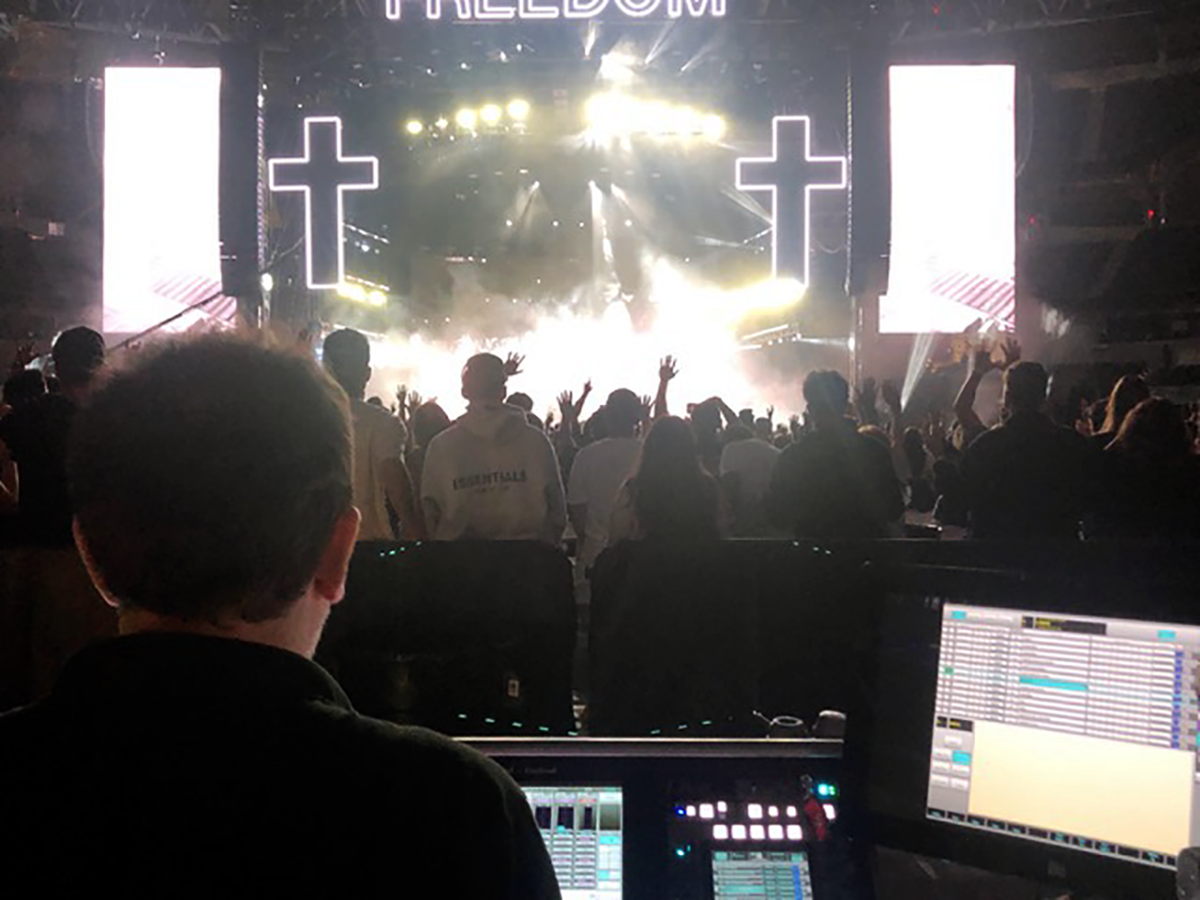 The Freedom Experience concert was attended by the more than 20,000 volunteers from across Southern California who mobilized for the week to organize city beautification projects, back-to-school events, free medical clinics, homeless assistance and aid distribution. It took place at SoFi Stadium in Inglewood, California, the new home of the NFL's Los Angeles Rams and Los Angeles Chargers football teams, and also featured Tori Kelly, Chance the Rapper and Jaden Smith.
Clair Global provides Ebdon with an L550 console, including three 32-input Network I/O SB 32.24 Stage Boxes, for many of Bieber's shows. San Diego-based Pro Audio AV supplied the L-Acoustics K1 PA system for the 1DayLA event.
Adding Fusion to the mix
Ebdon also mixed the entire Freedom Experience concert for streaming on the 1DayLA.com website beginning the following week using the L550 console. "I took the front-of-house setup back to my studio at home and did a remix of the whole thing, tidied it up a bit and added in the audience mics to make it sound like a live concert. It was exactly the same gear—so the SSL Live is great for that, as well," he says.
Having added an SSL Fusion stereo analog color processor to the Live L550 console, Ebdon says that he has been able to eliminate an outboard compressor that he has traditionally used on his mix bus. "I find on the SSL that I don't need that compressor at all. There's something within the console that is doing everything, or giving me the impression that it's doing everything, that the other compressor would do, so I tend to bypass it. The Fusion really glues the mix together. I'm only using it very lightly, and only half of it—the input and output stage—but it makes the mix nice to listen to."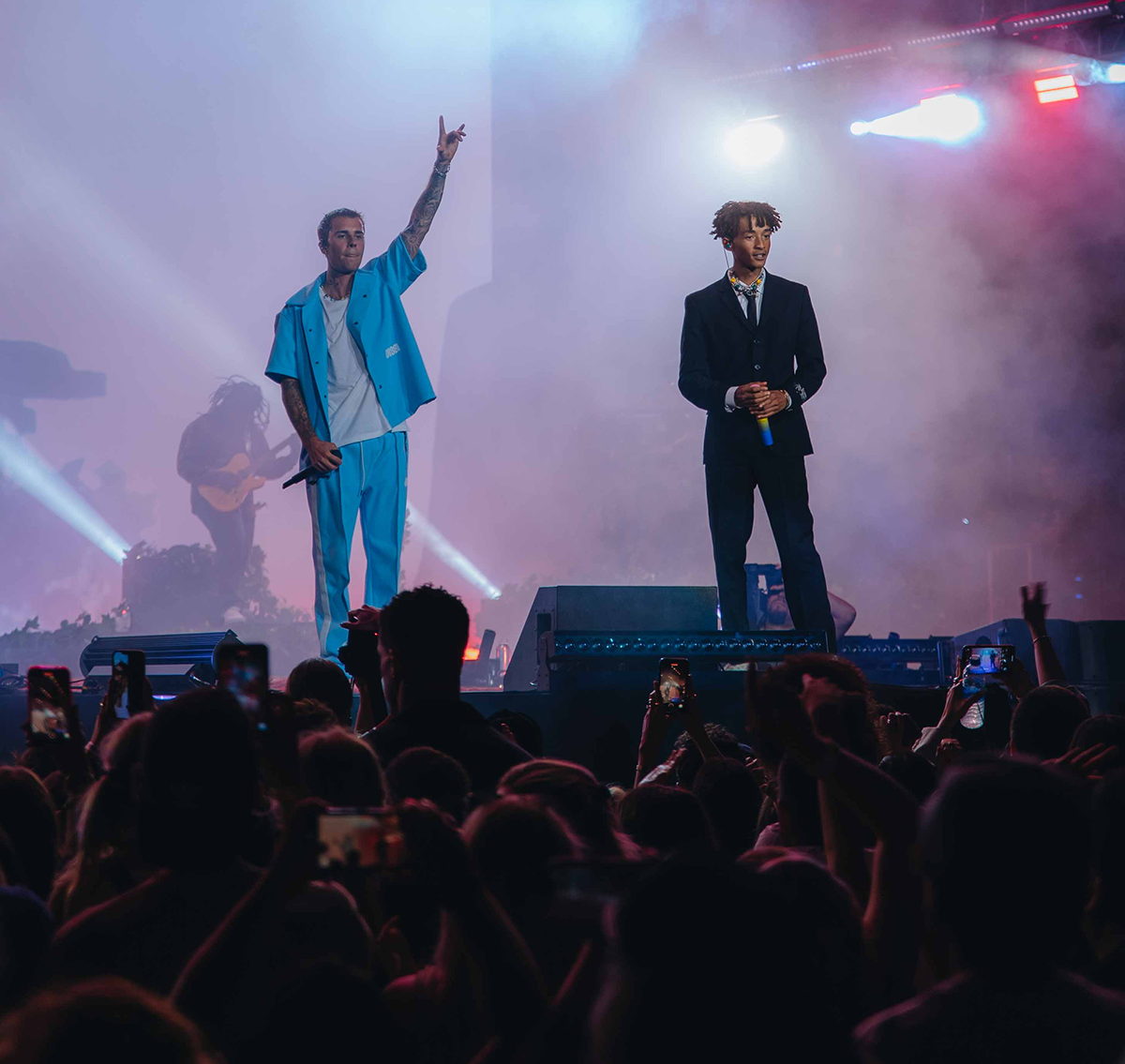 A start studded evening
On the night, Ebdon mixed Bieber's hour-long, 13-song set, which featured guest appearances by Chance the Rapper, Kid LAROI, Jaden Smith and Tori Kelly, as well as the grand finale, featuring Kari Jobe, Cody Carnes and Bieber. "Justin's band played earlier for Tori Kelly, so I also mixed that," Ebdon says. Kelly is also featured on Bieber's recent gospel album release, Freedom.
The Freedom Experience was the first large-scale show for Ebdon since he started working with Bieber in late 2020. "We've done a lot of live streams, a few club shows and a theater show in Las Vegas," he says. "So it was nice to go out and mix a big gig." Bieber has announced that his 52-date Justice World Tour of North American arenas, rescheduled due to the coronavirus pandemic, will now kick off on February 18, 2022, in San Diego.
Ebdon is handling around 72 inputs from Bieber, his band and some Pro Tools playback elements, he says. "Plus, nowadays, every band member has a talkback, a whole network of talkback systems going to different places, so that takes up a ton of inputs as well."
About Solid State Logic
Solid State Logic is the world's leading manufacturer of analogue and digital audio consoles and provider of creative tools for music, broadcast, live and post production professionals. For more information about our award-winning products, please visit: www.solidstatelogic.com.