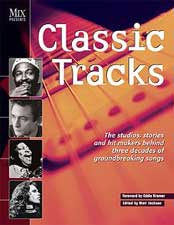 Marvin Gaye is certainly one of the most remarkable singers and songwriters this country has ever produced, a towering talent whose influence on R&B, and popular music in general, is immeasurable. He had several different, distinct periods of success that stretched over a quarter-century, from the early '60s until his tragic death in 1984; and each phase of his career is interesting for different reasons. With more than 50 charting R&B hits to choose from, we could be running Marvin Gaye "Classic Tracks" columns for the next few years, but for now we'll choose his deliciously sensual masterpiece from 1973, "Let's Get It On."
Read more "Classic Tracks"
Buy the book
Like so many of his African American contemporaries, Gaye (born Marvin Gay Jr. in Washington, D.C., in 1939; as an adult, he added the "e" to emulate one of his idols, Sam Cooke) got his start singing and playing organ in church. His father, a minister in the ultra-conservative Pentecostal Church of God, was a stern disciplinarian who beat Marvin regularly throughout his childhood. Music was one of the few pleasures Marvin had in life (in addition to organ and piano, he also played drums), and as soon as he graduated from high school, he eagerly joined the Air Force as one way out of his deplorable home life. After his discharge from the military, he returned to Washington and joined a succession of local doo-wop groups, including The Rainbows and The Marquees. In 1958, The Marquees were tapped to become the latest version of singer Harvey Fuqua's group, The Moonglows, taking Gaye to Chicago, where he recorded a series of singles with the group for Chess Records. Then, while he was touring in Detroit with the group, Gaye's distinctive tenor and wide vocal range captured the ear of Berry Gordy Jr., whose Motown label was just beginning to shift into high gear after a string of hits by Jackie Wilson and Smokey Robinson & The Miracles. Gordy signed Gaye as a solo artist and session drummer in 1961; the same year, Marvin married Gordy's sister Anna.
Though he played drums on hits by Smokey Robinson, Gaye's first taste of solo success came more than a year after he signed with Motown, with the song "Stubborn Kind of Fellow." That was followed by the dance hits "Hitch Hike" and "Can I Get a Witness," but it was "Pride and Joy" in 1963 that really put him on the map. He had hits singing duets with Mary Wells and Kim Weston the following year, and in 1965 — one of Motown's greatest years — he scored three Top 10 singles on his own with the soul classics "How Sweet It Is (To Be Loved By You)," "I'll Be Doggone" and "Ain't That Peculiar," and he co-wrote Martha & The Vandellas' "Dancing in the Streets."
In 1967, he formed another successful partnership with a young female singer named Tammi Terrell, who'd signed with Motown in '65. They had a brief but impressive chart run (with such classics as "Ain't No Mountain High Enough" and "Ain't Nothing Like the Real Thing"), but their musical union was cut short when she died of a brain tumor in 1970. (In one of the more dramatic moments in modern musical history, she collapsed in Gaye's arms during a performance in Virginia in 1967; the first evidence of her malady.) Gaye's biggest hit of the '60s — and the only one to reach the top spot on the pop charts (a few hit Number One on the R&B charts) — was his simmering version of Norman Whitfield's "I Heard It Through the Grapevine" in the fall of 1968.
By the dawn of the '70s, though, both Gaye and Motown were starting to change. Black Pride and Black Power had become watchwords, and there was a new social activism in the African American community; the simple but catchy soul-pop love songs of mid-'60s Motown started to seem out of step with the times. Many of the talented writers and producers at the label, including Norman Whitfield, Stevie Wonder and others, managed to change with the times, slowly moving away from the strict hit formulas of years past. But it was Marvin Gaye, with his incredible socio-political album What's Goin' On in 1971, who led the label into its second Golden Age. Berry Gordy was reportedly so upset with Gaye's political turn that he initially refused to release the album, but this was one time when the Gordy's instincts were dead wrong. It became a monster hit that yielded three Top 10 hits, and it is still regarded as a landmark recording, with its smooth, jazzy grooves, lush but tasteful arrangements and unparalleled vocal performances by Gaye. It helped pave the way for Stevie Wonder's greatest work and was a signpost for The Temptations, who would record their ghetto sociology masterwork, "Papa Was a Rolling Stone," the following year.
What's Goin' On turned out to be the last pop album Gaye recorded at Motown's Hitsville Studios in Detroit. For some time, Berry Gordy had been thinking about relocating the company to Los Angeles, and that transition finally happened during 1972. The company set up new offices and studios in L.A., and Gaye followed that year, renting a modest apartment in Van Nuys. For a while after What's Goin' On, he seemed to be floundering somewhat, unsure of what musical direction to take next (during this period, he scored the mediocre blacksploitation film Trouble Man, which produced the Top 10 title song) and was depressed over the continuing deterioration of his long-troubled marriage to Anna Gordy. It was in early 1973 that he got together with a songwriter/producer outside the Motown fold named Ed Townsend, who had written for Etta James, Nat "King" Cole, Dee Dee Warwick and many others. Townsend was fresh out of rehab (for alcohol) and brimming with ideas. Gaye was somewhat frustrated by his earlier attempts at working on new material with other writers and was open to trying something different and new. One of the four songs the two eventually produced for the singer's next album was "Let's Get It On."
Townsend didn't set out to write a smoldering, sexually charged ballad, but as he is quoted in the liner notes of the recent two-CD Deluxe Edition reissue of Let's Get It On (which includes a fascinating CD-and-a-half of demos, outtakes, alternate mixes and various early '70s curiosities), "Marvin could sing the Lord's Prayer and it would have sexual overtones." In fact, Townsend says he wrote the song in rehab partly as a message to himself "about the business of getting on with life." And it is not without social overtones, as Gaye sings "understanding and brotherhood, everybody ought to do some good." But at the song's heart, which is found in Gaye's impassioned delivery, there is love and lust, the spiritual and the carnal fused together in an uplifting union. Has there ever been a warmer, sexier song?
Once Gaye decided to record "Let's Get It On" (for which he also received a generous co-writing credit) and three other tunes started by Townsend, he, Townsend and arranger Rene Hall (who had worked previously with Townsend) settled on some of L.A.'s finest jazz and R&B players for the March '73 sessions at Motown's new Hitsville-West studios. This time around, the stable of players who had made musical history for the label in Detroit, known collectively as the Funk Brothers, were nowhere to be seen, with the exception of guitarist Melvin "Wah Wah" Ragin. But what a crew they assembled, including Ernie Watts and Buddy Collette on reeds; Joe Sample and Wilton Felder of The Crusaders on piano and bass, respectively; drummer Paul Humphrey; Victor Feldman on vibes, and various other local luminaries. There were also extra percussionists and a small string section on hand on March 13, 1973, when the song was cut live in the studio by Motown engineer William McMeekin. (In all, 21 musicians are listed as playing on the four Townsend-Gaye cuts, plus the string players, though it is unclear exactly who played on what. For example, five guitarists are listed, but there probably aren't five guitars on "Let's Get It On," nor three pianos. As I learned when I wrote a Classic Tracks article about "Papa Was a Rolling Stone" several years ago, there are differing opinions about who the musicians were on a given Motown song. Parts — and even portions of parts — were often replaced after the initial tracking sessions, using different musicians, and there isn't detailed documentation.)
After the instrumental take was completed, Gaye cut a demo of his lead vocal, and at this point a problem arose. As Townsend says in the liner notes, "I asked Marvin to use a certain microphone, and the engineer told me I was using the wrong one. He pushed the talk-back and said, 'Marvin, I'm trying to tell the guy that you don't use the mic he wants.' Marvin asked him to look at the session sheet and read the producer's name: Ed Townsend. 'I'm the artist and he's the producer,' Marvin said. 'I'll use whatever mic he says.' I had to fire the guy. He couldn't be open to where this was going to go."
At that time, the Hitsville-West control room was equipped with a Quad 8 console and 3-M 16-track recorder, and the house engineers favored vintage German mics mostly, especially Neumann, AKG and Sennheiser models. To get so many musicians down on just 12 tracks (four were saved for lead and background vocals) required expert mic placement and economical premixing: Drums were only on three tracks, the strings on two (high and low) and the reeds on just one. "What was great about 16-track is that it lets you spread things out a bit," says engineer Art Stewart, who worked on "Let's Get It On" after William McMeekin was taken off the project, recording the overdubs and all of Gaye's lead and background vocals. "Still, with a group that big, you still had to combine things. I had no problem with that. I always preferred to do drums on just three tracks, and I'd mix them as I was recording them, place them where they belong. And you could say the same thing about working with a big group and recording live like that — you've got to record it right, have everything balanced correctly, and that makes mixing it later much easier."
Nine days after the initial session, Gaye was back in the studio with Art Stewart to record his final lead vocal — using an AKG C-12 — and, according to Ben Edmonds, author of Marvin Gaye and the Last Days of Motown Sound, that day Gaye had extra inspiration in the studio: One of Townsend's friends, Barbara Hunter, brought along her lovely 16-year-old daughter, Janis, and as Edmonds writes, "The presence of this young girl compelled him to perform the song to her, and in so doing, it was transformed into the masterpiece of raw emotion we know so well." Indeed, Marvin and Janis fell in love, almost on the spot, and were married a few years later (after his messy, acrimonious divorce from Ann Gordy was resolved). So, some of the urgency and exhilaration in Gaye's vocals came from his new muse, but some of the other vocal ad libs that Gaye tacked on came from conversations he had with Townsend. "They were Ed's ideas really," notes Harry Weinger, who produced the Deluxe Edition set and helped mix some of the bonus tracks. "Marvin was saying, 'What should I do here? What kind of vibe do you want?' And Ed said, 'You know, something like "sanctify"…' So Marvin then sang 'something like sanctify,'" he laughs. "What Marvin did was find something that appealed to him and he went with it. It was not just a casual ad lib. Marvin overdubbed background vocals on that line several times. He added to it and augmented that phrase."
Though, by the early '70s, Gaye had become fond of doing vocal punch-ins to give himself more control over the finished lead vocals; for "Let's Get It On," it was a single vocal take all the way through. Two weeks later, he and Stewart reconvened in the studio to track Gaye's prominent background harmonies, and here there were many punch-ins. "They were done almost line by line," Weinger says, "or every other line. If you played a version of it without the instruments, you'd hear all the little clicks. You'd also hear some headphone bleed. He liked to have his cans loud when he did vocals. In fact, on 'Distant Lover' you hear what sounds like a cool reverb effect, but it actually is headphone bleed coming through his vocal mic."
The song was mixed by Motown staff engineer Cal Harris, who also engineered a number of other tracks on the Let's Get It On album, and is singled out by Gaye in the original liner notes for special thanks because he "practically produced this thing and didn't ask for anything. Great!" In those same notes, Gaye rhapsodizes, "I can't see anything wrong with sex between consenting anybodies. I think we make far too much of it. After all, one's genitals are just one part of the magnificent human body…I contend that SEX IS SEX and LOVE IS LOVE. When combined, they work well together, if two people are about the same mind…Have your sex, it can be very exciting, if you're lucky." Let's Get It On was explicitly designed to be an album for lovers, and it's difficult to deny its aphrodisiacal qualities, especially the title track, which became an instant smash when it was release on June 15, 1973, months before the finished album. It quickly hit Number One on both the pop and R&B charts.
There would be more peaks for Marvin Gaye — "Got to Give It Up," engineered by Art Stewart, topped the charts in 1977, and "Sexual Healing" hit Number One in 1982 — but as the '70s progressed and then rolled into the '80s, Gaye became more erratic. His bouts of depression — always a problem for him — became longer and more pronounced, and his addiction to cocaine became all-consuming and artistically crippling. In an attempt to regain control of his life, he moved in with his parents in the early '80s, but this only seemed to accelerate his downward spiral; it's not surprising, given his always difficult relationship with his domineering father. He is said to have threatened suicide several times in early 1984, but he never got a chance to carry out his threat: The day before his 45th birthday, on April 1, 1984, his father shot him to death, after hours of quarreling. (Marvin Sr. was convicted of voluntary manslaughter but given a suspended sentence because of his precarious health.) It was a sad end to an often troubled life, but it should in no way detract from the incredible accomplishments of this singular artist.
"Marvin was a genius," comments Art Stewart, who is now retired and living in Las Vegas. "He was incredible to work with. He knew what he wanted, and he was the type of person who was not easily satisfied with his own work. While you and I might accept a rendition of Marvin's, he perhaps would do it two or three times more, and each time he did it, it would just get better. There was no such thing as 'good enough' for Marvin and that's why he was so great. He was always pushing himself and the people around him to do better."