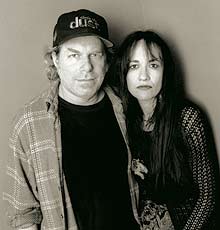 After Mix went to press with the print edition of our April issue, we
learned that Buddy Miller had been hospitalized after a 'Three Girls and
Their Buddy' gig, and was recuperating from heart surgery. Mix wishes him a
full and speedy recovery.
Buddy and Julie Miller
It was tough for Buddy Miller to carve out time for an interview to promote Written in Chalk, the new release he produced, recorded and performed on with his wife, Julie Miller. Just as New West Records was putting the word out about Chalk, Miller was deep into sessions at Sound Emporium (Nashville), playing lead guitar on the next Robert Plant/Alison Krauss release being produced by T Bone Burnett. This was a rare outing to a conventional studio for Miller, who has spent the past decade or so crafting not only beautiful roots music, but also the process of making recordings in the comfort of his own home.
"A lot of players I know have that gift where they can come into any place, plug in their rig, get an expected sound and play the perfect thing for the track quickly or come up with a brilliant part," Miller explains. "But I get uncomfortable in a studio environment. I guess that's why I like working in my own house because it's so comfortable. When people come over here, I always feel like my friends are coming over to visit and we'll play some music."
A lot of musical magic has come out of gatherings in the Millers' living room, which is one of three ground-floor rooms that they've turned into a working studio. Of course, it helps that Buddy Miller's friends include Emmylou Harris, Shawn Colvin, Patty Griffin, Gillian Welch, Jim Lauderdale and Solomon Burke, as well as a host of Nashville's best session players.
Recording at home also means that the Millers can take their time recording, fitting sessions in between work on Buddy Miller's many other projects: touring with Harris or Plant and Krauss; or the Harris/Colvin/Griffin project "Three Girls and Their Buddy"; producing visiting artists like Burke; producing Griffin's latest in a local church; or producing or playing for other "friends."
Written in Chalk was recorded over a couple of years, with the lines blurring a couple of times as to whether this collection of mostly Julie Miller-penned songs would end up being a "Buddy album or a Julie album, but when we had some of the songs together, it just started telling a story and it looked like it was supposed to be a record together," Buddy Miller says.
Though this album will surely get filed under "Americana," arrangements range from the honky-tonk sound of Julie Miller's "Ellis County" or Buddy Miller's duet with Robert Plant on Mel Tillis' "What You Gonna Do Leroy," to quieter, acoustic songs like her tribute to June Carter Cash, "June," or her jazz-influenced "A Long, Long Time."
Most of the songs were tracked live, or mostly live, to Pro Tools, with Buddy Miller wearing multiple hats — vocalist, guitarist, engineer and producer. Although he chooses his mics and pre's carefully, he has also mounted mics to the ceiling in the studio rooms to make sure he captures all the music, planned and unplanned. He calls those mics "the great whatever. They're usually small or mid-sized diaphragm mics with omni capsules. Several CD tracks used those ceiling mic recordings from the actual [song]writing, [as well as] recording sessions."
During dedicated recording sessions, he sings into an M-Audio Sputnik or, occasionally, a Neumann U47 or Sony C37A mic through a Telefunken V76m or Altec 1567A mic pre. He says, "The Altec was modded by Arthur Sloatman to be four discrete tube mic pre's pushing API 2520 op amps — this is my all-time favorite preamp — into a UREI 1176LN.
"Julie's vocal mic varied," he continues. "She likes to hold her mic and sing with monitor speakers on, so she recorded with either an Audix VX10 or a Neumann CMV563 with a pop filter duct-taped into it. This was run into the Pendulum [Audio] Quartet II Mercenary Edition."
The first single off Written in Chalk — whatever "single" means on an indie Americana release these days — is the only song on the album that husband and wife wrote together this time out: "Gasoline and Matches." It's an awesome, rocking blues song with super-rhythmic electric guitars and clever percussion that at times sounds like conventional drums and sometimes mimics fists pounding on a door ("I'm gonna keep on knockin' till the door unlatches/You and me are gasoline and matches").
"That's Brian Owings [on drums]," Buddy Miller says. "He's been playing with me for 10 years at least. That song took a few different takes, but I really liked it and I didn't want to give up on it. We recorded it with a drum set and we had a few different versions of that, but they never felt right. Late one night, I invited Brian and Chris [Donohue], the bass player, over, and I warned Brian — because you have to warn a drummer about these changes — that I just didn't think I wanted a drum set on it. I said, 'Let's take the drum set apart and lay them on the floor on their backs kind of, so you'd sit down on the floor and play them, and bring some stuff that makes noise but doesn't sound like a drum necessarily.'
"And we have stuff around the house that we bang on when we play. Most of our trashcans are pretty banged-up looking. So he threw a lot of stuff on the floor and played it, and as soon as I heard it, I knew that's how I wanted it to sound. That's how it went down, live with my vocal, but Julie's vocal went on later because the words weren't done, which is how we work, I'm ashamed to say!"
No apologies necessary, as spontaneity is clearly such an essential ingredient in the Millers' music. Buddy Miller's duet with Plant is another example: "We were still on the road [on the Plant and Krauss tour] last year when I met with [label] New West about putting out this record. Robert asked me, 'How'd it go with the record,' and I said, 'Oh, they're great folks, but it won't come out this year, and he said, 'Hey, if you need me for anything, just let me know.' I think he was just being polite; he's a super-nice guy. I thought, 'I shouldn't bother him,' but I just thought that for about half a second because I'd be nuts not to!
"So the next leg of the tour, I brought an M-Audio rig, and waited till we had a dressing room that was big enough to set up eight mics, and I begged the guys to come play after soundcheck and before dinner. That's a tough time for musicians; you can't keep a room full of guys from their food. I brought my rig out and set it up before soundcheck so they wouldn't have to wait for me, and my friend Gurf [Morlix] just happened to be at this gig in Toronto, so I gave him a lap steel and we set up and recorded the track live in the dressing room. We played it twice and that was it. The vocals and everything went down live.
"At home when I'm working on something, even when I'm just doing a guitar overdub, I'll agonize over which pre should I use for this — go back and forth — and which mic placed where, and I didn't have time for that with this track," Buddy Miller continues. "I had 30 minutes to set up mics and cables, and I had one M-Audio interface with eight preamps in it, and I just put stuff up and got some levels, and it sounded great. It's one of my favorite tracks that I've ever recorded. I just loved it. I mean, that probably has a lot to do with Robert Plant singing on it, but it sounds really cool. It just captures the performance. I want to do my whole next record backstage."