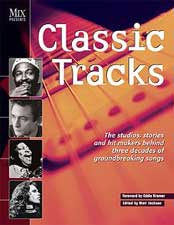 Virgil Caine is my name and I served on the Danville train
'Til Stoneman's cavalry came and tore up the tracks again
In the winter of '65 we were hungry, just barely alive
By May the 10th, Richmond had fell, it's a time I remember, oh so well
The night they drove old Dixie down, and the bells were ringing…
Read more "Classic Tracks"
Buy the book
More than three decades later, it's difficult to put into words just how bold and fresh and affecting those opening lines from "The Night They Drove Old Dixie Down" — sung with such plaintive authority by Levon Helm — sounded wafting from the ol' FM radio back in 1969. The Civil War? Huh? What's goin' on here? Rock was still in its indulgent, post-psychedelic haze. Long guitar solos (and bass solos, drum solos and everything-else solos!) were the order of the day. Wanking blues-rock was king. Yet here was the coolest American "pop" album of the year, by a group consisting of four mysterious Canadians and a guy from Arkansas, of all places. The 12 songs that make up The Band's eponymous second album — also known as "The Brown Album" because of its cover color scheme — seemed to have been forged in rural America sometime in the 19th century, yet they were also unquestionably at the vanguard of a new, modern rock 'n' roll sound, as well. Amidst the sawing fiddles, plunking mandolins and galloping pianos were electric guitars and basses and even a funky clavinet from time to time. For all of the musical allusions to old folk and country antecedents, there were other less definable nods to American R&B and early rock 'n' roll; sometimes, it was more of an attitude than anything else. But The Band mashed all of these influences together into a big ball and created a sound that was utterly unique and, as it turned out, quite influential.
The Brown Album wasn't a complete surprise, of course. A year earlier, in 1968, the group had released its critically acclaimed first album, Music From Big Pink, which demonstrated that this Band was quite unlike any other on the scene. By that point, they had already been together on and off for eight years — first as the backup band for rockabilly/R&B singer Ronnie Hawkins; then for a spell as Levon & The Hawks; but most famously as the group that supported Bob Dylan on his controversial move to electric music in '65-'66, and recorded the famous 1967 "Basement Tapes" with Dylan in the cellar of a big pink house in the middle of the woods in rustic Woodstock, N.Y.
Despite the title, Music From Big Pink wasn't recorded in the basement there; it came from 4- and 8-track sessions at A&R Studios in Manhattan, and Capitol and Gold Star Studios in Hollywood. John Simon, a one-time staff producer for Columbia who'd gone independent, was brought in to help out — a good choice because he was an excellent musician and not shy about adding his own touches to The Band's rich stew. The album was an unexpected hit, and The Band quickly became critics' darlings and underground heroes.
It's easy to see why. The group boasted three highly distinctive lead singers — Helm, all backwoods charm and character; Rick Danko, so full of emotion and expression; and Richard Manuel, possessor of a quirky, unearthly falsetto — and everyone seemed to play a zillion instruments. Robbie Robertson was a guitarist of exquisite taste and imagination, not to mention a gifted songwriter, and keyboardist/reedsman Garth Hudson was like a one-man band — he could seemingly play anything. Every song on the album featured a different combination of sounds and textures; obviously great thought and care went into the arrangements. Yet there was also something very loose and spontaneous about it all; it didn't feel fussed over. There was something compelling but elusive, fragmentary but direct, about the lyrics — could anyone say for sure what was going on in songs like "Chest Fever" and Big Pink's one bona fide FM smash, "The Weight"? Then there were the two powerhouse Dylan tunes on there: "Tears of Rage" (co-written by Richard Manuel) and "I Shall Be Released," which stand among his very best. The Band's own songs felt like they'd been cut from the same cloth as Dylan's — blending the mystical with the ordinary, sharing wisdom and insights, but always through refracted light.
When it came time for The Band to follow up on their debut, they decided to forego working in conventional studios and try instead to re-create some of the good-time homemade feeling of the Basement Tapes — what Robbie Robertson calls "the clubhouse concept." Actually, there was initially a stab at cutting in a New York studio, but Robertson didn't think that environment fit the sort of songs he was writing for the second album.
"Really, this process — the clubhouse concept — started with the Basement Tapes," says Robertson, recipient of this year's TEC Les Paul Award for his role in this and many other albums with and after The Band, "and it came from having been in regular recording studios and thinking, there are all these people here who are watching the clock. There are guys here that are part of a union and all of a sudden they're telling you, 'It's time for me to stop,' or 'It's time for me to eat.' And it has nothing to do with what you're doing. It's not coordinated with your rhythms. It's like punching a time clock. It seems like an anti-creative setting almost.
"Making the Basement Tapes was so much more enjoyable than any experience we'd ever had in the studio before, so we thought there must be something to that concept. When you look at it objectively, this [basement in Big Pink] is the worst recording circumstance, scientifically, known to man. We're in a place that has a cement floor, concrete walls and a furnace in the middle of it. This is exactly what you don't do in a recording studio. But there's a whole eye contact thing going on there when you set up close together in this sort of horseshoe with a tape recorder at the end. You get to use the whole silent lingo of playing music — where you look at the guy next to you and you indicate, 'I'm going to go up here,' or 'I'm going to come in here with this vocal,' or 'I'm going to that weird chord change now'; all the signals that you use in music. You could really see one another, and there was something about that that was great. It was like some kind of mountain music setup or a living room thing. That's how we were most comfortable.
"So that was the philosophy that sent us in that direction, and that's why we eventually ended up in Sammy Davis Jr.'s pool house to make our second album."
Notsurprisingly, CapitolRecords needed some prodding to get behind the clubhouse concept. After all, in 1969, this was truly radical thinking. But Robertson had a powerful ally in co-producer John Simon. "John was really good at supporting this thing," Robertson says, "because engineers and the people from the record company would always say, 'Are you sure about this?' They had their doubts. And we didn't want to waste the money if it wasn't going to work, although we were pretty confident that it was going to work. But John was good at giving them a sense of confidence about it, that there was no question that it was going to work and that it was going to be good."
It was someone at Capitol Records who found an unoccupied house in the Hollywood Hills owned by Rat Pack hipster Sammy Davis Jr. for The Band. The house itself was big enough to accommodate all of the group members (though Robertson jokes that some of the furnishings were a bit low to the ground; Sammy was one diminutive cat), and the separate pool house seemed like a perfect place to set up a studio.
Capitol had The Band's equipment shipped from the East Coast to Hollywood and provided the recording equipment, which included a small custom console and 8-track recorder that were apparently cast-offs from its main studios (then being ramped up to 16-track), some compressors, limiters, an EMT plate and a selection of mostly dynamic mics, along with a few Neumann condensers. ("We must've had some 87s for vocals," says Simon, who, like Robertson, remembers few technical details of the pool house studio setup.) Capitol also helped work on soundproofing the studio, which turned out to be quite a task. "Instead of coming inside and soundproofing the place and making it smaller inside, we soundproofed it from the outside," Robertson says. "They had these big square frames that were chiprock or Fiberglas or something, and they put them on the side of the building. It didn't look too good, but it was functional, and it did what it needed to do. Then on the inside, we hung blankets and things and made it so it was cool."
John Simon remembers being frustrated by the slow pace of getting the equipment from Capitol and setting up the studio, but the group's first couple of weeks in the house were well spent anyway, working on songs and scouring the area's music and pawn shops looking for interesting musical instruments: Levon Helm found a wood-rimmed, turn-of-the-century drum kit that became the foundation of many a song, and Richard Manuel found a fine old upright piano. Once the equipment was all in place, in keeping with Robertson's vision, the group would set up in a close cluster, with minimal baffling, and in the same space as the console and recorder. Simon and Robertson were the principal engineers on the album, though Simon recalls that every morning, Capitol sent a maintenance man named Don Nelson up to the house to make sure everything was running properly.
Today, Simon notes that "I really wasn't trained as an engineer. I know enough to get by, I guess. I know when engineers are lying to me; that's the extent of my knowledge," he says with a laugh. Robertson concedes that he learned much of what he knows from Simon, who dryly notes, "Robbie wanted to learn everything I knew so in the future he wouldn't need me; that was clear. And that's what happened."
"John was great about saying, 'This kind of microphone works good in this kind of circumstance, because this might be too sensitive for that,' or 'You're going to get more leakage out of that,'" Robertson says. "He gave me a crash course on how to work the board and a lot of the basic stuff. But once I got into it, it didn't seem like there was much of a mystery here anyway.
"The way we worked, it was pretty basic. You would turn things on one at a time and listen to it. Then you'd turn everything on, and the idea was, if it doesn't now sound better, then something's wrong. If the leakage isn't working in your favor, then you're not set up right. So we really took time in setting up the room and getting a sound on everything. There were cases where we would move around baffles in the room — if the leakage was ruining the sound of the piano, for example. But the leakage is often a big part of the character of the song."
All of the songs for the Brown Album were all either written or co-written by Robertson — some were started in Woodstock; a couple emerged from a trip Robertson and Simon took to Hawaii just before the pool house sessions; and a few were written once the group was in Hollywood. This month's Classic Track was started in Woodstock and completed in Hollywood. "I remember Robbie writing 'The Night They Drove Old Dixie Down' piece by piece," Simon says. "He had a certain section, then another that wasn't finished, and he was sort of chipping away at it over a period of time. That was one of the ones he really didn't have together when we arrived at Sammy Davis Jr.'s. We also had a piano in the house in which we lived, and I remember him playing that song on the piano in the house before we got to recording it."
As for the song's inspiration, Robertson told writer Rob Bowman, "I had the music in my head for 'The Night They Drove Old Dixie Down' and had no idea what the song was about. I was just humming it and playing these chords, and I liked the chord progression I'd come up with. At some point, [the concept] blurted out of me. Then I went and I did some research and I wrote the lyrics to the song."
When I spoke to Robertson more recently, he added, "It just seemed to fit in with the combination of flavors in the music and the time period we were dealing with at that time. It was like that record was in sepia tone or something. To this day, people ask me, 'Whatever possessed you to write that song?' And the answer is, I don't really know; it's the only thing I could think of at the time." (Robertson says the group's resident Southerner, Levon Helm, nixed a verse about Abraham Lincoln. The song's Robert E. Lee reference — more appropriate to Virgil Caine's viewpoint — survived.)
Robertson's recollection is that "The Night They Drove Old Dixie Down" was cut completely live: He played acoustic guitar ("either a D-35 or this other acoustic I had made by this guy named Kalb"); Manuel played piano; Danko, bass; Helm, drums and, most likely, a live lead vocal; and Hudson laid down a Hohner melodica line that sounds uncannily like a harmonica. The backing vocals were most likely overdubbed, as were Hudson's Lowery organ, his little trumpet obbligato and, on some alternate takes, Rick Danko's fiddle. Robertson believes that the echo on Hudson's melodica was probably printed to tape at the time rather then added later during the mix. Besides the EMT plate Simon had requested, "our chamber was the bathroom, which had a speaker and a microphone in it," Robertson says.
According to Simon, the pool house sessions usually went this way: "We would work the songs over all day — fine-tuning the arrangement and getting the parts together. We'd work out the parts really carefully by trial and error, trying all sorts of different approaches. Even in choosing microphones, it was all trial and error. We tried every single mic on every single instrument to see what sounded best. We'd work on the song and then go to sleep at night not having really 'gotten it.' Then we'd get up the next morning and actually cut it fresh. So a song typically took two days to record. We would make rough mixes as we went along so we could play them for people, because everyone wanted to hear what we were doing. We always had lots of people coming through — especially musicians."
The Band left Sammy Davis' pad before they could complete the album — the last couple of songs were recorded back in New York at the Hit Factory, and the album was mixed there, as well. The mix is credited to New York engineers Joe Zagarino and Tony May, but in fact, all of the members of The Band and John Simon helped out as extra hands on the board when needed.
The Brown Album caused quite a sensation when it was released in the fall of '69. Propelled by the surprise hit "Up on Cripple Creek," and strong FM airplay for "The Night They Drove Old Dixie Down," "Rag Mama Rag" and "Across the Great Divide," the album rocketed into the Top 10 and established The Band as a real force in rock. They even landed on the cover of Time magazine in January 1970 as "The New Sound of Country Rock."
There would be a few more good years and strong albums from The Band — Stage Fright in 1970, the underrated Cahoots in '71, the live Rock of Ages (with terrific horn arrangements by Allen Toussaint), Northern Lights-Southern Cross in '75 — before their grand finale at the Last Waltz in 1976. All but Robertson would carry on with other incarnations of The Band in the '80s and '90s, but the deaths of, first, Richard Manuel, then Rick Danko, has now put The Band to rest permanently.