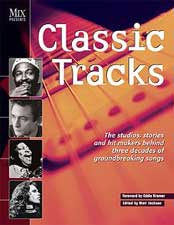 In the late 1960s, it seemed as though every corner of the pop music playing field was covered. On any given day, an AM station might send out a bit of confection like The Archies' "Sugar, Sugar," follow it with the Fifth Dimension's version of "The Age of Aquarius" from the Broadway show Hair, pop in The Beatles' "Hey Jude" and end the set with some greasy funk, maybe James Brown's "Say It Loud (I'm Black and I'm Proud)."
Read more "Classic Tracks"
Buy the book
During this period, the guitar gods, led by Eric Clapton and Jimi Hendrix, were attempting to deconstruct the very nature of popular music as it had been written, recorded and performed up to that point. For starters, the notion that song structure (principally the 32-bar form) must be worshipped was trashed. Although the material of Cream, the Jimi Hendrix Experience and countless other bands they influenced was built on traditional forms, the emphasis on extended solos often blurred them. (Although it may be argued that the lasting gems from these groups are songs such as "Purple Haze" and "Sunshine of Your Love," which feature condensed solos that highlight, rather than obliterate, form.)
While the legends were experimenting, a legion of up-and-coming talent was taking it all in and preparing to make contributions of their own. One of them, guitar player Leslie West, was racking up a huge East Coast following with his group The Vagrants. Although they never broke nationally, The Vagrants attracted some serious attention from the industry. When West left the group to record a solo album, Felix Pappalardi signed on to produce. Although most historians know that Pappalardi also produced Cream, the quintessential "power trio," his musical roots were far-reaching. "Felix was Dinah Shore's arranger at one time," notes West. "I didn't know anything about music when I met him. I still don't! Felix explained music in ways that I could understand."
After completing the solo album, West and Pappalardi decided to put together a band, and in 1969 Mountain was formed. Drummer N.D. Smart and keyboardist Steve Knight rounded out the group, who recorded their first album, Mountain Climbing, in 1970. This album, recorded and mixed at The Record Plant in New York City, featured a new drummer, Corky Laing. It yielded the memorable hit single, "Mississippi Queen."
At its heart, the song was just a simple variation on the standard I/IV/V blues form that every basement band was hacking away at. So what made "Mississippi Queen" so special that it's sometimes listed among the Top 50 rock songs of all time? One clue may be found in West's approach to music making.
"I don't play over words or through lines," he says. "It's like an orchestra. The first-chair violin stands up. Then the trombone has a solo. Everything has its place. Small little bursts you can sing back to yourself. I see guys playing all over the neck — long, drawn-out solos. I thought of a solo as a song within a song; it has to help the song. My whole theory is not to play anything you wouldn't say."
That philosophy is clearly at work throughout the 24 bars that make up "Mississippi Queen's" structure. Consisting of 12 two-bar phrases, the first 10 of these are memorable, one-bar guitar licks answered by a bar of vocals. The last two reverse the pattern. That's it! No wasted notes or verbiage, and no solo, although West, who has a distinct sound, was more than capable of spraying out his thoughts, paragraphs at a time, in concert. The brevity of these intensely musical licks helped lodge them in the minds of a generation of rock music fans.
It was Corky Laing who actually came up with the idea for "Mississippi Queen." Recently he recalled, "I had a band called Energy back in '69. Felix was supposed to produce us, but then Cream came along. Back in August of '69, we were playing at a funky beach club called 30 Acres. It was the hottest summer ever in Nantucket, and one night the power blew [out] across the entire island! I was in the middle of playing some dance tune when the bass and organ went down. I found myself rapping this song on the spot!
"You see, a buddy of mine had a girlfriend with him at the club who was visiting from Mississippi. She had on a see-through dress — I can still remember this; she was amazing! Look, there were also Dexedrine's in my system, and I was on overdrive. I looked at this beautiful girl and began screaming this song, 'cause there was no power.
"Fast forward to the fall of that year. We were recording Mountain Climbing in New York City, and Felix kept saying that we needed one more good rocker. Leslie had just moved to Park Avenue. He was having a lot of virgins just show up at his house at this time. It was great! On the day we decided to work on the song, Leslie blew off the chicks who were hanging around and we got down to business. He came out with a lick — you know the one. I was madly in love with The Band, and I decided to put a 'Cripple Creek' feel behind it. Later on, I told Levon Helm that I felt bad about ripping him off, but he said that he didn't hear any similarity between the two songs, and that we didn't owe them any money!"
Being a producer, especially when you're also a member of the band, as bassist Felix Pappalardi was, can be tricky, especially when you have to criticize the artists you're working with. "We cut the track a number of times," Laing says. "I thought many of the takes were great, but Felix kept throwing them out, demanding that we polish the phrasing. Finally, we played it exactly right — or so I thought. Felix maintained that the time was strange, and asked that I give him some time he could hear. I was totally pissed; it was like the fourteenth take, and I thought we had it! So I started smashing the cow bell, very angrily. Felix said, 'Keep it right there!' That cow bell intro became a hook for the record. By the way, I've always used Latin equipment. I'm not a Latin drummer, but I'm very fond of the sound. Right from the beginning, I'd often use timbales instead of tom toms. I grew up in Montreal, and my mother turned me on to a lot of Cuban music. We didn't have a cold war with Cuba, so I guess it was easier from a cultural point of view to get into that music in Canada."
West has similar memories of how he and Laing wrote their most famous song. "When Corky brought me the idea, it was a one-chord dance song. We got real high, took out a napkin, and I came up with the main riff and the chords. Then we fit the words over the sound."
Mountain recorded basic tracks together at the Record Plant, with veteran engineer Bob D'Orleans at the board. "It really wasn't that involved technically," says Laing. "I was fond of the big boom directional mics. I used two different bass drums for tonal purposes. I do remember that the Record Plant had a standard mic cabinet back then.
"Jimi Hendrix had just finished mixing his Band of Gypsies record, and I remember him walking in while we were mixing 'Mississippi Queen.' He put his head down and listened to the entire album and was very positive. Back then, the vocals and guitar solos were the only parts that were overdubbed. The energy of the music was in part dictated by the fact that guitar and bass players had huge amplifiers, but drummers had nothing — just their physical strength. I'd be out there with these monster players who had a wall of sound, sitting there bashing my head out! Come to think of it, that's how I play today! Felix let me put everything I wanted into 'Mississippi Queen.' Every part of my body was going full out. I was completely indulgent with the two-bass drum beat."
"Felix was a great producer," adds West. "When I'd go into the studio to overdub guitar parts, as I did on 'Mississippi Queen,' I'd start to think. Felix would say, 'Don't think; I'll think.' I remember that I filled up the little holes in that song with four or five different passes of fills. We patched together a solo, and then I had to learn the one we'd made, and go back in the studio to record it all over again. That's how I learned to answer myself! Eric Clapton does the same thing.
"Felix gave me choices on the guitar takes, but he made all the decisions on which vocals were keepers. I'd say the guitar and vocal sessions took about 40 minutes each. As I remember, I sang the verses down, and then came back and sang all of the 'Mississippi Queen' lines. The mix took care of itself."
The name of the group Mountain played on the girth (long gone) of its celebrated guitarist. Underneath it all, though, there was more than a touch of Vienna in West's musicianship. Listening to him warm up before an outdoor concert in Crystal Lake, England, in 1970, on a bill that also featured the Small Faces and Pink Floyd, I remember the delicacy that showed through even in West's most furious impulses. He had an uncanny ability to create harmonics of subtly differing nuances. "I discovered that eight different harmonics can be gotten out of any one note," West says. "It's all in the angle of the right hand. I designed some guitar picks recently that should be coming to market soon. One of them is made to help even the novice discover how to get those harmonics." West also used the pinky on his right hand to subtly modulate the volume controls on his Les Paul to soften the attack of pick on string.
Tragically, Felix Pappalardi was the victim of a shooting incident in 1983, but Leslie West and Corky Laing have remained active. West is currently producing an Atlantic Records band called Clutch with his partner, engineer Jason Corsaro. He recently completed an instructional video, Leslie West Big Phat Ass Guitar, that will be in stores in the near future. More information on him can be found at his Website, www.lesliewest.cjb.net. Corky Laing has his own band, Cork, which features Eric Schenkman, the Spin Doctors' lead guitarist. Their second CD, Under the Radar, will be released on King Biscuit Records in the fall.