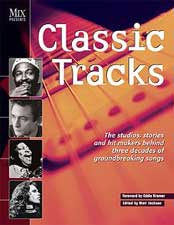 With a career spanning more than five decades and scads of hits in multiple genres, choosing a single "Classic Tracks" from Ray Charles is a tall order — the breakthrough single "I Got a Woman" or the country stylings of "I Can't Stop Loving You"? One of the great Sid Feller productions from the early '60s, like "Georgia on My Mind," or Ray's immortal take on "America the Beautiful," which gets me teary even thinking about it? How about the Ray Charles single I bought at the age of eight, "Hit the Road, Jack?" It's still played over the P.A. at various baseball stadiums when an opposing pitcher gets pulled: "That's right, hit the ro-oad Jack, and don'tcha come back no more…" Finally, I decided that because the lead "Recording Notes" feature this month deals with the end of Charles' storied career, the "Classic Tracks" should deal with the beginning, or at the very least, with his fertile Atlantic Records period. "What'd I Say" was the first Ray Charles song to make it into the Top 10 on the pop charts, and it helped turn the singer from an R&B phenomenon to someone who was embraced by the mainstream, even as he went genre-hopping.
Read more "Classic Tracks"
Buy the book
Charles' first recordings (as part of the Maxine Trio) were made for the Downbeat label in 1949. In the early '50s, under his own name, he scored a pair of Top 10 R&B hits with "Baby Let Me Hold Your Hand" and "Kiss Me Baby" on the Swingtime label. By 1954, however, he'd signed a deal with New York-based Atlantic Records, lured by the enthusiasm of label bosses Ahmet Ertegun and Jerry Wexler, and encouraged by the fledgling operation's successes with the likes of Ruth Brown and Joe Turner. In the early '50s, Charles' style had been closer to the suave and jazzy Nat King Cole's than Atlantic's R&B artists; indeed, it can be said that Charles found his "mature" style at Atlantic, with Ertegun and (mostly) Wexler producing, and Tom Dowd engineering. Wexler has famously noted about his first years at Atlantic: "We didn't know shit about making records, but we were having fun." But that's selling the talented Dowd short, and as history has shown, there was no better place to make records in the late '50s and early '60s than at Atlantic. Dowd was using multiple miking schemes when many other engineers were still limiting themselves to just two — one for the band, another for the singer — and he moved into stereo recording earlier than most.
Charles' initial R&B hit with Atlantic came in 1954 with "It Should've Been Me," but it was the incendiary R&B/gospel blend of "I've Got a Woman" (recorded at a radio studio in Atlanta) the following year that really put Charles (and Atlantic) on the map and led to a string of other popular singles. After "I've Got a Woman" hit big, Charles rewarded himself by buying a new Cadillac every year for the next six years. An inveterate road warrior who traveled with a crack R&B/jazz band that included sax greats Hank Crawford and David "Fathead" Newman, Charles was driving 100,000 miles and playing up to 300 dates a year in the late '50s, so, naturally, he wanted to ride from gig to gig in style.
In those days, Charles mostly played clubs and dances, and he quickly gained a reputation as one of the most exciting performers on the R&B circuit. In 1958, he took on the vocal group The Cookies (themselves an Atlantic act), later changing their name to The Raeletts. In fact, Charles' first serious duet recording, some 44 years before Genius Loves Company, was with The Cookies' Raeletts' Margie Hendrix on "(Night Time Is) the Right Time" in late 1958. That was also the year that Charles moved to Los Angeles (from Dallas), where he would live for the rest of his life after a peripatetic first three decades spent around the South and Northwest. Of course, it goes without saying that "the road" was also his home.
Things were going well for Charles professionally during this era, but his personal life was a little more dicey. A notorious womanizer, he had lovers on the road while his wife stayed home, and he also had a serious junk habit through the late '50s and early '60s. In his autobiography, Brother Ray, Charles was surprisingly dismissive about the impact of heroin on his life, other than the occasional difficulty of scoring: "One important thing about me and dope — I never lost myself, even just after I shot up…I made my gigs, I sang my songs."
Back at Atlantic Records in New York during 1958, engineer Dowd bolted into the future by convincing Ertegun and Wexler to buy one of the first 8-track recorders made by Ampex — this at a time when records were still overwhelmingly released in mono.
"I remember when talk of 8-track first came up," Dowd told me in a Mix interview in 1999. "I said, 'Wouldn't it be great if we had 8-track because then we could do this and that and that.' And [Ertegun and Wexler] said, 'Find out how much it'll cost.' So I got a quote on the phone, and they said, 'Well, go ahead.' So all of a sudden, here it's the fall of 1957 and I've ordered an 8-track machine. As I'm thinking about it, I realize I've got to now design or convert the damn console I have to fit 8-track. I couldn't order [a new console] if my life depended on it because nobody knew what the hell I was talking about!
"By January of '58, the new machine rolls in the door. A week later, I have it connected and I'm recording. There is no difference in our approach to recording except I'm storing it differently. When they ask for something to be played back, I'm still playing it back mono, mixing it on the fly."
In Michael Lydon's fine biography, Ray Charles: Man and Music, Dowd recalls the first time he used the 8-track for one of Charles' sessions: The singer nearly jumped out of his chair when he heard Edgar Willis' bass isolated on its own track. Charles already knew quite a bit about studios and engineering and was fascinated by this new development. In what must have been quite a scene to witness, Dowd then put Charles' hands on the studio's new custom-built console and taught him how to use the 8-track.
This month's "Classic Tracks" was recorded on that 8-track at Atlantic's venerable 56th Street studios on February 18, 1959. "We made it like we made all the others: Ray, the gals and the band live in the studio, no overdubs," Dowd told Lydon, "Three or four takes, it was done. Next!" Among the mics Dowd typically used on sessions in those days were RCA 44s and 77s, Western Electric 639-As and 633 "salt shakers," and a pair of Emory Cooke mics made by M.W. Kellogg & Co. By the late '50s, too, some Neumann microphones were popping up in select New York studios such as Atlantic.
The song itself has an interesting story behind it. As Charles explained in Brother Ray, "We happened to be playing one of my last dances, somewhere in the Midwest, and I had another 12 minutes to kill before the set closed. A typical gig of that kind lasted four hours, including a 30-minute intermission. It was nearly 1 a.m., I remember, and we had played our whole book. There was nothing left that I could think of, so I finally said to the band and The Raeletts, 'Listen, I'm going to fool around, so y'all just follow me.
"So I began noodling — just a little riff that floated into my head. It felt good and I kept going. One thing led to another and I found myself singing and wanting the girls to repeat after me…Then I could feel the whole room bouncing and shaking and carrying on something fierce." After the show, a stream of people asked Charles where they could buy the record of this tune he and the band had improvised, so for the next few nights, Charles closed the show with the song, adding to it, making up new verses and solidifying the arrangement. Charles was so excited by the song that he called up Wexler from the road to tell him about it; soon after, he and the band hit New York and laid it down.
The song was fairly unusual for its day in that the hypnotic central riff was played on an electric piano. "Musicians used to laugh at me saying, 'What are you going to do with that toy? That little-bitty thing can't do nothin'," Charles told NPR's Robert Siegel in 2000. "But I liked the sound of it and that little-bitty piano is really what captured the public's attention."
Of course, the song had a lot more going on than just the piano riff. It had a series of simple, unconnected verses, some exciting call-and-response passages with The Raeletts and a false ending conceived in the studio, in which the band and singers beg Charles to keep playing. It was seven-and-a-half minutes in its original form, but Dowd cut it down to two three-minute sides (labeled "Part One" and "Part Two") by trimming here and there and taking out a couple (but not all) of the passages that contained the lyric "Shake that thing!"
Even with Dowd's editing, the song was very controversial. "Not everyone dug it," Charles wrote in Brother Ray. "It was banned by several radio stations. They said it was suggestive. Well, I agreed. I'm not one to interpret my own songs, but if you can't figure out 'What'd I Say,' then there's something wrong. Either that or you're not accustomed to the sweet sounds of love."
No doubt the controversy ended up helping the record become a hit: It entered the Billboard charts on July 13, 1959, and within a few weeks had made it into the Top 10, finally nesting at Number 6. Later that fall, Charles hit Number 11 with "I'm Movin' On," and for a while, he could seemingly do no wrong. He celebrated the way he always did: He bought a new Caddy: "Nothing flipped me like that '60 Cadillac," he wrote. "Man, I loved those long lines and those big fins!"
The lasting legacy of "What'd I Say" is that it became Charles' show-closer for the rest of his career. As he told NPR, "What you want to do is build the people up. You start 'em off and you give them this first half, and their feets [are moving], and next thing they got their heads goin', and the next thing they got their mouths open and they're yellin' and they're screamin' — it's a great feeling when you can have your audience get involved with you…where everyone can jump in and have a real good time. 'What'd I Say' is my last song onstage. When I do 'What'd I Say,' you don't have to worry about it — that's the end of me; there ain't no encore, no nothin'. I'm finished!" Read Blair Jackson's two-part interview with Tom Dowd, originally featured in the October 1999 Mix.
Part 1.
Part 2.