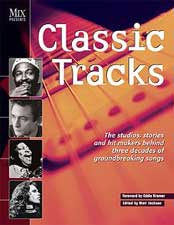 In the spring of 1979, Rickie Lee Jones' "Chuck E.'s in Love" appeared like an oasis in a desert of disco and arena rock. Over Steve Gadd's shuffle beat and a bed of bluesy acoustic guitars, Jones told a young woman's tale of how friendship can be changed by love. She sang with passionate honesty, delving into places deep inside herself, and using a beat poet's vocabulary, she populated her songs with heartfelt vignettes of colorful characters. Her music was a melting pot of her influences. Blues, country, folk, jazz, soul and show tunes were seamlessly blended together by the cream of L.A.'s studio musicians on her exquisitely crafted songs. At the time, there was no one making music like Jones, but her influence on many singers who came after her-from Edie Brickell to Sheryl Crow to Jewel-is clear.
Read more "Classic Tracks"
Buy the book
Rickie Lee Jones was born on November 8, 1954, in Chicago. Her father moved the family frequently, but the majority of Jones' early years were spent in Phoenix, Ariz., and Olympia, Wash. Mr. Jones had show business ambitions of his own and started teaching Rickie to sing and play music at an early age. She soon found that her music and poetry offered her solace from her parents' turbulent relationship. In school, Jones was an insubordinate troublemaker: "I was a smart ass. I had a big mouth with teachers who I thought were wasting my time," she has said.
She started running away from home at the age of 14, and began using drugs and alcohol and living a bohemian lifestyle. Eventually she worked her way down through California, arriving in L.A. in 1973. She worked as a waitress, and on her off-duty hours performed spoken-word pieces and music at local clubs. During this period she wrote many of the songs-such as "Last Chance Texaco" and "Easy Money"-that would appear on her eponymous debut album. "Chuck E.'s in Love" was among those written in the fall of 1977, and it reflects the time Jones spent with friends Tom Waits and Chuck E. Weiss. As Jones remembers, "[Weiss was in love with] his cousin…there was a telephone call from Denver one day and it was Chuck E. And Waits hung up the phone and said, 'Chuck E.'s in love!' I just made the rest of the song up."
Her first big break came when Lowell George recorded "Easy Money" on his solo album Thanks I'll Eat It Here. Shortly thereafter, her demo tape came to the attention of Lenny Waronker of Warner Brothers Records, who in turn contacted Russ Titelman. As Titelman recalls, "Lenny called me in England and said, 'There's this buzz on this girl. I'm going to send you a tape. I think it's something we should do.' So he sent it to me, and 'Chuck E.'s in Love', 'Easy Money' and 'Company' were on it. I went crazy for the original demo of 'Company.' I was in tears when I heard the vocal performance on the thing. I listened to it over and over and over again. And I called Lenny back and said, 'Who is this? This girl sings as good as Roberta Flack. Who is she?' He said, 'I was more interested in the songs! I wasn't paying attention to the performances.'" As soon as Titelman was back in the States, a meeting was arranged with Jones, and she signed with the label. Waronker and Titelman became the producers of her debut album.
"Chuck E.'s in Love" embodies a crisp, clean production, with separation that allows the listener to hear each instrument distinctly. Yet the song sounds remarkably full given the relative sparseness of the instrumentation. The key to this production is that the arrangement of the song was considered nearly as important as the recording of it. As Waronker states, "The arrangement often has a lot to do with how a record sounds. People have the tendency to want to get a certain sound based on technology and electronics, and my experience is that it's way more than that. The album is really as much about trying to capture Rickie's personality. And the more involved she became, our sense is, the better it would be. She was very much involved with the arranging."
"Chuck E.'s in Love" was one of the first songs recorded for the project. It was recorded at Warner's Amigo Studios, in Studio A. Amigo was equipped with a 24-track 3M79 with Dolby A and a customized API board. Westlake monitors were used with TAD drivers (additionally, "Little Davids" were used for reference). Lee Herschberg, who engineered the album, recalls Amigo as "an exceptionally good studio and fairly live acoustically. Most of the studios like the Record Plant were very dead." He also says the album was free of gimmicks and that he didn't use a lot of outboard gear at the time. A Neumann U87 was used to record Jones' vocal. Her acoustic guitar was also miked with a U87 in conjunction with a Shure SM57. The mic placement was determined by the guitar and its timbre. Jones herself was responsible for the distinctive finger-snapping on the record.
Waronker and Titelman spared no expense in hiring the best L.A. session players. Victor Feldman played a Fender Rhodes part (with the live backing tracks of bass and drums) that they decided wasn't quite right; they later wiped it and replaced it with a new one by Neil Larsen. Herschberg took the Rhodes stereo direct out and put one side through a Harmonizer and would drop or up the pitch just slightly to give it a little delay, fattening the sound a bit. Feldman ended up participating on the session by playing vibes. Buzzy Feiten played the main acoustic guitar that doubled Larsen's electric piano parts (Jones played the guitar accompaniment on the bridge of the song). The bass played by Willie Weeks was recorded using a combination of DI and miking his amplifier with a U87 and an SM57. Since the room at Amigo was so live, it wasn't necessary to put the mics (no more than two) too close to the horn section (consisting of Ernie Watts and Tom Scott on sax and Chuck Findley on trumpet). Herschberg would set the mics further back in the studio and let the sound blend in the air a bit.
Russ Titelman observes: "The horn parts were Rickie's conception. She would sing the parts pretty much, and they'd write them down and play them. And then she'd direct them to get them to play a, you know, little more sort of peculiar." Drummer Gadd was placed in the middle of the room behind a baffle, and there was an umbrella above the drums that could be raised or lowered as needed. To mike the kit they used a 414 overhead, KM 84 on the snare, and a Sennheiser 421 on the kick drum.
Gadd made quite an impression with his performance. Herschberg says, "He always got such good sounds. It's not a chore to mike him at all. He often sounded like two drummers sometimes. It was hard to believe, you had to look out to see if there was a separate guy sitting next to him. He played such great stuff." Titelman concurs: "I remember when we did that song and he played that crazy fill-I went nuts! I just laughed, I'm in heaven, you know? The whole thing breaks down. It was so unusual, that record. It's going along like a simple little record, and then all of sudden there's this crazy bridge, and then it stops, and then an insane fill from a crazy drummer, but it worked. It was so fresh sounding, so different."
Herschberg fondly remembers the sessions as being naturally smooth and spontaneous, and everyone connected with the project reflected on the fun and easygoing vibe in the studio, which translated into the finished product. One of Waronker's favorite memories of the session was "when we were listening to it back, the musicians were truly amused by the sense of humor and the fun that was involved with that track. It was a great feeling, when you hear musicians laugh in the right spots and are taken by what they've just done. A rare unanimity occurred."
The laughter stopped, however, when Herschberg went to master the recording at Amigo. As is often the case, too much choice caused consternation on all parties concerned until a decision was finally reached. Titelman agrees, "There were many different versions of it, and it used to drive me crazy! A little bass added here, a little bit of limiting, 'No, I need a version without it.' We'd drive everybody crazy. Eventually it would come out and be its best, the best it could be. But you'd go crazy meanwhile." When the album was finally completed, Waronker and Titelman saw the potential for tremendous success in Jones' musical vision. Titelman recalls, "I called Lenny after we had finished, and I said, 'Lenny, I think that people are going to go crazy when they hear this record. It is so unusual and so real and passionate. Beautiful singing and all of these great songs. For a first album it was an unbelievable debut. I think there's going to be a lot of little girls with berets on their heads.'"
It turns out that Titelman was prophetic about Jones' career. "Chuck E.'s in Love" became a Top 10 single in May 1979 (its highest position was Number 4, and it lasted 12 weeks on the chart), and Jones was a critics' darling and a public sensation. Her performance on Saturday Night Live helped push the song through the roof, and she went on to collect a Grammy for Best New Artist of the Year. Rickie Lee Jones went multi-Platinum and was considered by many to be one of the best debut albums of all time. Herschberg sums up the experience by relating the best compliment an engineer can hear. "I've had more people say that's one of the best-sounding records they'd ever heard."