I'm always looking for better ways to improve my listening quality when mixing and playing back audio from my laptop. The three products reviewed below fit the bill and are at the top of their class, each bringing a unique take on features and technology.
GRACE DESIGN M900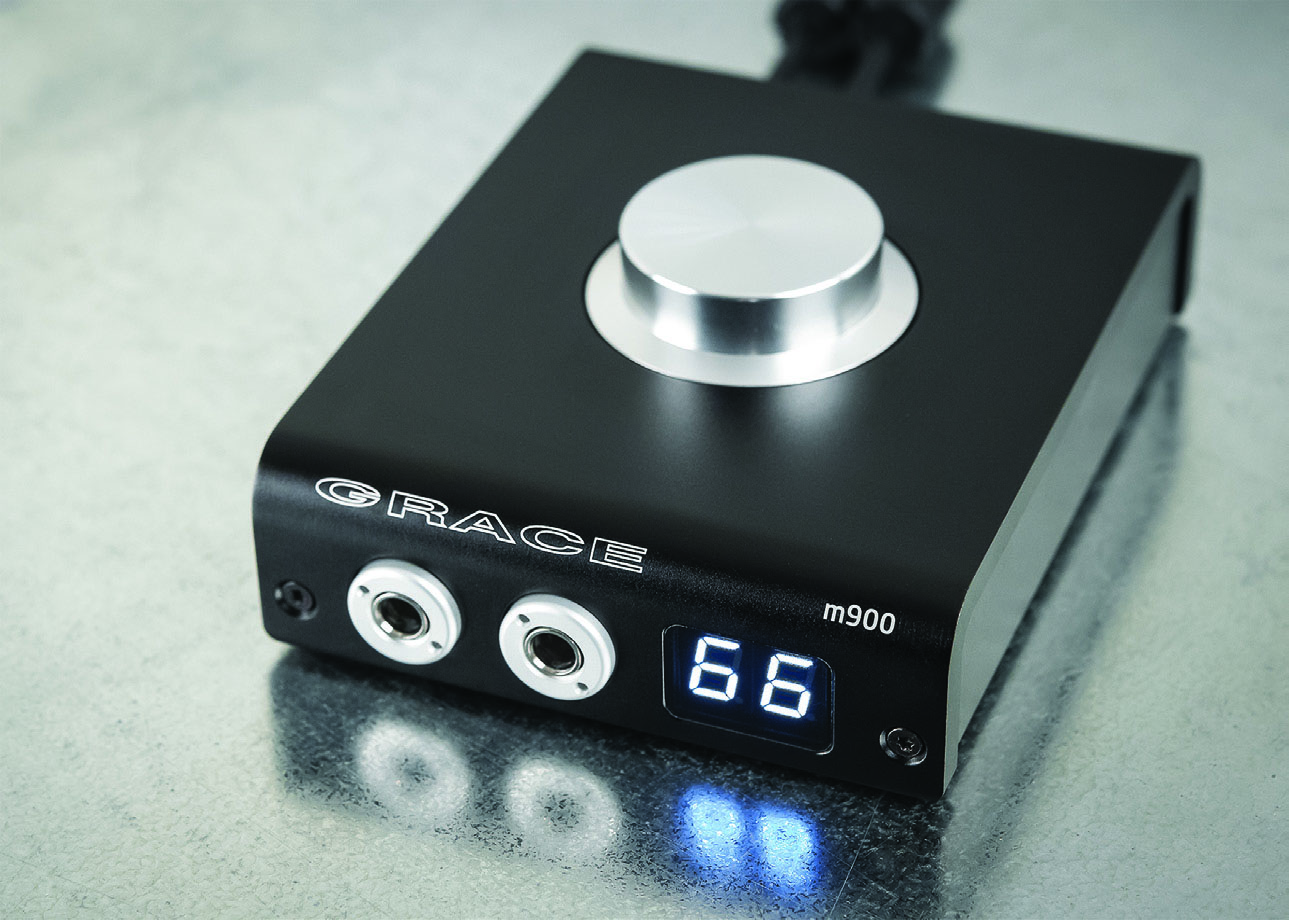 The m900 compact, portable headphone amp, DAC and preamp is hiding something. Behind its simple exterior and small frame (4×5.25×1.8 inches) is some mad technology. From the front, the m900 looks like a small box with a large rotary knob on top, two headphone outputs, and a seven-segment LED screen displaying gain levels 0-99 in .5dB increments. Simple, right? Not really. The rotary is where you tap into many features not apparent on the outside. The unit works with Mac or PC via USB, or you can feed other sources from other inputs on the back.
The back of the m900 tells more of a story with two USB ports, one for bus power and data, and the other used for a 5V, 2A DC input, should you want to power it from an external supply (included). The external PS gives you more juice for headphones that need to be driven harder. There are also unbalanced, stereo RCA outputs for driving powered speakers, power amp, headphone amp or a preamp.
The RCA S/PDIF input supports up to a 192kHz, 24-bit PCM signal while the Toslink input accepts up to 96kHz, 24-bit PCM. Both digital inputs offer automatic de-emphasis equalization. On top of that, the m900 DAC uses the latest-generation AKM 4490 chip, featuring 32-bit processing and support for sample rates up to 384 kHz PCM or 256x DSD, all available via the USB input interface That opens this up to a host of classical and other super-high-sample-rate loving engineers.
The rotary encoder acts as command central for accessing many features. Clockwise and counterclockwise movement adjusts gain as you would expect, and a single push and release mutes the output (and the LED). Grace explains best how gain is managed: "control duties are handled in the digital domain with 32-bit processing, but there are two analog gain ranges, as well. This allows a full 99dB of volume control range, preserves a very low noise floor for IEMs, and allows high peak output voltage for low efficiency planar magnetic phones."
When you push and hold the encoder for two seconds, the display jumps to the last of the seven setup menu items accessed. A counterclockwise turn will get you back to the first, the Crossfeed feature. This simulates the signal interplay that happens in a real acoustic space when listening to speakers. Your left and right ear hear a mix of both depending on your position between the speakers and other factors. With IEMs or headphones, this is impossible unless something like Crossfeed is available. It is a preset amount on the m900 and works very well. The m900 uses the dots at the lower left of each LED character to denote on/off states and more. In this case, if the CF in the window has dots (C.F.), Crossfeed is on. The next feature (clockwise turn), is the input source select noted as (u) for USB, (SP) for S/PDIF, and (to) for Toslink. Where you park it is what you're hearing.
Next is the display dimmer mode that toggles the seven-segment display off after five seconds of inactivity—(d.d.) means the dimmer is active, (dd) means the dimmer is off. (P.L.) denotes the current gain level is stored as the power-up level, (PL) means the gain does not match the power-up level. This is nice if you don't want to have to crank the gain from zero (default) every time you power up the unit.
Next are four selections that change the response of the digital filter. These are noted F1 through F4. The manual explains how these affect the output. Note: They are subtle and often indiscernible and highly dependent on the source material. Next (U1 or U2) changes the USB operation mode. USB 1 supports driverless operation (plug-and-play for Mac and PC) up to 96 kHz. USB 2 is driverless on a Mac up to 384 kHz and requires a free driver download for Windows. The last menu item displays the incoming audio stream sample rate. 'FS' will be displayed for briefly and change to indicate the incoming sample rate.
Listening with the m900 is glorious. I used it with Sennheiser HD 800 open-backed headphones, Ultimate Ears Capitol Remastered IEMs, and Stealth Sonics c9 IEMS all with excellent results. Playback is rich and full of beautiful transients, crystal-clear highs, punchy mids and rich lows. It is super-clean, and I found myself trusting it immediately based on my listening tests. Known tracks sounded spot-on to my memory.
And by the way, the m900 will drive speakers through the unbalanced RCA outputs. You may think RCA is low-tech, but if the cable run is short, as it would be in a desktop setup, there's no problem. At this price, there is no headphone box/DAC that touches the m900 in features, support of sample rates, and stunning audio quality. You can easily carry it in a backpack which makes it even better. The m900 from Grace Design is a must-have for desktop mixer/producers on the go.
PRODUCT SUMMARY
COMPANY: Grace Design
PRODUCT: m900
WEBSITE: www.gracedesign.com
PRICE: $499
PROS: Solid build, excellent-sounding DAC and amp, bus-powered or wired, built-in features tapped via rotary encoder
CONS: None found
HAFLER HA75-DAC TUBEHEAD
Hafler is a respected name among engineers and audiophiles. Its history goes back to 1976 when the David Hafler Co. introduced the DH101 preamp and DH200 amplifier. From there, the company released a wide array of products for Hi-Fi and pro audio use. David Hafler sold his company to the Rockford Corporation in 1987, and most recently, it was purchased by Radial Engineering in 2014. Since that time, Hafler (via Radial) has released, and relaunched Hafler and Dynaco audio products, including the HA75-DAC reviewed here.
The HA75-DAC is no lightweight in any sense—the hefty unit is built from 14-gauge steel to help block stray interference. Power is provided using an external power supply that connects via 5-pin XLR. On the front is a full range of features starting with the power on/off switch and a selector for the analog, or USB inputs. Left of the large main volume rotary is another continuously variable rotary and on/off switch for the Focus feature—an active matrix that blends the discrete left/right channels back into the stereo image. This is meant to simulate listening to speakers in a room where reflections and the proximity of your head doesn't hear left/right discretely to your left/right ears, but as a blend of the two. It works remarkably well.
Also on the front is a three-position Vox switch. The center turns the Vox effects off, while the Down position is a loudness enhancer used to compensate for the Fletcher-Munson curve when listening at low volumes—like an old-school receiver. The Up position boosts low frequency at the output and is used to simulate the effect of certain styles of headphones that are hyped at the low end. A Load rotary toggles through six possible output impedance settings meant to help match the HA75 DAC to a wide variety of headphone/IEM products.
On the back is a bevy of ins and outs, including balanced stereo XLR inputs, unbalanced stereo RCA inputs, a USB input (Type B), a Thru output (RCA) that receives the input without going through the tube circuit, and a Tube output (RCA) for those who want to introduce tubey warmth in the signal path between a preamp and power amp. Amplification is a 12AX7 dual triode tube operating with a B+ of approximately 140 Volts, the same as the original HA-75 from Hafler.
All tech and features sum up to the fact that the HA75-DAC TubeHead sounds fantastic. It was a treat to listen to a variety of sources through two sets of IEMs, the C9 from Stealth Sonics and Ultimate Ears Capitol Remastered, and the Sennheiser HD 800 open-backed headphones.
For starters, there is plenty of clean gain to be had (30 dB), no matter the listening option. The Focus feature is not a gimmick; it makes listening with headphones more believable in a good way. I choose to dial the Focus rotary at about the 10 o'clock position. Anything higher than that got too "roomy" for me and was an image spoiler. The takeaway is I wouldn't use it to ultimately check my panning on a listening pass but it's great to have it on for a gut check of how my mix might sound through monitors.
I chose to leave the Vox feature in the center (off) position as a matter of personal taste, but the Loudness and Bass enhancements do what they advertise. The Load feature paid off when I switched between listening sources. It's much more apparent when using IEMs with their low input impedance. Each position change on the rotary greatly affects the volume and loading. The best results came when I matched the impedance to my headphones or IEMs. For example, the HD 800s are at 300 ohms, and that's where I put the TubeHead's dial on a blind listening test before I looked up the spec. The same happened with the C9 IEMs, which are rated at 16 ohms. I preferred the 20-ohms setting on the TubeHead, which is exactly where I put it before I knew the C9's rating.
The TubeHead is a definite "buy." Not only is it a stellar desktop listening source with an outstanding DAC and amp, it has balanced outputs that can drive speakers, switchable inputs between analog and USB, plus the Load and Focus features. Without a doubt, you're getting more than you pay for with the HA75-DAC.
PRODUCT SUMMARY
COMPANY: Hafler
PRODUCT: HA75-DAC TubeHead
WEBSITE: www.hafler.com
PRICE: $1,299.99
PROS: Great-sounding DAC and amp, Focus and Load features, plentiful in/outs
CONS: None found
STEALTH SONICS C9 IEMS
Stealth Sonics is a new company just breaking into the U.S. market with its universal and custom-fit IEMs, including the flagship C9 reviewed here. The CIEMs come in a customized aluminium round case that is watertight and large enough to comfortably store the IEMs, a cleaning cloth and brush, a ¼-inch adapter, a 1.2-meter standard cable, and a 1.2-meter iPhone cable (MFI). If you love your current universal-fit IEMs and don't want to break the bank, Stealth Sonics offers KozyFits, which mount your personal IEMs into a custom-fit earpiece.
The fit with any IEM is critical to a great listening experience. Stealth Sonics has enlisted a worldwide network of audiology partners, who are ready to take second-bend ear canal impressions. This positions the end of the port within millimeters of your eardrum. My only observation (not a complaint) is how the upper part of the C9 seats into the triangular fossa of the ear then twists into the ear canal. Once they're in, they're perfectly seated, but it takes some practice to get them there. The warranty is one year, and there is a generous 30-day refit policy should you not like how your IEMs feel when parked in your ear.
The drivers are housed in a proprietary, acoustically optimized composite material that promises a frequency range of 18 Hz to 40 kHz. Other tech is explained by Stealth Sonics and "includes extra-large bores that preserve airflow and sonic fidelity and advanced damping features to manage resonance." The configuration of drivers includes One Dynamic (Low); Two Balanced Armature (Mid); Two Balanced Armature (High), and Four Balanced Armature (Super High). There is a minute port at the top of each earpiece that facilitates unidirectional movement of air from from within the enclosure. This allows the dynamic driver to efficiently move air at the output, greatly enhancing the bottom end.
My listening tests with the C9 were a revelation. The reproduction is balanced and smooth, and the bottom end is rich and full. I've heard many IEMs, both custom and universal, and it's tough to get it right. Whatever scientific mojo is happening inside the C9, it's getting the job done with spectacular results. On some tracks played out of the Grace m900 and Hafler HA75DAC, the C9s stood up to all tests. The C9s exhibited full-bodied low end, and stellar separation and balance between highs, mids and lows. I would trust these monitors for my mix decisions across the board—EQ, panning and balance. How Stealth Sonics fits nine drivers into such minimal space and makes them work the way they do is scary-good. With the right DAC and amp, the C9 is a winner and worth the price.
PRODUCT SUMMARY
COMPANY: Stealth Sonics
PRODUCT: C9 IEMs
WEBSITE: www.stealthsonics.com
PRICE: $1,499
PROS: Ultra-realism in an IEM. Smooth and balanced reproduction. Stellar low end
CONS: C9 fits perfectly but takes some practice seating the units properly in your ear