NEW YORK, NY – When HEAR (Harris-Elff Audio Resources) co-founders John Harris and Jody Elff were brought on board to engineer the recording of CBS's 'One Last Time: An Evening with Tony Bennett and Lady Gaga,' the seasoned team immediately recognized the musical and cultural significance of the event. "We knew this would be a big show on so many levels–physically, mentally, and historically," says Harris. "We had to capture magic in a bottle." 
Recorded in August over two sold-out performances at Radio City Music Hall shortly before Bennett announced his retirement from live shows, the team relied on their over 70 years of combined experience and the power of the industry-leading Gemini mobile audio mixing facility–available through their partnership with NEP Group–to deliver a pristine recording of the many-layered production.
Experience and reputation
'One Last Time' Executive Producer and Director Alex Coletti knew that he would bring HEAR aboard from the earliest stages of his planning. "Whenever I get the call for a show like this, I know that people aren't just calling me," Coletti said. "They know that with me comes a team of top notch collaborators." Coletti's experience working with Harris goes back as far as Tony Bennett's own MTV Unplugged performance from 1994, which Harris engineered. The album resulting from that performance went on to win two Grammy Awards. More recently, Coletti has worked with Elff on the Words and Music podcast series for Audible, leveraging HEAR's innovative remote mixing capabilities. "John and Jody have an ingenious system which allows us to record remotely and even mix artists live remotely," Coletti says. "I love that their heads are going into those new endeavors and pushing the technology."
For 'One Last Time,' a production with numerous moving parts, working with John and Jody helped bring stability to the process for Coletti. "This is a TV project, but it's music driven," he says. "It really is about the sound and the performance and capturing that. With so many variables in the world at the time we didn't want to have to worry about anything else, and there was never a question we were working with the right people in John and Jody."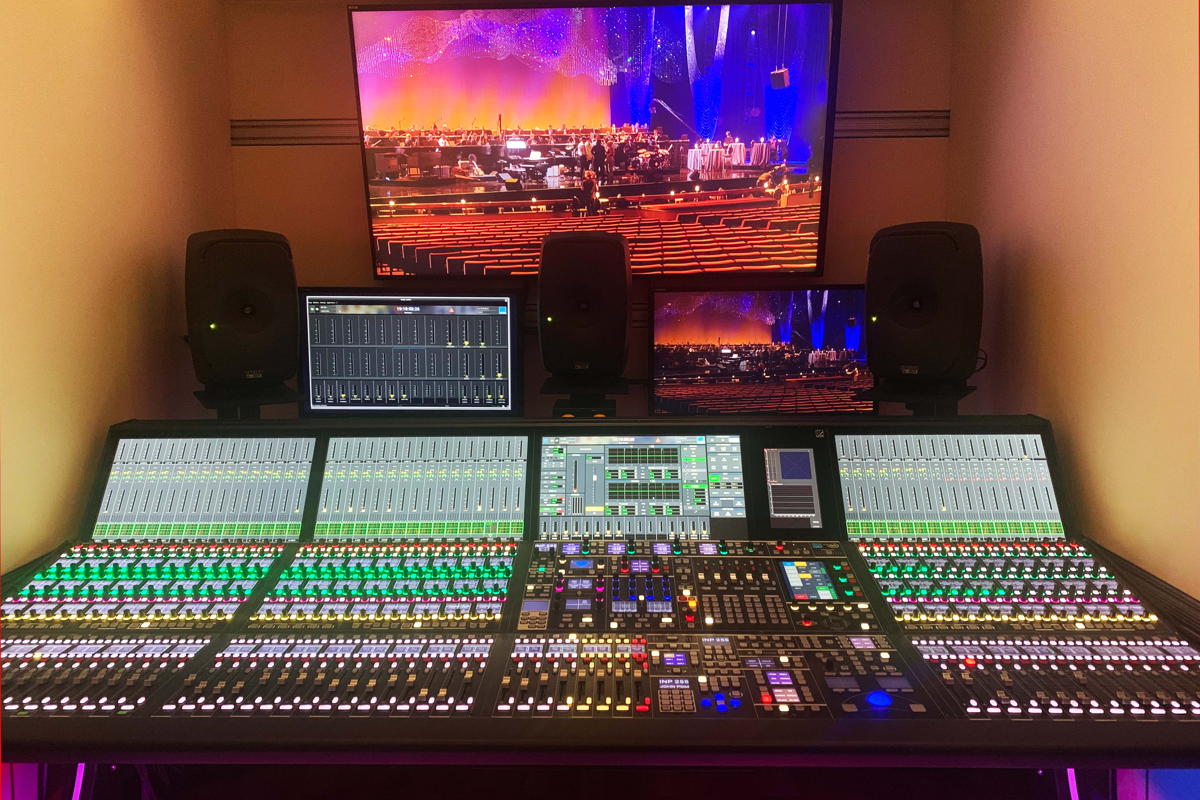 The sound of a moment
'One Last Time' featured both artists backed by both a full orchestra and their respective bands, which included two drummers, two bass players, two keyboard players, saxophone, trumpet, and guitar. "We were looking at 50 channels of orchestra, 60 channels of band, and another 40 channels of audience and production elements," explains Elff.  To handle the enormous track count, HEAR employed the capabilities of the Gemini mobile audio truck. "It's important to manage all that signal flow so that when we hand off that 150-channel pro tools session to the post production team everything is where it needs to be in the timeline and it sounds good," Elff says. "The scale of what Gemini can do as a piece of technology is really spectacular and it's a wonderful tool," Harris adds. "It's the most powerful vehicle of its kind in America."
To record a very special performance by iconic artists in a storied location like Radio City Music Hall, Harris and Elff took pains to capture the energy of the sold-out crowd. "The sound of Radio City is a really important part of this," says Harris. "It can be great, but it can also be a challenging room." Harris turned to his experience to help inform his choices on microphone placement. "I've probably done 50 recordings in there, so I know exactly where to put the microphones to capture the sound of the room and the crowd. You get an amazing connection to the people in the audience and a sense of their connection to the artists." Working with veteran engineer Al Centrella, the team covered the room from every perspective to ensure solid tools for the final mix.
Two heads are better than one
To keep tabs on the incoming audio while creating a production mix on the fly, Harris and Elff used Gemini's dual control rooms to divide the labor. Elff handled the orchestral inputs on his console, delivering submixes to Harris in the forward control room via Gemini's advanced routing capabilities, where Harris combined them with the band and vocals to create a working mix. "John and I complement each other really nicely in terms of our collective professional experience," says Elff. "You can't overstate John Harris's impact on live music broadcast over the last thirty years, while I've spent a lot of my time in concert halls working with classical and world music." Harris notes that dividing the work this way helps to deliver the best possible result. "To each take a piece of the show and give it our full attention was a pleasure," he said.
The audio mix created live by Harris and Elff in Gemini was critical for jumpstarting the post-production process. "The mix that we made on the fly gets printed to the camera cuts and that's the mix that everyone uses during the first three months or so of the post production process until the final mixes are done," Elff says. "So it was important that we gave them a mix of very good quality to work with, and that's exactly what we're equipped to do."
Quality above all
The final music mix was handled by award-winning mix engineer Dae Bennett, Tony Bennett's son, who was also a producer on 'One Last Time.' HEAR's recordings gave him the raw material he needed to deliver the sound of the show for broadcast. "Being raised by my father, quality was always the top issue, because quality is what lives on in art," says Bennett. "As an engineer myself it's always hard to hand off a big chunk of a project to somebody else, so when I'm producing and mixing these shows it's great to have a team that you can trust. And John and Jody are top notch." Bennett's faith in HEAR gave him the flexibility he needed to divert his attention to other critical aspects of his job. "I can focus on listening to the performance itself, taking notes on the different takes and such during the show for my edits," he says. "And I can do that because I know that John and Jody are handling things correctly."
With 'With One Last Time' pulling from two nights' performances, getting the setup right from the outset was critical. "My father only performs live, even in the studio," Dae Bennett says. "So if we want to mix takes at all, I have to make cuts across the whole session. We needed everything to be totally consistent between the two nights for that to be possible here. Steady, clean, and buzz-free with no intermittency. Without that any editing becomes almost impossible. That's where the trust factor with HEAR comes in."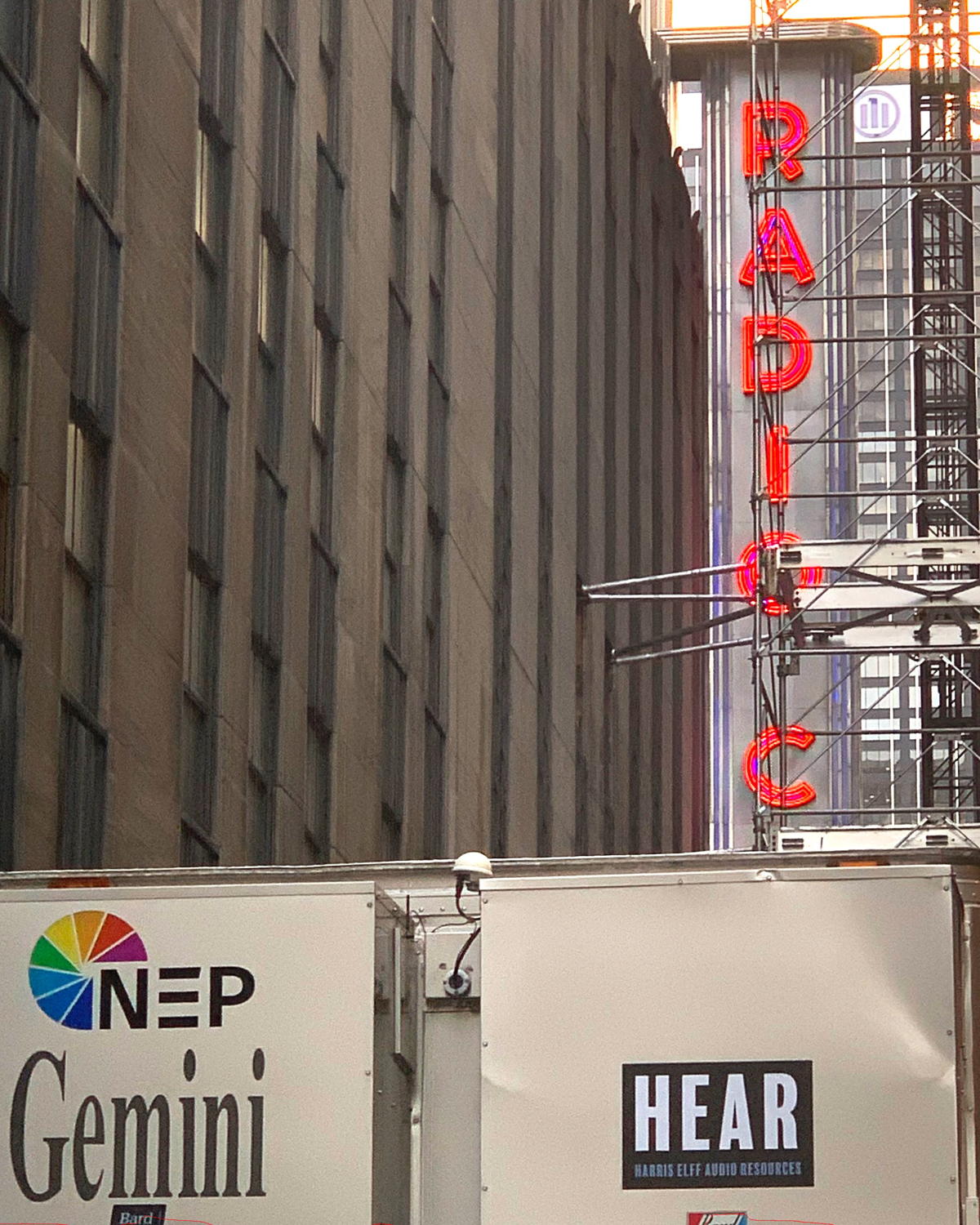 A performance for the ages
As busy as Harris and Elff were during the performance, they each took some time to let the magnitude of the cultural moment sink in. "I walked out on the stage just before the artists went on and could see every luminary from every age group and every part of society out there," said Harris. "Sometimes you can feel chills going through your body, not only from the music but from our role in it. That's a great part about what we do." Elff points out that he felt being asked to handle this critical recording validated HEAR's reputation as the industry leader in high-leverage audio capture. "The confidence placed in us by everyone involved was enormous," he says. "And we know that we're able to live up to it."
For Coletti, HEAR's presence helped create an environment where everyone on the team could do their best work. "Working with HEAR provides the utmost comfort for me, the artists, and the rest of the team. They're so self-sufficient and so together that the audio becomes something you never worry about. It's a big warm safety blanket that you wrap yourself up in and it helps you succeed."
'One Last Time: An Evening with Tony Bennett and Lady Gaga' is now streaming on Paramount+
About HEAR
Harris-Elff Audio Resources is a partnership between John Harris and Jody Elff, providing recording and mixing services, promoting awareness of the value of experienced audio professionals, and connecting content producers with audio specialists across the media spectrum. Harris and Elff have partnered to address the needs of an evolving media industry, providing recording, mixing and audio production resources that focus on the talent and experience of the engineers, coupled with hardware solutions to meet the needs of a new generation of content producers.
With over 70 years of combined professional audio experience focusing on music, John and Jody have worked in some of the most demanding audio production environments in the world, from international live television broadcasts to field recordings in Africa, art installations to award-winning album productions, their experience spans the spectrum of what is possible when working with audio in the 21st century.