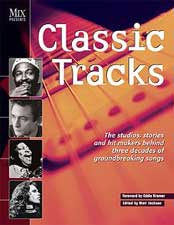 All it takes is one spin of King Floyd's classic 1970 hit "Groove Me" to appreciate that the New Orleans soul singer was a great talent, with some of the same qualities as obvious influences such as Otis Redding, Jackie Wilson and James Brown. Yet today, he is all but forgotten by the public at large. He came onto the scene a little late to have the impact of the big Stax (and Motown) singers, and his sound was perhaps a tad dated for a black music scene that was rushing headlong toward social and political relevance at the dawn of the '70s. Still, he made his small mark, and to this day, he is revered by rabid fans of southern soul music. And he's certainly not the first New Orleans artist to achieve greater regional than national success; in fact, that seems to be endemic to the region.
Read more "Classic Tracks"
Buy the book
King Floyd III was born in New Orleans in 1945 and raised in the nearby suburb of Kenner. Before he'd even hit his teens, he dreamed of becoming a singer and immersed himself in the New Orleans music scene, hanging with the likes of Willie Tee and Earl King, while admiring local heroes such as Ernie K. Doe and Irma Thomas. While still in his mid-teens, he occasionally gigged with the house band at the Sho Bar on Bourbon Street, but his career was interrupted by a two-year stint in the military. When he got out in 1963, he moved to New York and then to Los Angeles in hopes of making it as a singer and songwriter. The L.A. trip did result in his first album, A Man in Love, produced by another transplanted New Orleans musician — Harold Batiste — and featuring several songs Floyd wrote with Mac Rebennack (Dr. John). The album didn't cause much of a stir, however, and by 1969, Floyd had moved back to New Orleans and took a job at the post office to support his wife and daughter.
Around the same time Floyd was returning to New Orleans, Tommy Couch, Mitchell Malouf and Wolf Stephenson were building a new recording studio in Jackson, Miss., a city equidistant from Memphis and New Orleans. Couch and Stephenson had booked R&B acts for fraternity parties at the University of Mississippi and then, with Malouf, decided to branch out into recording R&B, forming Malaco (from Malouf and Couch) Productions along the way. They modeled their studio operation — Malaco Studios — after the thriving Muscle Shoals scene, hiring a "house band" to work on most of their records.
"There was nothing fancy about the studio," says Stephenson, who, along with Couch, still works at Malaco more than 30 years later. "I think the building itself was built in the '40s. At different times, it had been a mechanic shop, a casket warehouse, a manufacturing facility for those little concrete statues you see in people's front yards, a tile distributor, a warehouse for empty Pepsi-Cola cases…but it had been empty for a while before we got there."
The main room is about 20 by 30 feet with a 10-foot ceiling. In 1969, the studio was equipped with an 8-track Scully recorder ("Because Muscle Shoals had one just like it," Stephenson says.) and a custom console built by Southwest equipment luminary Ron Newdoll. The mic selection was limited but high-quality: "The best, and the ones we used the most, was a sequentially numbered pair of Neumann U67 tube mics," Stephenson says. "We also had some other Neumanns — a KM 84 and a couple of KM 86s. Then we also had some Electro-Voice 664s, probably a couple of Shures, a couple of AKGs — not a real wide spectrum, but pretty good ones. Of course, at that time, we didn't know that the U67 would turn out to be one of the better microphones of all time. In fact, I'm still using those same ones; they still sound great."
How did King Floyd come to work at Malaco? "The key to all of this was the great New Orleans arranger and producer Wardell Quezergue," says Couch. "About six months before that session for 'Groove Me,' Wardell came up here looking for an outlet to record some groups in; he brought a group up called The Unemployed — and I think they're still unemployed!" he adds with a laugh. "Anyway, we did three or four sides and actually leased them to Atlantic. Then, four or five months later, Wardell said that he had four other groups he wanted to record two songs each on. So he came up by himself, he used our rhythm section, and we recorded eight songs over the next few days — two on King Floyd, two on a group called The Barons, two on a girl group called Bonnie & Sheila and two on Jean Knight. The way he'd work is he'd do the tracks completely and then the following week he'd bring up the singers [from New Orleans]. He'd rent an old school bus — an actual yellow school bus — from one of his friends and he'd bring them up. They'd sing a couple of days and then go back home. Out of those sessions with Wardell, we had 'Groove Me' and [Jean Knight's] 'Mister Big Stuff,' both about 2 million-sellers each, so it was a pretty good week." Couch and Stephenson engineered the sessions, and Quezergue was the producer and arranger (though Elijah Walker, a New Orleans promoter who financed the sessions, is listed as producer on "Groove Me"; a not uncommon practice in those days).
"With all of those records, Wardell had every lick in his head before he came to the studio; every part, every nuance," Stephenson says. "He'd give you a little leeway, but not much — he knew the patterns he wanted the musicians to play and the accents; even the drum licks. And he rehearsed the vocalists as meticulously as he did the tracks. He didn't leave anything to chance."
King Floyd wrote "Groove Me" while he was living in Los Angeles. It was inspired by a young college girl who worked near Floyd in an East L.A. box factory. He wrote it as a poem to the girl and was set to give it to her, but she abruptly left her job and Floyd never saw her again. Subsequently, he turned the poem into a full-fledged song, but was unsuccessful in his attempts to get it covered until he tackled it himself with Quezergue.
The band on the ultrafunky, slightly reggaeish "Groove Me" consisted of Quezergue on Hammond B-3 (miked top and bottom on the Leslie, says Stephenson, who engineered with Couch); Jerry Puckett on guitar (a single mic on his amp); Vernie Robbins on bass (a mic on the amp mixed with the direct signal — Muscle Shoals-style); James Stroud — now a successful Nashville producer — substituting for Malaco's regular session drummer; and the Chimneyville Brass, a loose group of the hottest local horn players. The drum miking scheme was also derived from Muscle Shoals, Stephenson notes: "They would use a 67 about 18 or 20 inches above the snare drum, put one mic in the bass drum and a couple of other mics on the top, like a KM-84, and that was about it. You had to be a fairly attentive drummer to play that setup, because there was that big fat Neumann sitting right there in front of you, but it sounded great. Roger Hawkins [of the Muscle Shoals rhythm section] is a real master working with that setup." In all, the session for "Groove Me" was just five tracks of instruments (drums and horns were on one track each) and Floyd's vocal on a sixth track.
On the day Floyd and the other singers were brought up to add their parts — May 17, 1970 — Floyd eschewed the school bus and drove up alone, but his car broke down on the way and he was several hours late. When he finally arrived, there wasn't much time left. "We cut two tunes," Floyd told an interviewer. "'What Our Love Needs' took three takes, and 'Groove Me' only took one. I was out of there in 30 minutes."
Actually, "What Our Love Needs" was the unanimous choice to be the A-side of the single: "We were positive it was going to be the hit," Couch says. "We even put real strings on it, we were so sure." However, attempts to lease the two songs to Stax or Atlantic were unsuccessful, so the Malaco gang put it out themselves on their own Chimneyville imprint. "What Our Love Needs" did get some regional radio attention, but it was the B-side, "Groove Me," that eventually took off and exploded nationally. When it was already a regional sensation, Atlantic picked up the distribution of the single, and the record made it all the way to Number One on the R&B charts and to Number 6 on the pop charts, much to the shock and delight of everyone at Chimneyville/Malaco. The single earned a Gold certification on Christmas Day, 1970.
Floyd had a number of other R&B hits for Chimneyville over the next few years, including "Baby Let Me Kiss You," "Got to Have Your Lovin'," "Woman Don't Go Astray" and "Body English." But he never quite duplicated the initial success of "Groove Me," and by the late '70s, it seemed as though the ever-shifting styles of R&B had left him behind. He's been in and out of the music business ever since.
For Malaco Studios, "Groove Me" was just the beginning: "It really changed things for us," Stephenson says. "It brought us a lot more work in the studio and brought us a lot more recognition. It helped us establish our credentials." Another song from those May '70 sessions — Jean Knight's "Mr. Big Stuff" — reached Number One on the R&B singles chart in 1971, and through the years since, both the studio and the various record labels connected to it have thrived by recording top local and national blues, R&B, jazz, and both black and white gospel acts. A couple of years ago, to celebrate its 30th anniversary, Malaco released a six-CD compilation — called The Last Soul Company — highlighting the best sides by King Floyd, Z.Z. Hill, Little Milton, Bobby "Blue" Bland, Johnny Taylor and many, many more that shows the scope of the label's efforts. A fine single-CD celebration of King Floyd — Choice Cuts — is also available and stands as a fitting tribute to this underrated singer.
One final note: King Floyd got a nice shot in the arm when "Groove Me" was used prominently at the end of this year's Austin Powers Goldmember film, although the version on the soundtrack CD is sung by Angie Stone rather than Floyd. "Yeah! Groove me, baby!"