Coral Gables, FL, Oct 7, 2021 — Miami-based producer Gabo Sanoja has worked with a long list of artists across the pop, hip-hop, and latin genres, producing music for artists including Wisin, Victor Munoz, Chyno, Myke Towers, Zion & Lennox, Arcángel, Jhay Cortez, Juan Miguel, as well as top latin composers like Silverio Lozada, Reggi El Autentico, Ender Thomas, Frank Santofimio, Manuel Larrad, Mario Cáceres, and Abbel.  When creating the control rooms at his new Swag Studios production facility, Sanoja knew he wanted his room sound to be a true reproduction of the recording, free from side and rear rebounds, with well-controlled midrange and bass.  To this end, he enlisted the studio expertise of AVN Systems for custom-designed acoustic panels, diffusers and systems integration.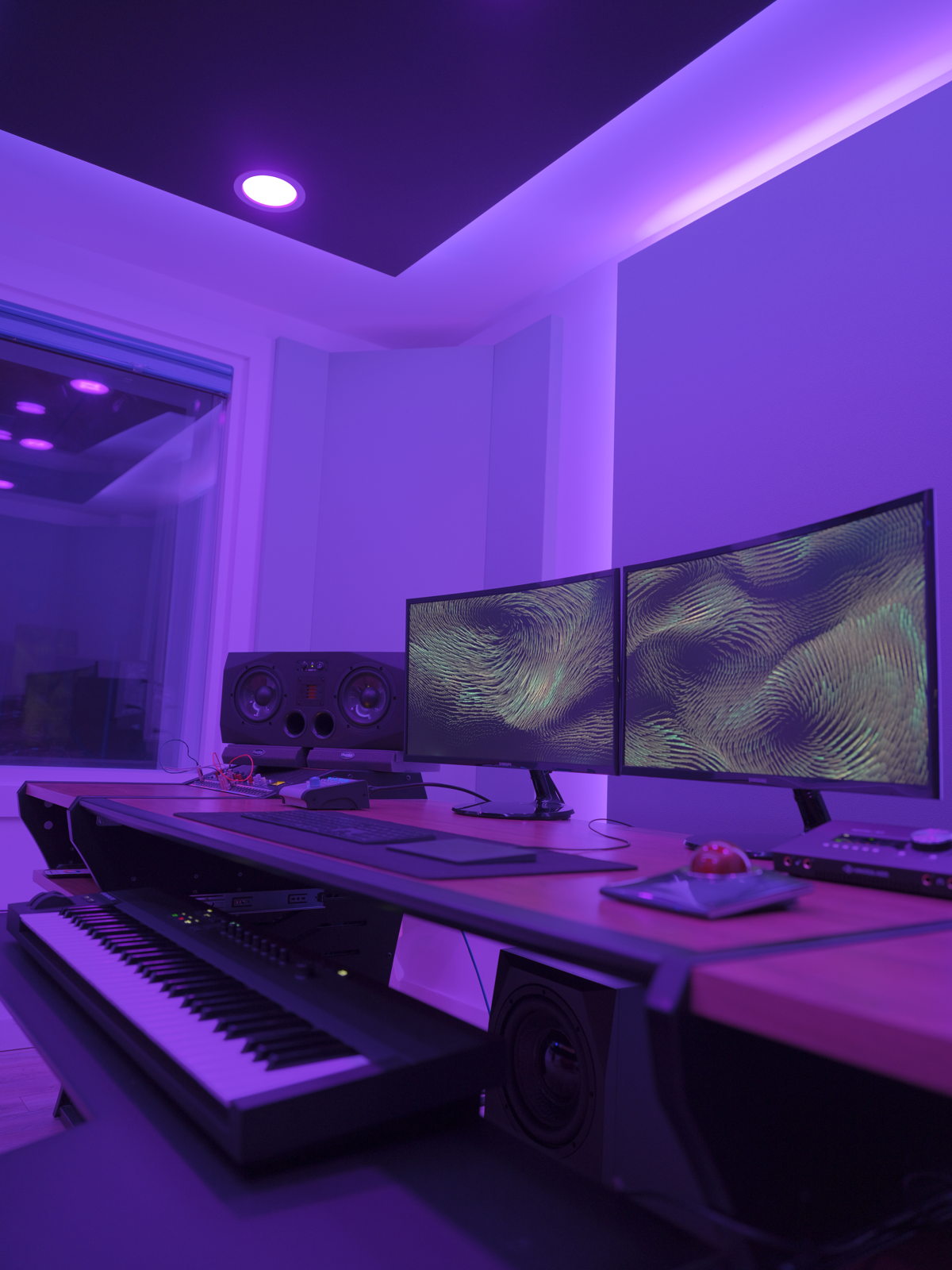 A creative house that can do everything
The inspiration for Swag studios came from a combination of good fortune and functional necessity.  Located on a lively pedestrian plaza with popular restaurants in a property owned by his partner, Sanoja wanted to build a studio that combined a relaxed, uncluttered atmosphere, with all the modern amenities and technical capabilities needed for producing music today.  "At Swag Studio, we wanted to make not just a studio, but a creative house where we could do everything…create songs, produce music, mix, do mastering, we can do pictures, videos, and podcasts.  We're more like a label, in that we take care of the artists as a whole."  When the studio was completed in July, Sanoja showed the finished product to contacts at record labels.  The labels' artists liked what they saw, and the result was a deluge of requests from record labels wanting to use Swag studios to record their artists and composers.
Having worked for over 18 years producing music in a wide variety of studios, Sanoja's experience greatly influenced Swag's design.  Working in control rooms with sub-par room treatments can often present challenges to a producer moving at the modern speed of production, preventing them from getting a true, accurate depiction of what the work is sounding like.  Also he noted that modern studio equipment choices should reflect the needs of today's music client, recording vocals using their own DAW, laptop and digital sounds.  "I know what my clients' needs are, and AVN helps me make those clients happy.  AVN had the expertise and know-how, and it was great how they had my back on the studio elements, from equipment installation to patch bays and cables.  I simply told AVN the different production capabilities I wanted for Swag, and they made those goals a reality"
When asked what sonic aspects are most important to his mixing process, Sanoja prioritizes having the best possible raw sound source, and a clear, uncolored, frontal presentation of the mix at the control desk, with minimal rebounds coming from the side and behind.  "Wherever I'm standing in these AVN-treated rooms, when I put on music, the music sounds good."
Gabo knew he had made the right room treatment choice before the AVN treatments were even installed.  "The first thing I noticed about AVN treatments was when we were creating the first room we created at Swag, the B room – when they brought the panels, diffuser, and treatments into the room and simply placed them on the floor, you could already tell a huge difference in the effect they had on the room's sound, even before they were installed on the wall.  They already changed the sonic aspects of the room.  I set up two speakers, put on some music, and said to PK, "this sounds amazing."
AVN Systems Partner PK Pandey remarked, "Once you place the acoustic treatments in the correct position, the intelligibility in the room improves, enabling you to achieve the acoustic goals. You can really hear how the specific treatments are doing their job".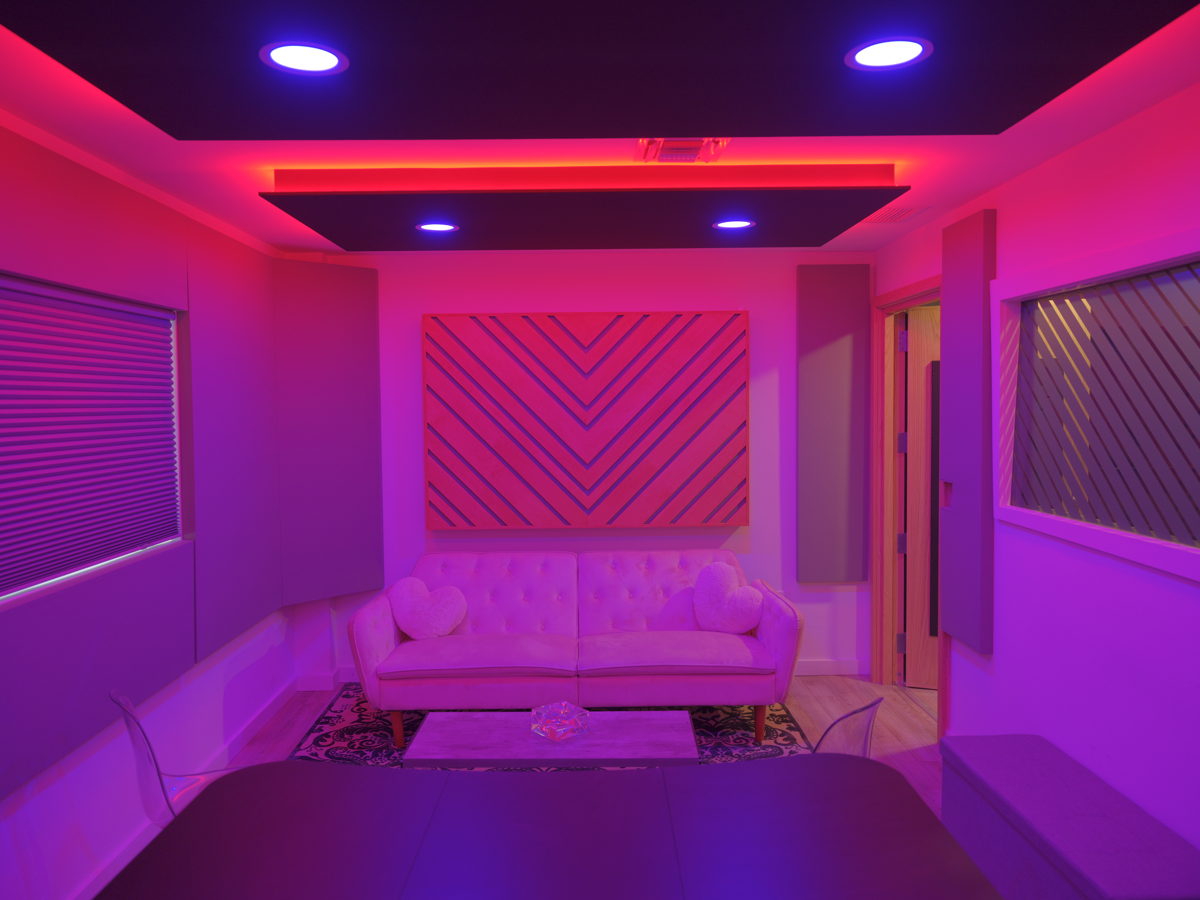 It's all in the details
For vocal recording duties, Gabo's signal chain includes a Neve Designs Shelford microphone preamp compressor and EQ, into a Universal Audio Teletronix LA-2A classic leveling amplifier.  "Nowadays, you have so many interfaces and analog converters for editing.  Today's amazing plugins, Digital Audio Workstations and other tools make the editing job easier, and I love the options that these give me, so that I can get everything perfect."
Sanoja praised AVN's attention to detail which has made working in Swag studio more versatile and greatly sped up production workflows.  One such detail can be found under the customized producer desk AVN installed in the A Room, under which AVN installed a connection box to eliminate complicated cable runs from the desk to the main desk.  Depending on how the producer wants to work, whether they want to set up a session inside the control room, recording from that desk or from the recording booth, they have the option to set up to the patch bay or to the box.  When asked how choosing AVN for his studio installation made a difference in his recording process, Sanoja agreed: "AVN has absolutely added value to my work, I feel so comfortable in these rooms.  Everything is set up perfectly, which lets me focus on the small details.  These details for me are so important."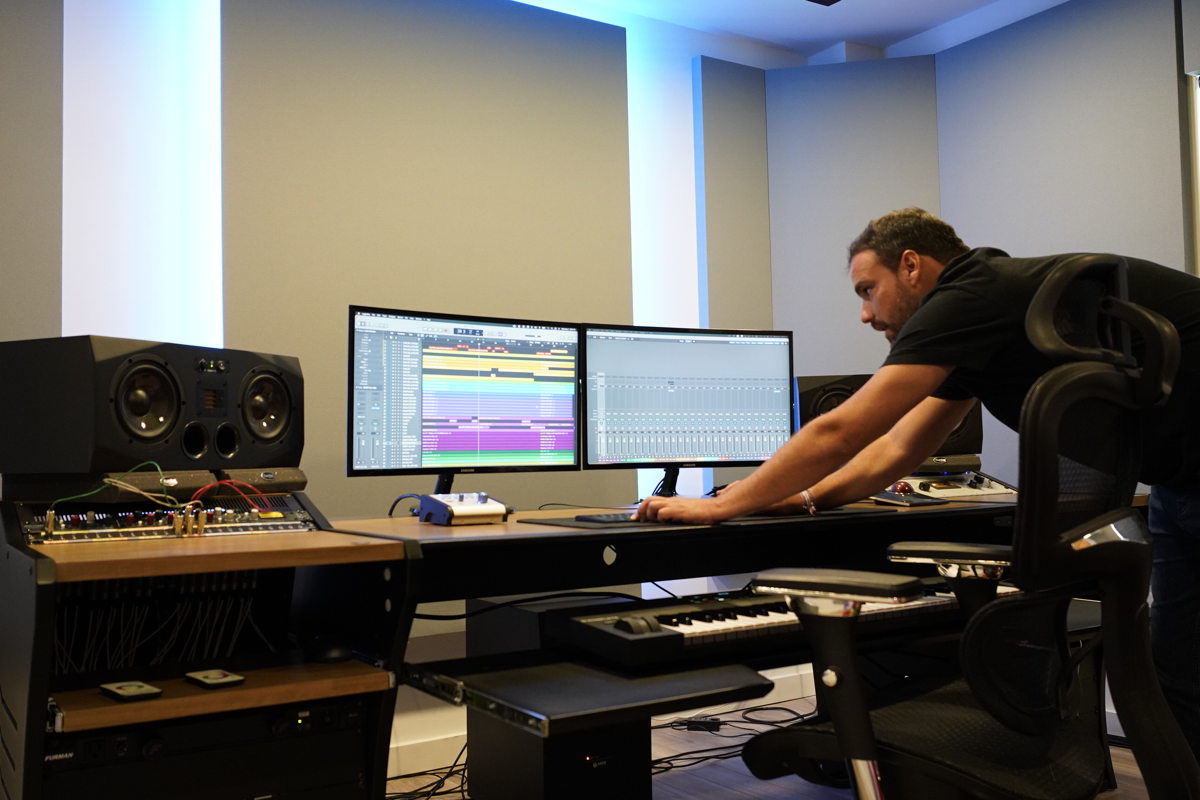 Getting the job done right
AVN took measurements, designed the acoustic panels, specified several desks, integrated the studio equipment, supplied the surface installations for the finished control rooms, and is continuing to support Swag studio's technical needs.  They also made suggestions for aesthetic appearance and fabric colors: Swag Studios chose grey treatment panels, backlit with color-changing LEDs, purple pull-outs and blue diffusers, and will soon be taking delivery of Symphonic Acoustics Dual 8's monitors with single 12 subs.
One of the challenges presented by the Swag studios project was that both A and B rooms were finished and had walls that couldn't be removed in order to adjust the geometry.  For this reason, AVN recommended using surface-mount panels and custom-designed treatments helped to make the room's sound more intelligible.  Sanoja concurred: "AVN's custom diffusers made the room sound amazing – they help with the mid frequencies, as well as trapping of the bass.
There are plans for AVN to come back in the future to work on additional rooms at Swag Studios.  Sanoja said, "AVN were the experts who know how to get a studio installation done right, and were great people to work with. It was a fun process making this studio with them."
For more information about AVN Systems, please visit:  https://avnsys.com/
About AVN | SYS
AVN | SYS specializes in discovery, design, invention, curation, and integration for professional audio, video, and network systems, servicing both residential, commercial, and education customers.  From concept and design to provisioning and integration, AVN | SYS can scale your business and bottom line, and has the experience and resources to provision and mobilize your project.