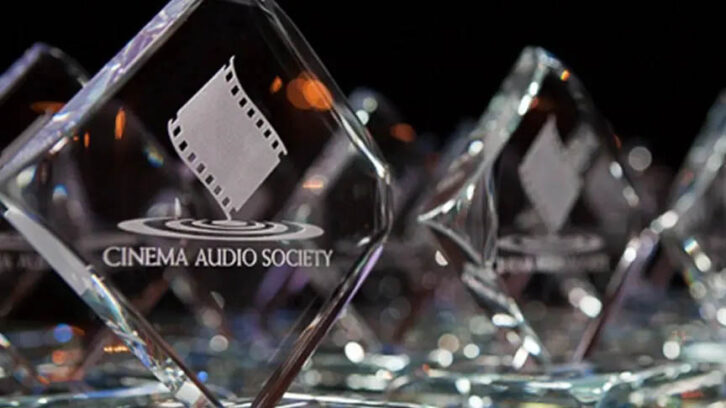 Hollywood, CA (March 6, 2023)—The Cinema Audio Society announced its 59th Annual CAS Awards on Sat., March 4, with the sound team for Top Gun: Maverick taking the top honor in a category with the exact same contenders as this year's Oscar sound competition.
Top Gun: Maverick's team — production mixer Mark Weingarten, re-recording mixers Chris Burdon and Mark Taylor, scoring mixers Al Clay and Stephen Lipson, and Foley mixer Blake Collins — beat out the sound teams on All Quiet on the Western Front, Avatar: The Way of Water, Elvis and The Batman to take the CAS Award in the motion picture live action category. The CAS Award nominees are uniquely chosen by sound mixers to celebrate excellence in sound mixing for film and television. The Oscar race combines mixing and editing into a single motion picture sound category.
Other CAS Award film and TV sound team winners on the night included Guillermo del Toro's Pinocchio, Moonage Daydream, Better Call Saul, Obi-Wan Kenobi, Only Murders in the Building and Formula 1: Drive to Survive.
Oscar-nominated production sound mixer Peter J. Devlin CAS, known for his work on Wonder Woman, Black Panther and Wakanda Forever, among many others, was honored with the CAS Career Achievement Award.
Director Alejandro González Iñárritu (Bardo, The Revenant, Birdman) was the 2023 CAS Filmmaker of the Year honoree.
The 59th Annual CAS Award winners for Outstanding Achievement in Sound Mixing are as follows:
Motion Pictures – Live Action
Top Gun: Maverick
Production Mixer: Mark Weingarten
Re-Recording Mixer: Chris Burdon
Re-Recording Mixer: Mark Taylor
Scoring Mixer: Al Clay
Scoring Mixer: Stephen Lipson
Foley Mixer: Blake Collins CAS
Motion Pictures – Animated
Guillermo del Toro's Pinocchio
Re-Recording Mixer: Jon Taylor CAS
Re-Recording Mixer: Frank Montaño
Scoring Mixer: Peter Cobbin
Foley Mixer: Tavish Grade
Motion Pictures – Documentary
Moonage Daydream
Re-Recording Mixer: Paul Massey CAS
Re-Recording Mixer: David Giammarco CAS
ADR Mixer: Jens Rosenlund Petersen
Non-Theatrical Motion Pictures or Limited Series
Obi-Wan Kenobi E6 Part 1
Production Mixer: Julian Howarth CAS
Re-Recording Mixer: Bonnie Wild
Re-Recording Mixer: Danielle Dupre
Re-Recording Mixer: Scott R. Lewis
ADR Mixer: Doc Kane CAS
Foley Mixer: Jason Butler
Television Series – One Hour
Better Call Saul S6:E13 "Saul Gone"
Production Mixer: Phillip W. Palmer CAS
Re-Recording Mixer: Larry Benjamin CAS
Re-Recording Mixer: Kevin Valentine
ADR Mixer: Chris Navarro CAS
Foley Mixer: Stacey Michaels CAS
Television Series – Half Hour
Only Murders in the Building S2:E5 "The Tell"
Production Mixer: Joseph White Jr. CAS
Re-Recording Mixer: Penny Harold CAS
Re-Recording Mixer: Andrew Garrett Lange CAS
Scoring Mixer: Alan Demoss
ADR Mixer: Chris Navarro CAS
Foley Mixer: Erika Koski
Television Non-Fiction, Variety or Music – Series or Specials
Formula 1: Drive to Survive S4:E9 "Gloves Are Off"
Re-Recording Mixer: Nick Fry
Re-Recording Mixer: Steve Speed
Student Recognition Award Finalists
Timo Nelson