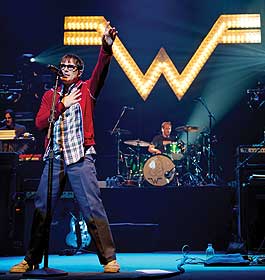 Weezer vocalist/guitarist Rivers Cuomo
At each stop on their Memories tour, Weezer holds that city hostage for two nights—one for each of their chart-topping '90s albums: Weezer (The Blue Album) is performed from top to bottom on the first date, and Pinkerton on the next. While the crowd is rocked down memory lane, the band also throws in some other hits, B-sides and songs from their latest, Hurley. Mix caught the Pinkerton date at San Francisco's Nob Hill Masonic Auditorium.
As the tour is not carrying boards for this run of dates, front-of-house engineer Ted Keedick specs a Yamaha PM5DRH or an Avid Profile. "The mix with Weezer is pretty straight-ahead so I would generally not use additional plug-ins," Keedick explains. "As for outboard rack gear, I like to have an Avalon 737 for my lead vocal and an Eventide H3000 for vocal effects." From left: Tracy Robar, stage-right guitar/keyboard tech; Erick Sanger, drum tech; Doug Forsdick, stage-left guitar/keyboard tech; Ted Keedick, FOH engineer; and Narci Martinez, production manager
The tour relies on house-provided (or rental) P.A. systems; Keedick prefers a Clair i5, Martin W8LC, d&B J Line or a JBL VerTec. "There are a lot of good boxes out there these days," he says.
According to Keedick, monitors are generally mixed on either a PM5D or Profile. Each performer has a stereo IEM (Sennheiser G2 systems with AC 3000 eight-way antenna combiner and an A 5000-CP helical antenna) mix. There is also a sub cabinet on the drum riser and stage-left key riser. There are stereo IEM mixes for each performer plus a sub cabinet on the drum riser and stage-left key riser.
Vocals/guitarist Rivers Cuomo sings through a Beta 58 capsule on a Shure UR2 handheld transmitter. The other seven vocal mics are Audix OM7. According to guitar and keyboard tech Tracy Robar, Cuomo's setup comprises a Diesel VH4 head through a Marshall 412 with Celestion 25-watt, miked with an SM57 and a 409 condenser.
According to drum tech Erick Sanger, Josh Freese plays the kit during the first set and Pat Wilson comes in for the second set. Mics include Beta 52 (kick drum outside), SM91 (kick drum inside), SM57 (snare top), Audix D2 (snare bottom), Audix D4s (toms), SM81 (hi-hat, percussion) and AKG 414 (overheads).
Bassist Scott Shriner plays through a variety of models including a Mesa Boogie 400 head, Ampeg SVT Classic, Mesa Boogie 4×12 cab and Ampeg 8×10. According to stage-left guitar/bass/keyboard tech Doug Forsdick, "These setups vary all the time. We use the Evil Twin bass DI and a 421 mic on the cab. The Roland 404 sampler is used on the songs 'Greatest Man,' 'Pork and Beans' and 'Troublemaker.'" On "Greatest Man" and "Hash Pipe," Shriner uses Moog Taurus pedals. His pedal gear comprises three gain/overdrives by Wren and Cuff, a Line 6 Blue pedal for a rotary effect and a new Electro-Harmonix POG. Shriner also plays a Dave Smith Prophet '08 8-voice analog synth and a Moog Voyager.
Pat Wilson, who plays guitars on the first set, uses a Peavey 5150 head through a 5150 Fender 4×12; mics include SM57 and a 409. He also plays a Nord Lead virtual analog keyboard.
Brian Bell plays a '63 Gibson SG and a Gibson Explorer through a Matchless Independence 35 amp. "The mics vary with the revolving FOH chair, but the SM57 is almost always there with some kind of condenser, usually a 409," says guitar tech Robar. His footpedal gear comprises a BOSS Acoustic, Distortion DS-2, FS-5L and Chromatic Tuner TU-2; Pro Co Rat distortion; Electro-Harmonix Holy Grail Nano; and a Heil Sound Talk Box. He also plays a Moog Little Phatty analog synth through a Line 6 DL4.