CINCINNATI, OH, January 31, 2023 — Cincy Entertainment Services [CES] has risen to be one of the larger live event production companies in the Cincinnati metropolitan area since its founding more than twenty years ago. Initially working in the DJ space before expanding to academic events, corporate conventions, and live concerts, the company has carved out a unique area of expertise as one of the leading live production companies designing competitive cheerleading and dance events. Committed to a philosophy of constantly expanding the company's capabilities and exploring the latest in live event technology, the company recently upgraded its sound reinforcement capabilities with a set of powerful Turbosound Manchester line arrays — the first to be deployed within the United States and acquired with the help of pro audio and MI distributors AVL Media Group.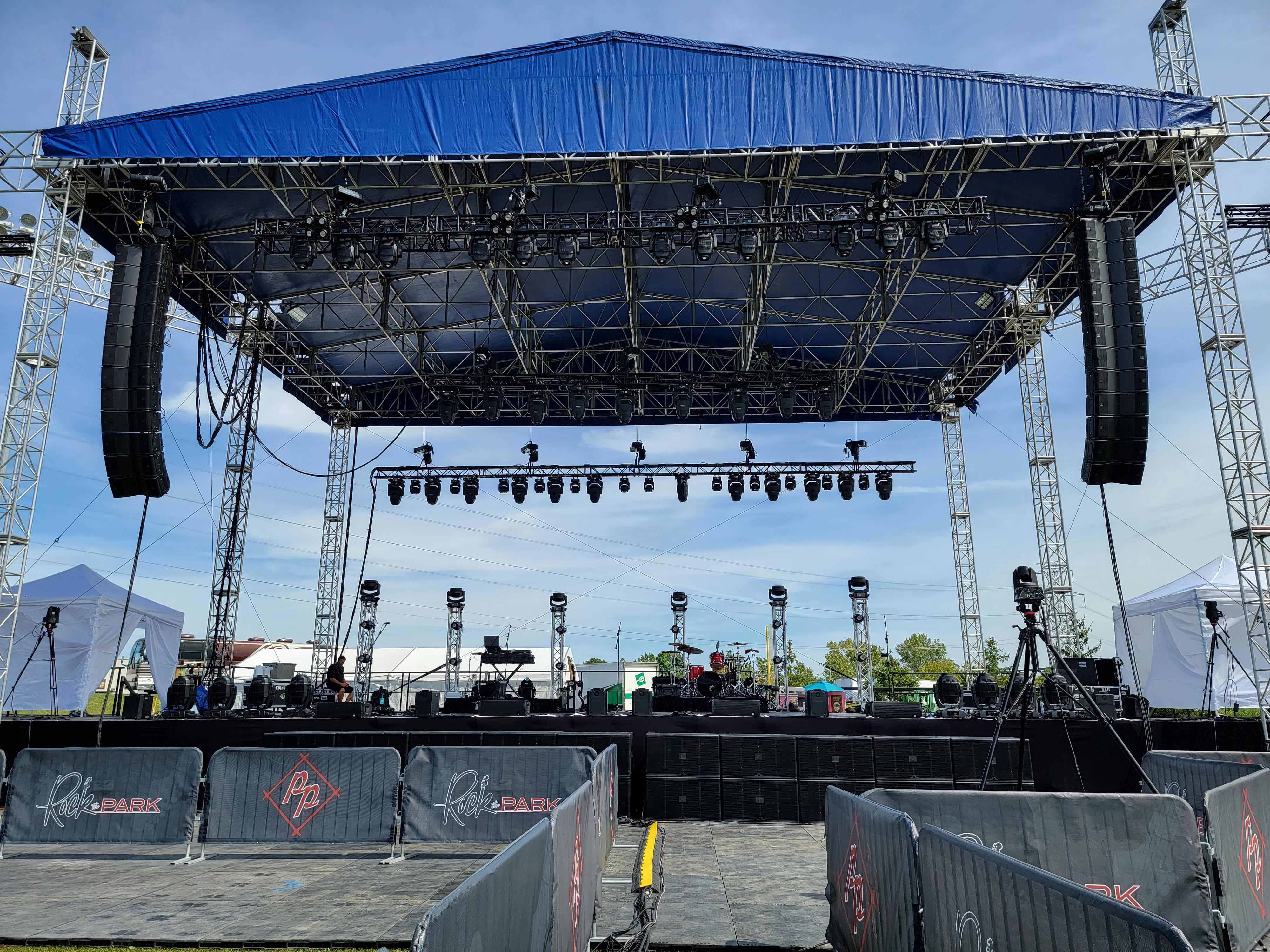 A new standard for sound reinforcement
​CES president Braden Hasselbeck initially got started in the business as Djcincy in 1999. Inspired by the interactive programming of these events as well as by the possibilities inherent in using lighting, sound, and multimedia production technology to craft immersive experiences, Hasselbeck has always sought to bring this approach to every event that the company takes on. CES began properly in 2014 when Hasselbeck incorporated his lighting services company and live event production under one roof. "From the beginning I always got the most excitement out of that feeling of 'putting on a show'," he explained. "Being able to surprise our clients with new ways of making an event fun and entertaining to attend has always been a driving force in how we want the company to grow. Naturally this led us to always want to learn about and acquire the latest tech to keep us ahead of the curve."
CES began designing competitive cheerleading and dance events in 2016 as an offshoot of their existing live event work. Seeing the disparity between the larger national events and the smaller more 'do it yourself'-styled regional competitions, Hasselbeck saw an opportunity to 'up the ante'. "The major national competitions are done at places like Disney World where they have the budget and know-how to put on a world-class show that we just weren't seeing on the regional level," he said. "We wanted to set a similar standard for how these events could be done at the regional level and knew that we had the expertise to take on the engineering and design of these shows how we thought they should be done."
"To do that, we knew we needed the full package of the best live sound tech that we could get — which is where the Turbosound Manchester and AVL Media Group comes in."
Power, clarity, and fun
​As a longtime user of the Turbosound Berlin and Liverpool Line Arrays, Hasselbeck was very familiar with the brand as well as its capabilities to deliver power and clarity under demanding circumstances. When the Manchester series was announced he worked with Gary Zandstra of Holloway Sales and AVL Media Group to order the first set available in the United States for CES. "AVL has a more knowledgeable team than other distributors and they make sure that the gear is in stock and getting to you quicker than anyone else," he said. "It enabled us to get set up with Manchesters right away and get to work designing our own workflow for using them to suit these competitive sporting events."
Clarity at volume is one of the most critical components of sound reinforcement at a live cheerleading or competitive dance event, so as to ensure that the competitors can correctly synchronize with their routines. For these events, Hasselbeck and his team have designed an adaptable setup that includes as many as 18 Manchester MV212 boxes and 24 MS218 subwoofers, powered by Lab Gruppen PLM20K44 power amplifiers. "Having loud and clean sound is the 'make or break' for these events," he explained. "We were blown away from the first time we set up our Manchester rigs and knew that they'd be perfect for what we wanted to accomplish. The clarity of the system gives us the ability to do everything we need to do at these events without compromise."
Hasselbeck is proud of how CES has forged its own path as a live event company and is committed to continuing to experiment with the best in new live sound technology to ensure that. Although much of this is driven by a competitive edge, he says that it's important not to lose sight of what brings people together for these events to begin with. "As competitive as these events can be, what we're really all about is bringing everyone together to have fun," he said. "By going full-on with the production — from the sound, to the lighting, to the live displays — we're ensuring that everyone is going to leave our events feeling like they had a great time."
"Being fun and memorable is what it's all about. With this new Manchester rig in tow, I definitely think we'll be leaving a big impression!"
For more information about AVL Media Group, please visit: http://www.avlmediagroup.com
About AVL Media Group
​AVL Media Group is recognized for being a reference in the areas of import and logistics. Founded in 1996 by Stephen Kosters, AVL Media Group is a distributor of professional audio, video and lighting products in North America. AVL offers sales, marketing and support expertise for brands seeking to conduct business in the U.S. ​ and Canada. The company specializes in B2B project-based installations servicing tour sound companies, installers, contractors, integrators and system designers.